by David Hamburger
Like a knucklehead, I remember walking through the mall with my mom in 1983 and seeing a big cardboard display for an album called Texas Flood outside a chain record store called "Strawberries." Since all I was really interested in at that point was owning every piece of vinyl The Beatles ever put out, I kept walking, probably in pursuit of new Wallabys and straight-leg Levis a few doors down. Actually, by 1983 I would have been old enough to do my own shopping, and was already hip to my sister's copy of Derek and the Dominoes, so the whole incident is really pretty inexplicable, but I was an oblivious kid in many ways. So I didn't encounter Stevie Ray Vaughan's hopped-up nursery rhyme, "Mary Had a Little Lamb" until years later.
It has much to recommend it – it's a funny idea, it gives Vaughan a chance to do a little lower-register crooning on an otherwise pretty balls-out record, and it mixes a funky little inside-out feeling eight-bar verse with twelve-bar instrumental call-and-response choruses chock-full of low-end, Muddy Waters-style riffing.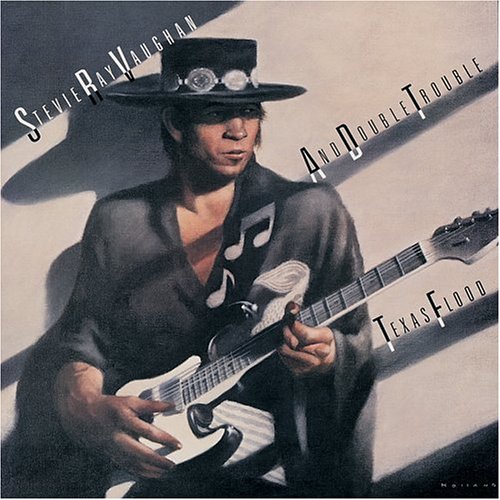 It also wasn't Vaughan's idea – he lifted the arrangement pretty much note-for-note from a track off of Buddy Guy's solo-artist debut on Vanguard, the sensational A Man And The Blues LP. And there's nothing wrong with that – it's clearly an homage to a beloved inspiration, and I personally give Vaughan big points for including something so tongue-in-cheek amidst the bad-assery of the rest of his own debut record, although my strictly uninformed guess is that he chose it more for how fun the guitar part is to play than for conceptual reasons. I'd also guess that his low-key singing was a conscious attempt to sidestep comparison with Guy's impassioned, falsetto-stoked vocal by choosing a completely opposite approach – also smart and cool.
Guy's version had horns and an immaculate Chicago rhythm section including Fred Below on drums, Otis Spann on piano and session ace Wayne Bennet on rhythm guitar (Bennet played on Bobby "Blue" Bland's 1961, Allmans-inspiring version of "Stormy Monday," among many other cuts). Let loose on his own in the studio for the first time since the late 50s, Guy channelled his brilliant, glassy tone through a fierce yet economic sensibility on every solo, while his vocals achieved a similar sense of barely controlled clarity. Guy himself covers B.B. King's signature "Sweet Little Angel," one of a handful of patiently, achingly slow blues on the record, and even the transparently titled "Jam on a Monday Morning" transcends throwaway status as the band takes three minutes out of its day to play the shit out of a goof-off dance groove.
Like any self-respecting hipster, I took great pride in knowing that Guy's version was the real source of Stevie Ray's mojo, and yet – there's more. In 1961, Freddie King put out the first of two instrumental albums, Let's Hide Away and Dance Away With Freddy King. And included in this inventive and influential stash is a tune called "Just Pickin'," which sounds just like Guy's "Mary Had a Little Lamb," only without the vocal. I mean, exactly. Check it out.
So it seems there are several possibilities. One, that Guy consciously lifted a known King tune and put on the nursery rhyme lyrics as a live-act goof, and wound up recording it for Vanguard. Another is that, from knowing, learning, hearing or performing King's tune, it wound its way so far into Guy's vocabulary that, while working on the idea for "Mary Had a Little Lamb" and reaching for some kind of stock 12-bar interlude to the 8-bar vocal, Guy pulled up the King song lick-for-lick without realizing it.
Or maybe it goes back further than King. Guy and other Chicago guitarists have always been open in their reverence for Earl Hooker, who made numerous vocal and instrumental records and cut dozens of sideman sessions from the 50s until his untimely demise in the 1970, and here he is doing the same instrumental groove as King and Guy in 1969. I mean – the same. It's after King and Guy's versions came out, but Hooker's title makes no reference whatsoever to either tune.
So maybe it's just something that was in the air, that everyone did, just like a shuffle. Maybe King and Guy consciously or unconsciously lifted their arrangment(s) from the under-recorded Hooker. If you know more about it than I obviously do, by all means drop a line. At this point I wouldn't be surprised if there's a YouTube clip of Noah laying this one down on the Ark after the animals went to sleep.