Acoustic guitars are beloved for their warm, rich sounds. Still, there's a wide range of different options available for guitarists to choose among. Here are the top 10 acoustic guitars that you can find on Reverb right now to give you an idea of the best of the best.
Taylor GS Mini

The Taylor GS Mini is the perfect guitar for casual playing with bigger-than-its-body sound. These are great for players who are looking for a guitar that's easy to play and sound bigger than they look. Taylor GS Minis have a clear, articulate tone and produce a surprisingly rich and full lower end. The sitka spruce top with sapele sides and back make an attractive combo. Its matte finish neck allows for smooth movement and fits comfortably in your hand.
Fender American Acoustasonic Telecaster

An acoustic Telecaster? Believe it. The Acoustasonic Tele is a beautiful guitar with a solid Sitka spruce top and a mahogany body. It also features a three-pickup configuration, successfully balancing the hollow-body of the guitar with its iconic electric roots. The ebony fingerboard and the mahogany neck give this guitar a great feel of an acoustic with the playability of an electric. Its compact size and eye-catching appearance make it a versatile instrument.
Gretsch G9500 Jim Dandy Flat Top Acoustic Guitar

The G9500 Jim Dandy features a modern-day construction that recalls the sounds of old-time guitar favorites. Its attractive features, such as a comfortable C-shaped neck and a double-action truss rod, make it an ideal choice for musicians wanting a modern-day interpretation of a classic. It's an easy-to-play guitar that features a shallow body and smaller size, which makes it great to bring along on a whim and for traveling. It's a great choice for those who want a smooth acoustic playing experience. This guitar produces some of the finest warm, crisp sounds that you want from an acoustic.
Yamaha FG-180 Jumbo Dreadnought Natural

The original FG180 was introduced in 1966 and became a standard for great acoustic guitar quality. It was the first ever folk guitar produced by Yamaha, made entirely in Japan. Its impeccable build quality and great playability made it stand out, and have brought it somewhat of a cult following since then. Yamaha developed its patented scalloped bracing pattern for this guitar model, which strengthens the integrity of the top of the FG180 while producing a stronger sound in the low- and mid-range.
Cordoba C5 Classical Guitar

The Cordoba C5 is a Spanish-style concert guitar with contemporary design elements. It is one of the best value classical guitars available. It features a solid Canadian cedar top and sides, and a hand-carved headstock. In 1997, Cordoba was founded to guide the evolution of nylon string guitar. The company's goal was to create instruments that are both lightweight and responsive, while remaining true to the traditions of the Spanish guitar. The C5 is one of their pride models, offering the warm, resonant sounds that Cordoba has come to be known for.
Takamine EF341SC Dreadnought Cutaway Acoustic-Electric Guitar

The Takamine EF341SC is a cutaway guitar that features a solid cedar top, all maple back and sides, and a smooth rosewood fretboard. It produces a distinct acoustic sound with its deep, bold lower end. This Takamine also offers the versatility of plugging into an amplifier with built-in electronics, including a tuner. It is a great choice for musicians who love to play a range of sounds, from sweet melodies and powerful chords. The solid cedar top goes a long way at generating resonant sounds that carry well
Martin Standard Series D-18

The Martin D-18 is an American guitar that has become a standard for many professional musicians. The Start or Tele of acoustic guitars. It's a versatile instrument with fantastic build-quality that can be used for everything from studio work to touring. Its warm, resonant tone lends itself perfectly to country, bluegrass, folk, and pop music. You'll get crisp, clear notes that deliver evenly with a sweet, bright quality to them.
Taylor 214ce DLX

This Grand Auditorium style Taylor guitar features a sitka spruce top and layered rosewood back and sides. It's equipped with Taylor's patented neck and cutaway design, and with Expression System pickup and preamp electronics so you can plug in if needed. It's a highly versatile instrument that's ready to play in any environment, especially considering the rich depth you get from the sound produced from its deep body. In addition to the enjoyment you get from the sound and play experience, the elegant curves of the guitar body and its other parts make it a truly elegant looking instrument.
Martin 00-DB Jeff Tweedy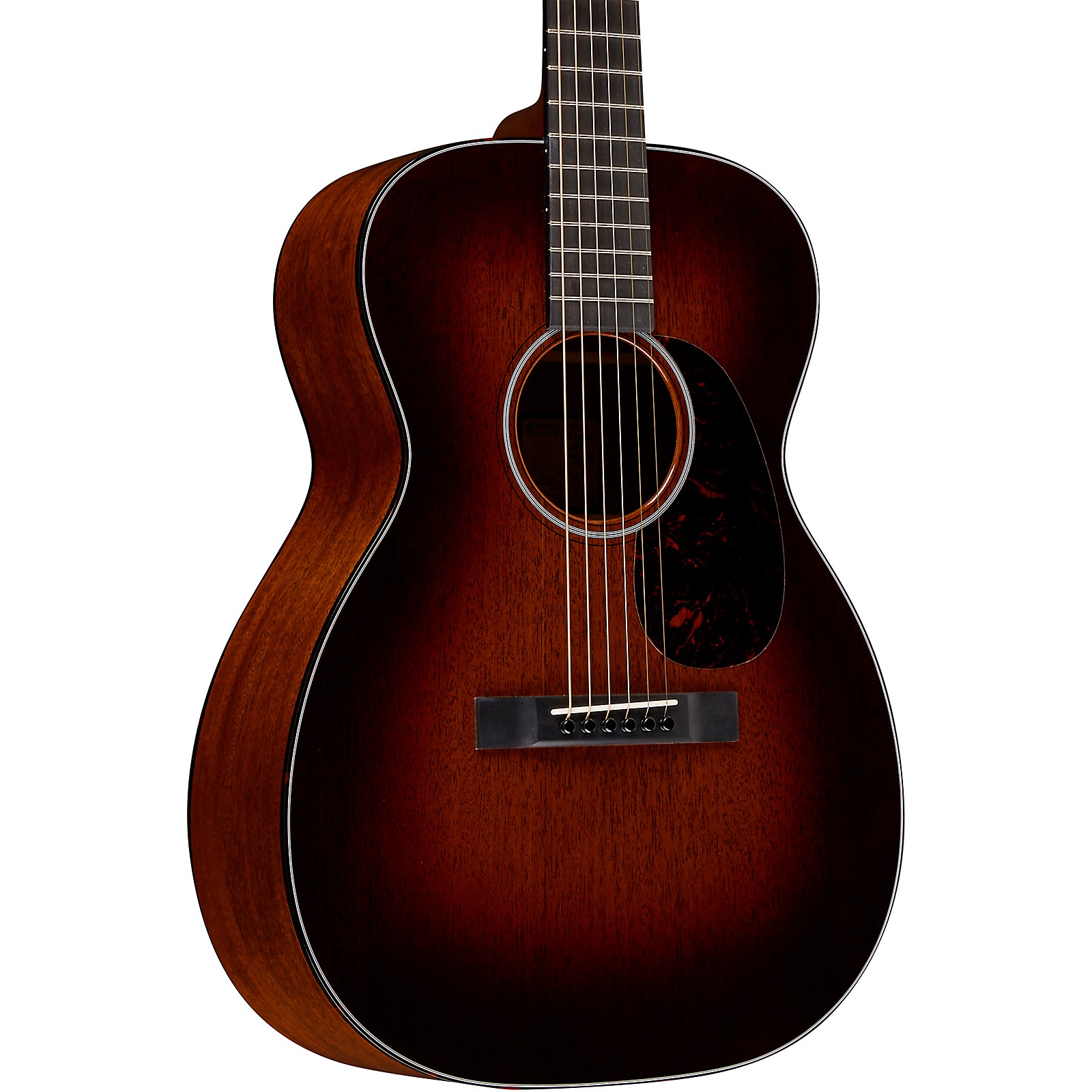 The Martin Jeff Tweedy 00-DB is a great guitar for capturing the Wilco singer's signature sound. It features a smooth V-shape neck and a deeper, more resonant body. Its added modern features work in harmony with the guitar's traditional craftsmanship. It's known for producing a well-balanced sound backed by rich, full-bodied tones. It maintains crisp clarity in high and low ranges, even when playing hard. It's as beautiful to look at as it is to listen to. It's also sustainably made from eco-friendly materials.
Taylor 812ce DLX

Visually, the Taylor 812ce DLX is marked by a natural finish over its solid sitka spruce top and Indian rosewood sides and back. The beautiful ebony fretboard is marked with unique, eye-catching inlays. Its 12-fret design scale allows the guitar to achieve bigger, richer sounds without the need to apply more pressure on the fretboard. This makes for smooth playability and warm, rich tones. Players also have the benefit of this series being a slightly smaller build, allowing for added comfort while playing without sacrificing sound quality or depth.