Yesterday was the 40th anniversary of one of the greatest albums of all time, Led Zeppelin II, and since we missed it yesterday, we figured the only thing to do was dedicate an entire post to this iconic masterpiece. A few facts:
– Led Zeppelin II was released in the same year as the debut album, Led Zepplin, but it was a much greater success than the first, reaching the number one chart position in the US and the UK (overtaking The Beatles' Abbey Road). In 1999, the album was certified 12x platinum by the RIAA for sales in excess of 12 million copies.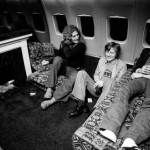 – Led Zeppelin II was recorded almost entirely on the road at various North American and UK recording studios while Led Zeppelin was on tour and every one of the nine tracks was recorded in a different studio. Lead singer Robert Plant later discussed the writing and recording process, stating "It was crazy really. We were writing the numbers in hotel rooms and then we'd do a rhythm track in London, add the vocal in New York, overdub the harmonica in Vancouver and then come back to finish mixing at New York."
– Production was entirely credited to lead guitarist and songwriter Jimmy Page, while it also served as Led Zeppelin's first album to utilise the recording techniques of engineer Eddie Kramer, who had worked with Jimi Hendrix in the past. This partnership was particularly exhibited in the central section of the track "Whole Lotta Love". Kramer later said, "The famous Whole Lotta Love mix, where everything is going bananas, is a combination of Jimmy and myself just flying around on a small console twiddling every knob known to man."
– Led Zeppelin II is the band's first album to feature Page playing his custom 1959 Gibson Les Paul "Black Beauty" model with the tremelo arm, the guitar he helped make famous. Below is a picture of Page tuning said guitar (the one shown here mysteriously disappeared during a flight change, which means it's sitting in some lucky ex-luggage-handler's basement right now):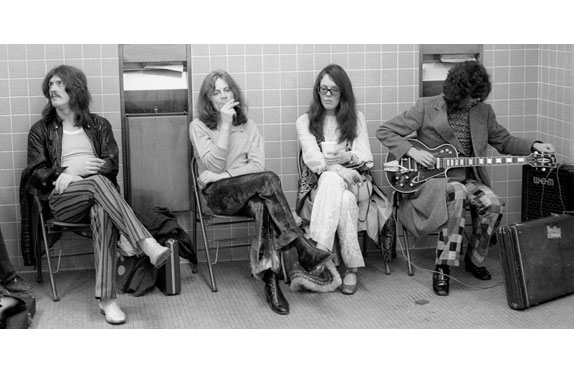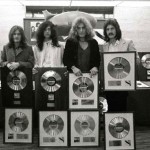 – In 1970, art director David Juniper was nominated for a Grammy Award for Best Recording Package for Led Zeppelin II. Juniper was simply told by the band to come up with an idea that was "interesting." His design was based on an old photograph of the Jasta 11 Division of the German Air Force during World War I, the famed Flying Circus led by Manfred von Richthofen, the Red Baron. The original photo can be seen here.
– Rolling Stone magazine ranked the album 75th on its list of the 500 greatest albums of all time. Ironically, Rolling Stone's original review of the album was considered to be unfavorable, although perhaps that had something to do with the reviewer's state of mind: "I also listened to it on mescaline, some old Romilar, novocain, and ground up Fusion." They have since awarded Led Zeppelin II the five-star review it rightly deserves, adding that "Whole Lotta Love" "became a starting point for Aerosmith, Guns n' Roses and Van Halen, among others. It's an amazing song not just for its seismic riff and bingeing-on-lust vocal performance, but for its mind-bending midsection, in which Page orchestrates the aural equivalent of an orgasm."
We'll leave you with this clip of Led Zeppelin performing "Dazed and Confused" live in 1969. Caution: this video may cause epic nostalgia.
Sources: Wikipedia, FastCompany