TrueFire and Sweetwater have partnered up to present you with the best guitar gear deals monthly. As you browse TrueFire's online guitar lessons, surely you have been curious about which guitar or pedals or amps our educators are using, and, if you're like the rest of us, you've probably been striken with a case of G.A.S. — gear acquisition syndrome. It's a serious condition!
To help you satisfy your cravings for the latest and greatest guitar gear and help you capture that sound and tone you're looking for, we have expanded our gear features and will continue to do so. For example, you can check out Jeff McErlain's preferred guitar gear or Corey Congilio's preferred guitar gear here on our blog, and be sure to check back in often to see what guitar gear deals are hot at Sweetwater. You'll also notice we've linked to some great, relevant video guitar lessons from TrueFire to make your unboxing even more enjoyable!
Here are the 10 best guitar gear deals we've found on Sweetwater for the month of March 2022:
This Week's Guitar Gear Deals
1. Sire Larry Carlton H7 Semi-Hollow Electric Guitar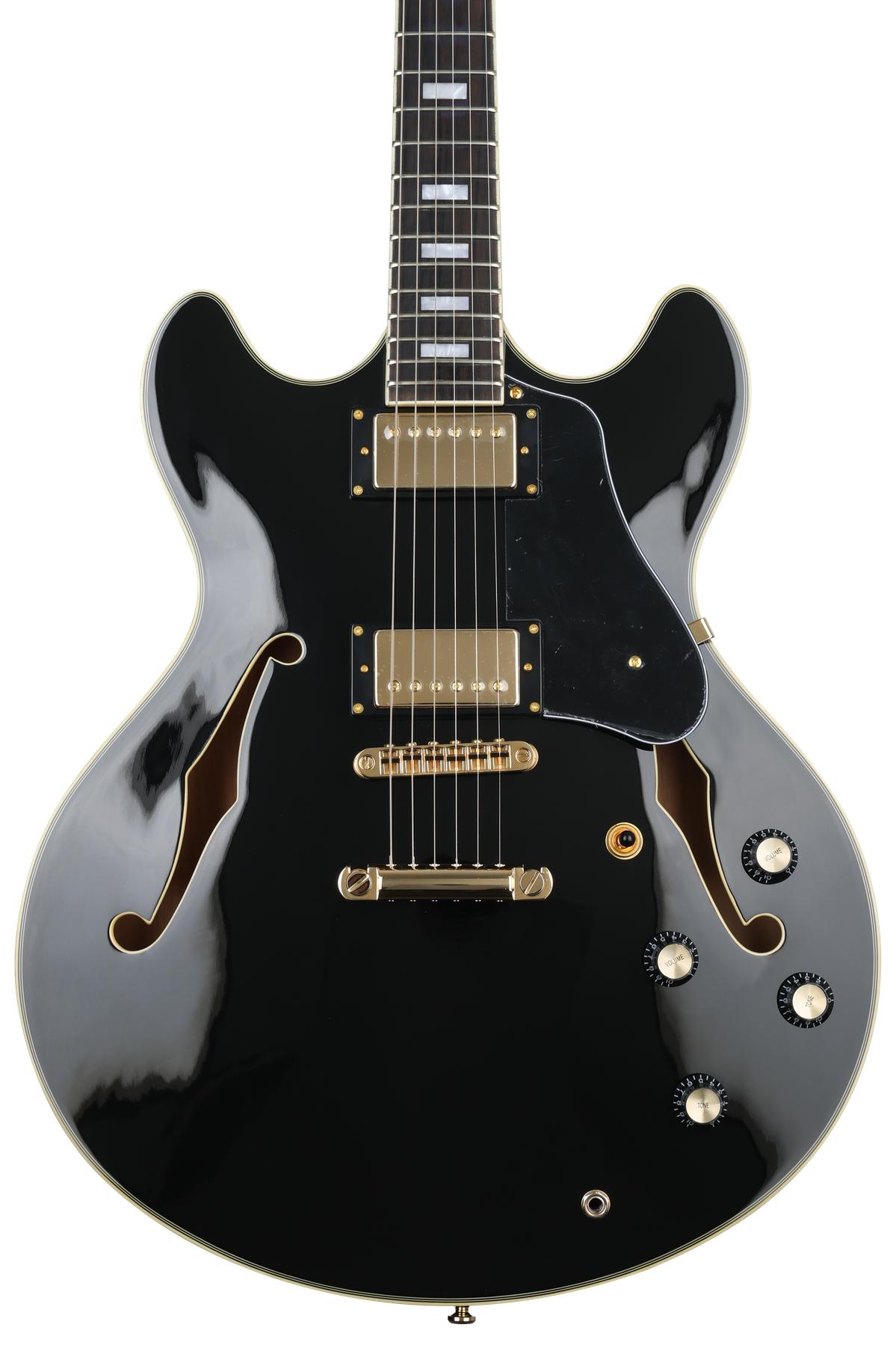 The Sire Larry Carlton H7 was designed to its namesake's exacting specifications and preferences — and it shows. This excellent semi-hollowbody electric guitar is teeming with high-quality components. Its resonant laminate maple body features an attention-grabbing flame maple top. Its comfortable "C"-shaped mahogany neck is capped by a slick-playing ebony fingerboard with medium-jumbo frets and rolled edges. Plug the H7 into your favorite amp and prepare for a treat — this axe's Alnico II humbuckers exhibit sterling vintage-tinged tone.
Visually stunning as well, the Larry Carlton H7 includes an attractive 3-ply pickguard, ivory binding, square fingerboard inlays, and top hat knobs, along with a bone nut, set-neck joint, and premium chrome hardware.
Pick one up and don't forget to check out Larry Carlton guitar lessons on TrueFire!
2. PRS SE Silver Sky Electric Guitar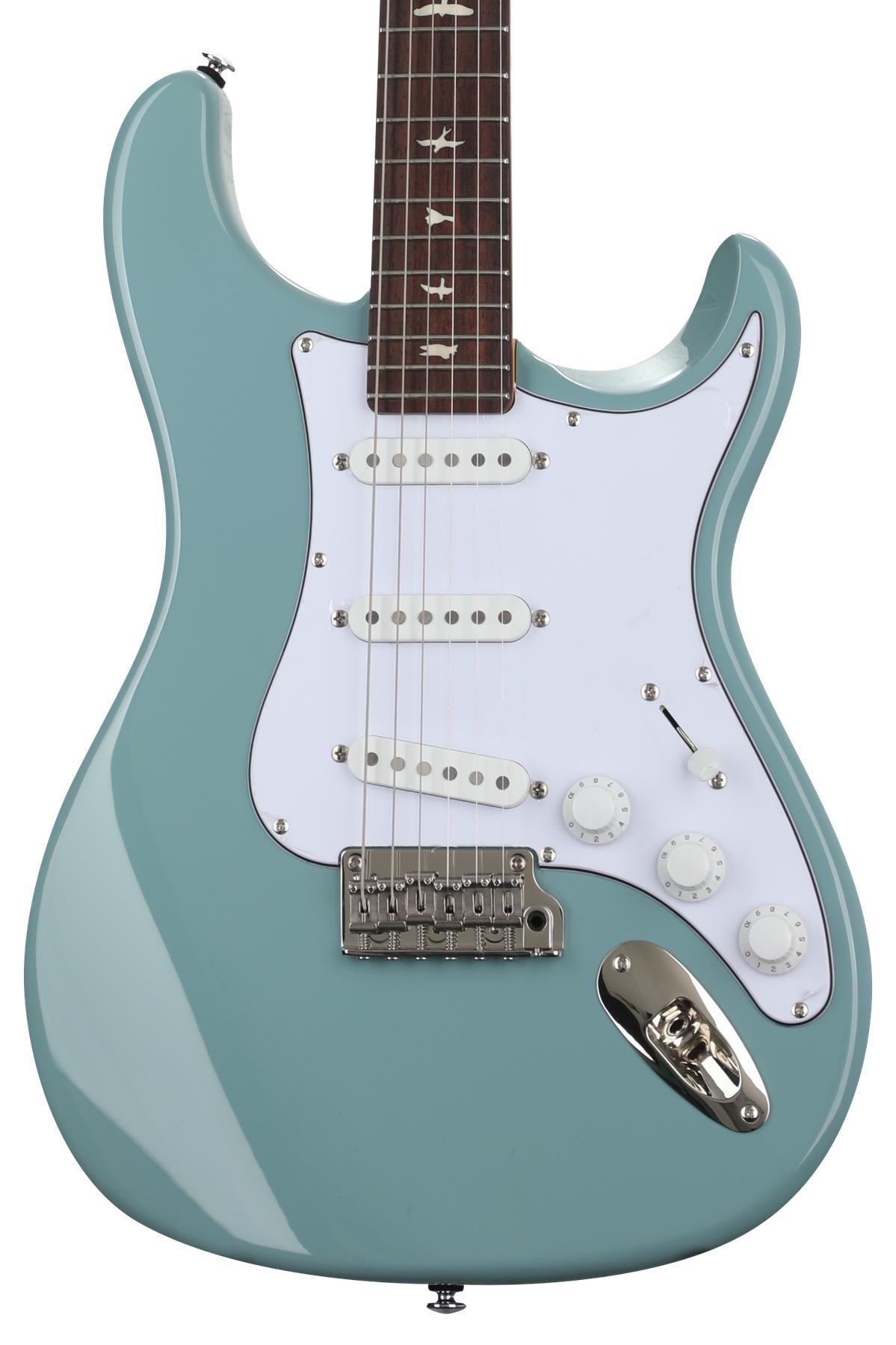 The original Silver Sky was designed in conjunction with John Mayer to elevate a familiar guitar aesthetic with PRS Guitars' world-renowned innovation. That collaboration is now making its way into the SE line with the goal of delivering a more affordable version of the Silver Sky — with all the same PRS quality! The SE Silver Sky features a lightweight poplar body loaded with a trio of 635JM "S" pickups to deliver all the glassy highs and round bottom end that you'd expect out of a classic three single-coil configuration.
While the original Silver Sky kept the original 7.25-inch radius of its inspiration, the SE Silver Sky's maple/rosewood neck offers a slightly modernized 8.5-inch radius that feels vintage, but injects a dose of modern playability. Since their inception, PRS has been known to push the boundaries of guitar design. The Silver Sky SE combines that philosophy with a deep respect for tradition, resulting in a high-performance, vintage-style model of the highest caliber — but at a wallet-friendly price!
So you want John Mayer's guitar… now time to learn how to play like John Mayer!
3. Line 6 Catalyst 100 1 x 12-Inch 100-Watt Combo Amplifier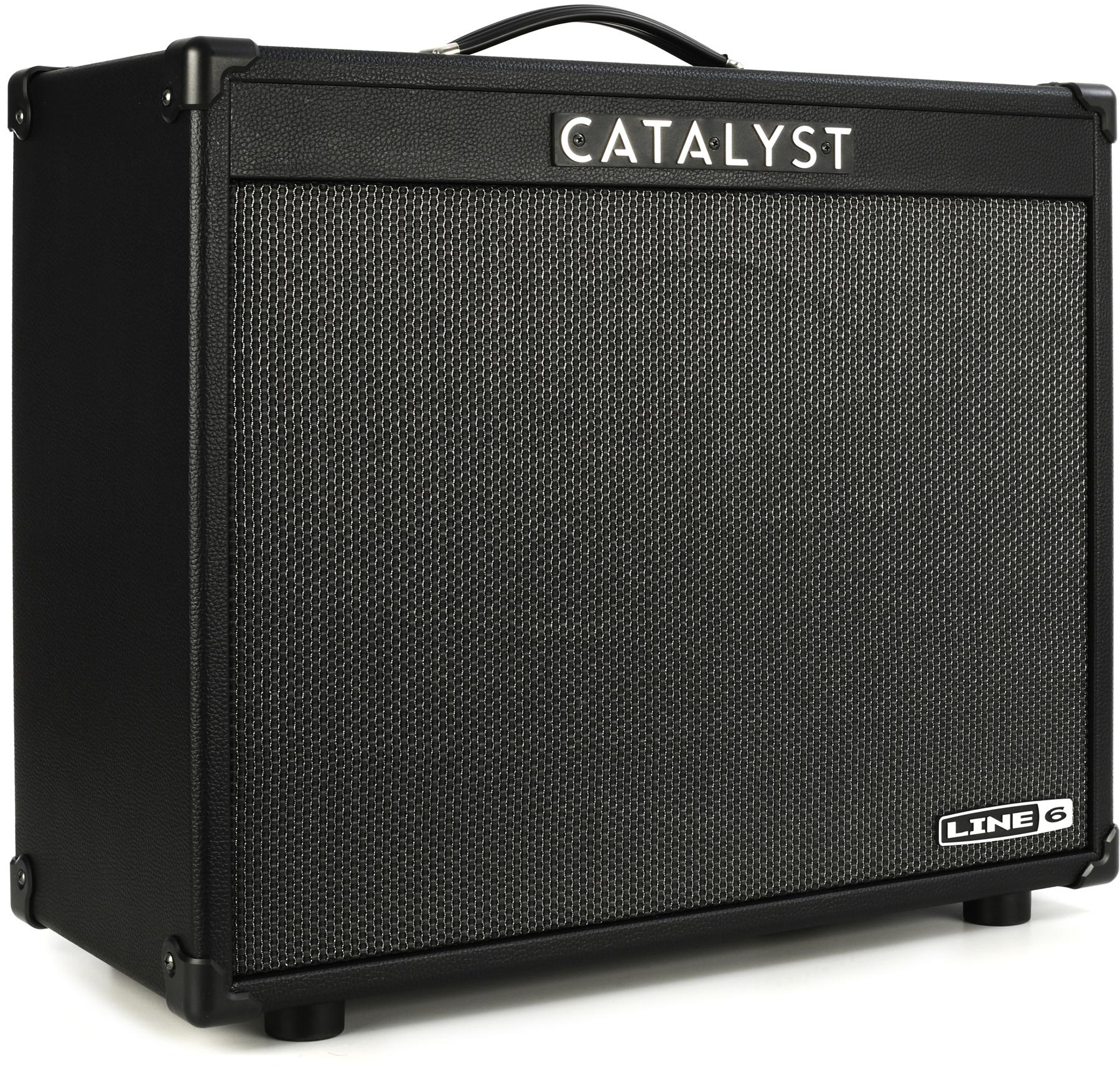 Looking for an amp that's equally at home on the stage and in the studio? Line 6's Catalyst 100 amplifier boasts a gig-ready 100-watt, 1 x 12-inch construction, in addition to a multitude of features that make it a perfect home recording and practice companion. The Catalyst 100 offers six original amp designs that will deliver any tone you could ask for — from warm and round cleans to shrieking high-gain crunch.
Also onboard are 18 built-in effects and a dedicated reverb section (with six distinct reverb types), offering near-unlimited tone-shaping possibilities. A power attenuator can adjust the Catalyst to half power, mute, or even 0.5 watts for late-night practice sessions without waking the neighbors. What's more, the Catalyst series can also function as a 4-channel USB recording interface for silent practice and recording applications.
With this guitar amp, you certainly have the tool to sound great — check out our guitar tone lessons to take it to the next level!
4. Orange Super Crush 100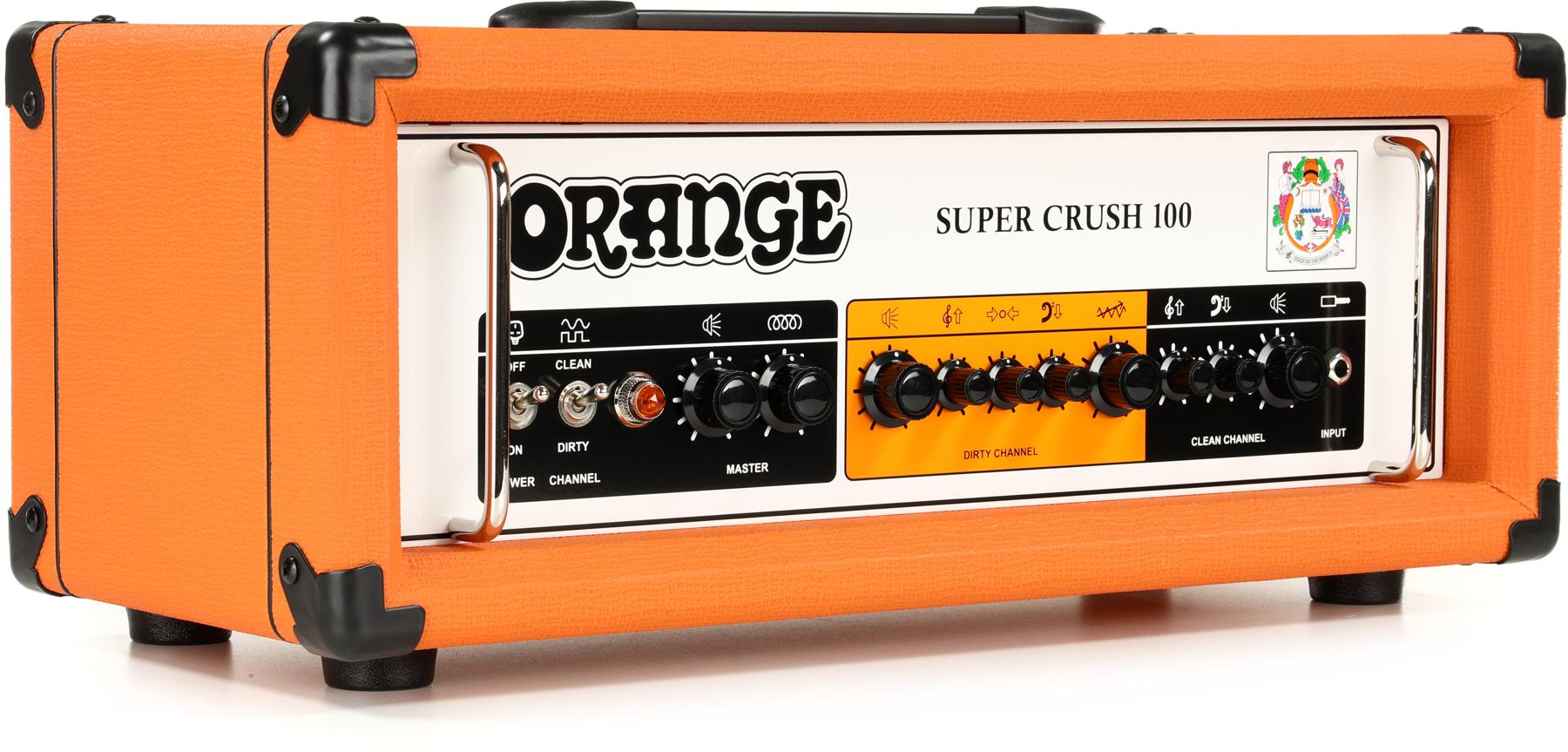 Orange's Super Crush 100 Amplifier Head is a solid-state workhorse packing 100 watts of tube-emulated power. Building off their successful Crush Pro, the Super Crush 100 compact design features a 2-channel JFET preamp and a 100-watt power amp that pair to make it sound like you're really wailing on a giant tube amp. Equipped with four stages of gain, a passive 3-band EQ, and Orange's aggressive Dirty Channel, the Super Crush gives you plenty of headroom on your clean tones while shaping your overdrive to just the right level of classic Orange grit.
guitarists are blown away by the Super Crush's CabSim speaker emulation, an analogue filter with the potential to bestow the sound of a 2 x 12-inch cabinet on your unsuspecting audience. Switch into Cab Back mode to select between an open- or closed-back cab sound, and get creative with your sound projection by running an 8-ohm/16-ohm cab into one speaker output, or run your 16-ohm cab through both speaker outputs. Add a bit of Orange's built-in reverb and a fully buffered FX loop, and the Super Crush 100 will deliver your ideal British-flavored tones.
Speaking of British-flavored tones, check out Jeff McErlain's Focus On: British Blues course at TrueFire!
5. Universal Audio Volt 476 USB-C Audio Interface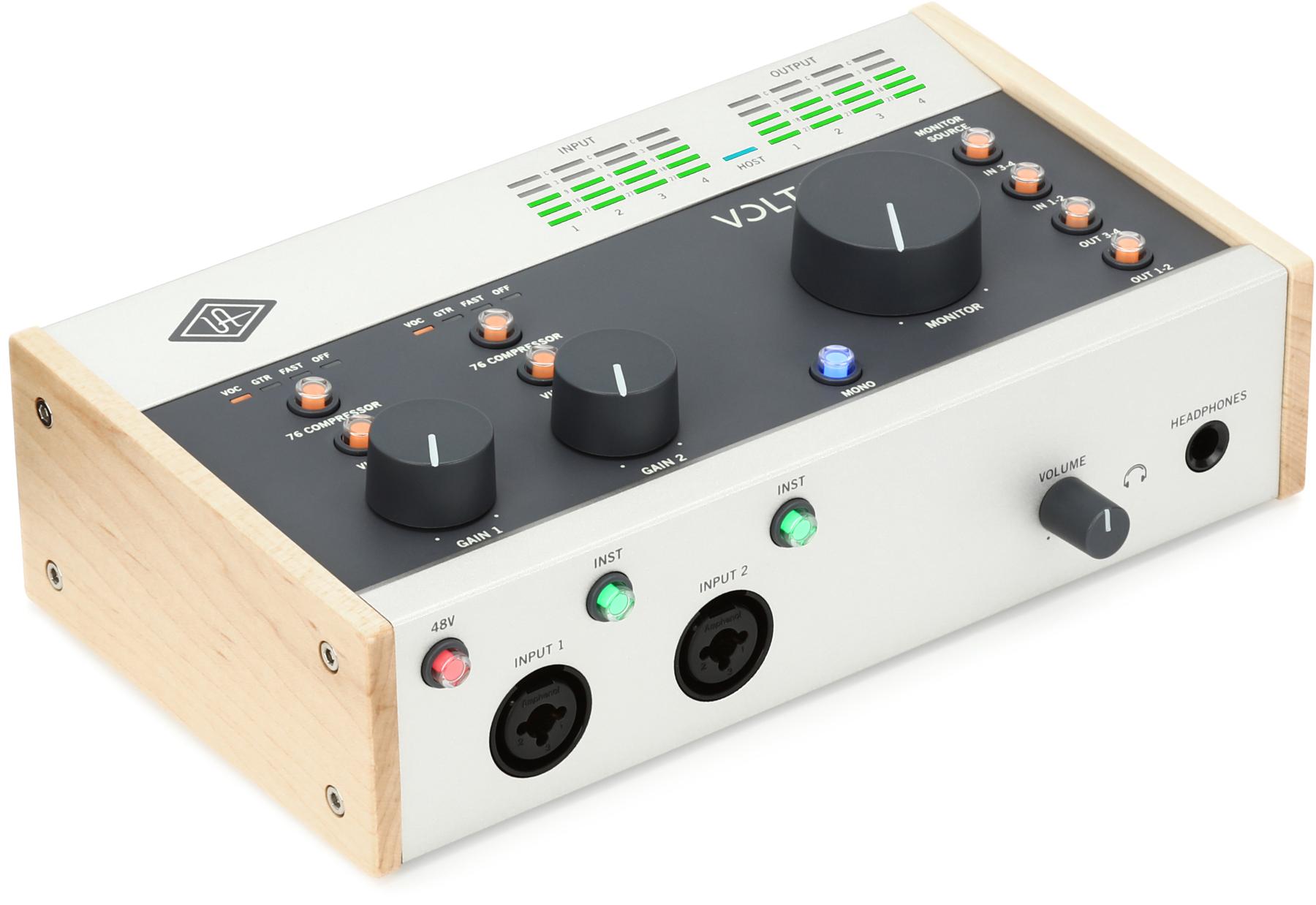 The Universal Audio Volt 476 leverages UA's renowned analog expertise to deliver a USB-C audio interface worthy of a decades-long legacy. The Volt 476 boasts top-flight analog circuitry, along with class-leading 24-bit/192kHz AD/DA conversion, enabling you to create professional-sounding music productions, livestreams, and podcasts. This audio interface boasts two microphone preamplifiers with switchable 610-style analog sound, two additional line inputs, and convenient input metering.
This interface's crown jewel, however, is its built-in 1176-derived FET compressor with three push-button application modes. Beyond that, six analog outputs and a headphones output make monitoring a snap, plus you get direct monitoring for zero-latency operation. You also get MIDI I/O for your synths and controllers. The Volt 476 vaunts a rugged, retro-inspired industrial design and comes with a cutting-edge native software bundle.
Need tips on home recording? Check out this free Introduction to Home Recording course from our friends at FaderPro!
6. MXR Poly Blue Octave Pedal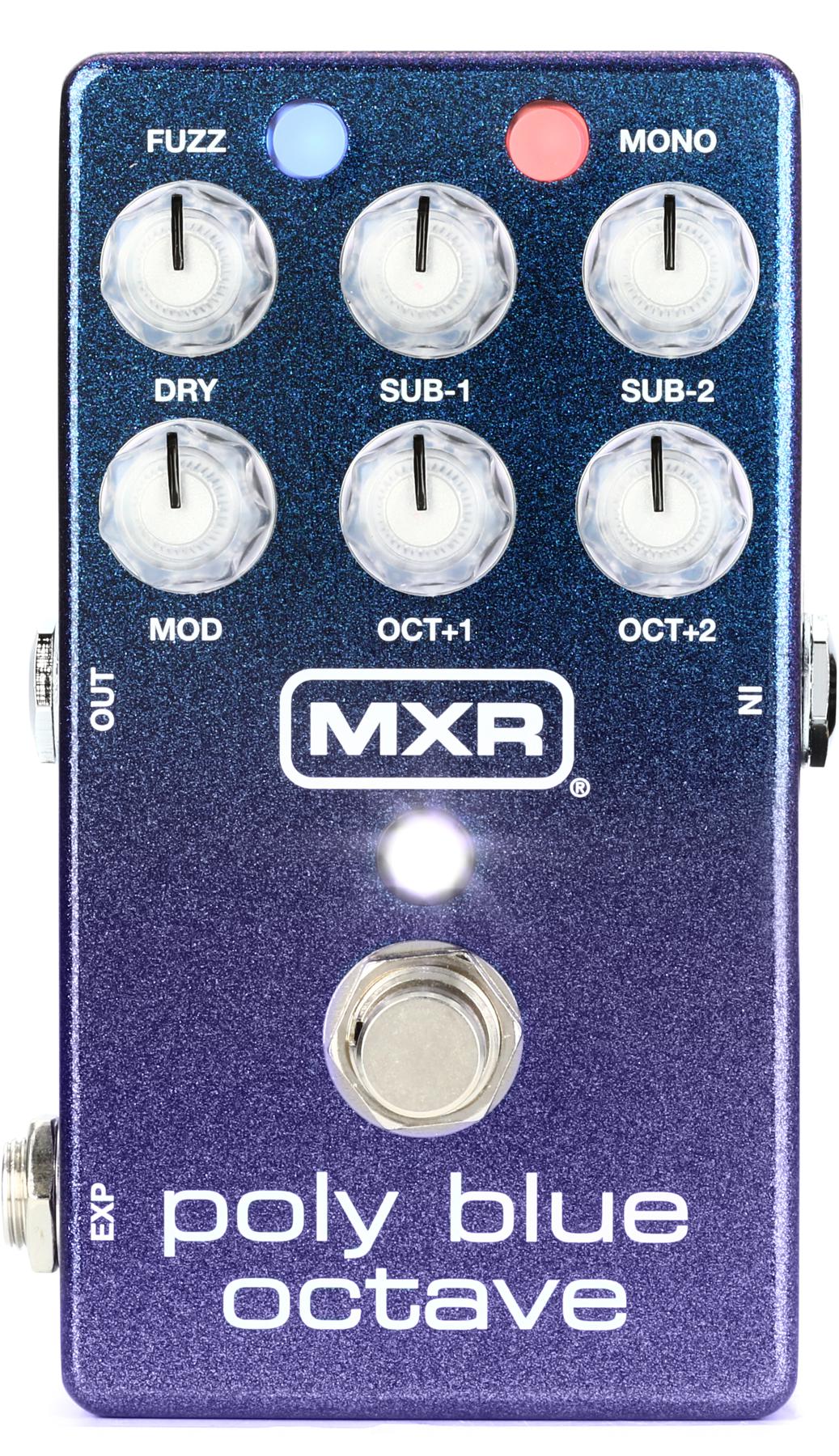 We love guitar gear deals on pedals. Octaves? Check. Modulation? Check. Fuzz? Check. MXR has a long history when it comes to octave pedals, but the Poly Blue Octave really takes it up a notch. This potent pedal comes loaded with four knobs dedicated to mixing in its quartet of octave functions: one up, two up, one down, two down. The default setting is designed for a polyphonic mode, meaning that whole chords will sound just as supple as individual notes.
If you're looking for an old-school octave sound, mono mode provides a gritty analog warmth — a sound that guitarists find perfect for pairing with the built-in fuzz. As if that weren't enough, MXR loaded the Poly Blue Octave with a modulation knob that has two distinct tones depending on whether you're using poly or mono mode. If you're looking for an amazingly versatile multi-effect octave pedal in a small, rugged form factor, then look no further than MXR's Poly Blue Octave.
If you grab this guitar pedal, you'll want to check out this octive pedal guitar lesson from Jeff McErlain's Guitar Effects Survival Guide.
7. TC Electronic Infinite Sample Sustainer Pedal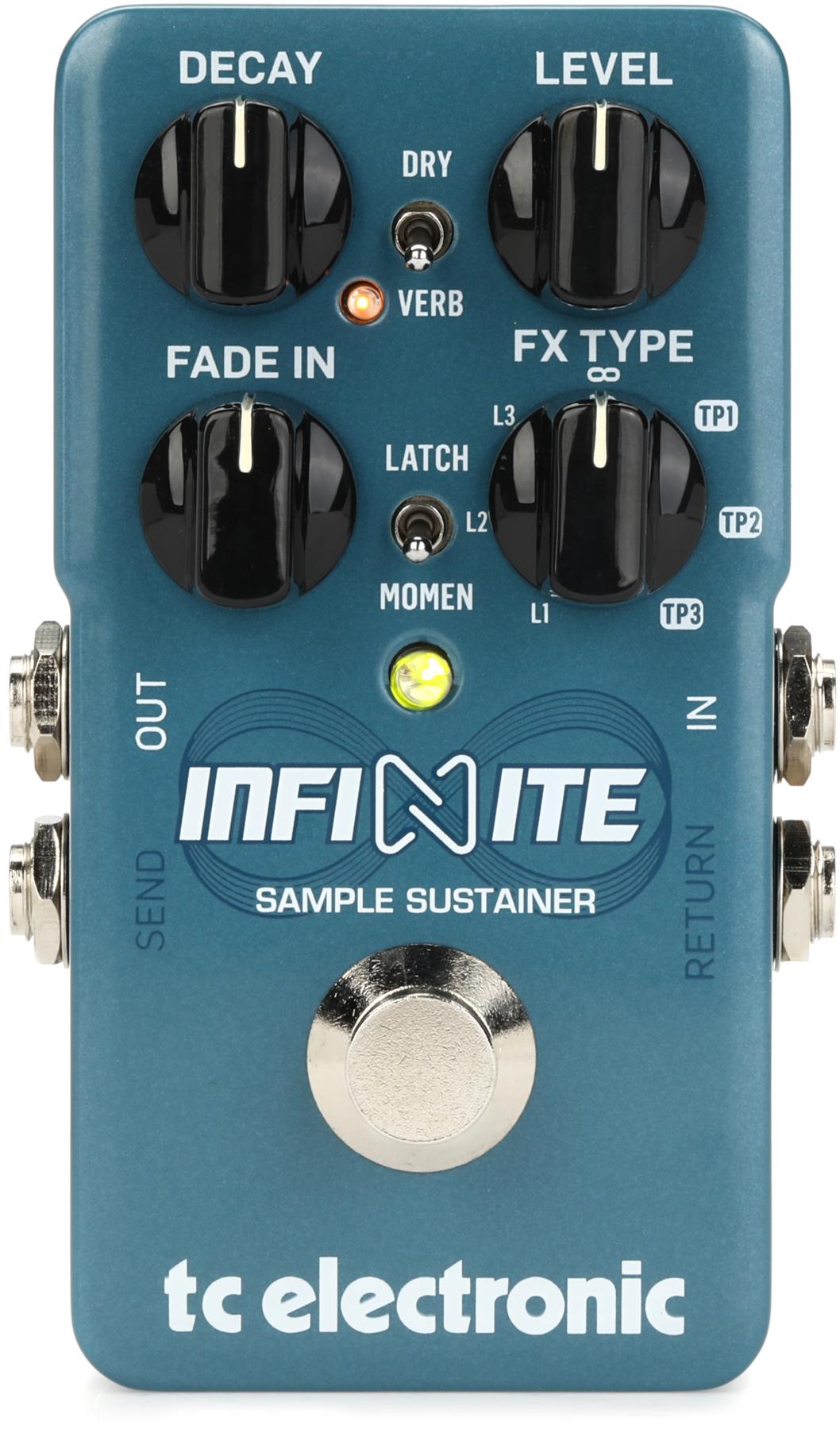 The TC Electronic Infinite Sample Sustainer is an incredible tool for expanding your guitar's harmonic limits — from six notes to an endless array of layered chords and sustained tones! Activating the Infinite Sample Sustainer causes the pedal to capture a snapshot of your guitar's signal, in either momentary or latching settings. This acts as an ambient drone that you can play over, as well as indefinitely layer using the pedal's infinite setting.
guitarists particularly appreciate the built-in reverb and modulation that can be applied to your samples, making it easy to create layered synthesizer-like pads. Furthermore, this pedal also offers TonePrint editing that allows you to tweak nearly every parameter of the Infinite Sample Sustainer's controls in the TonePrint app. Up to three custom or artist presets can be stored in the pedal, making the Infinite Sample Sustainer a highly customizable powerhouse of harmonic potential.
Going for the one-mand-band approach with this guitar gear deal? Check out these guitar looping lessons from Robbie Calvo!
8. Vertex Effects Steel String Supreme SRV Preamp Pedal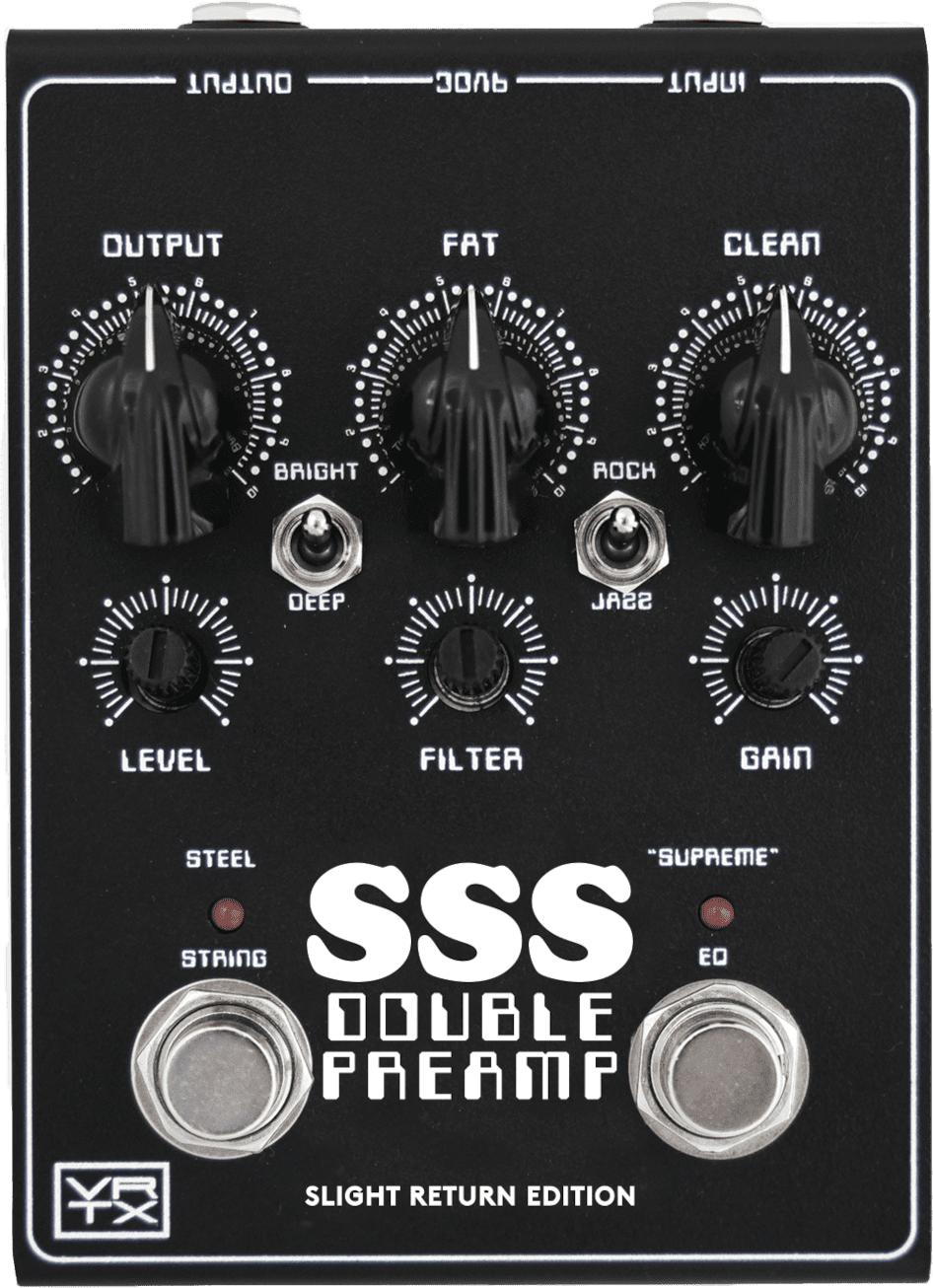 The Vertex Effects Steel String Supreme SRV expands on the company's venerable Steel String MkII, arming you with a full-fledged, D-voiced preamp. Loaded with 100% analog solid-state circuitry, this clean drive stompbox builds upon its more-streamlined predecessor's features with the addition of an independent EQ section and five extra tone-shaping controls.
Park the SSS SRV in front of your tube amp to inject it with D-style character, plug it into your mixer or audio interface for vintage-tinged DI-ed tones, or use it to infuse your digital modeling rig with tube-like warmth and transients. No matter how you use it, the Vertex SSS SRV will deliver the coveted sound that top-tier players live SRV, Eric Johnson, and John Mayer made famous.
Looking to capture the vintage sound of SRV? Learn how to play guitar like Stevie Ray Vaughan with these lessons at TrueFire!
9. TC Electronic Zeus Drive Overdrive Pedal
When you push the overdrive envelope, you don't just want that screech and howl. You also want to retain the warmth and range of your tone. With the Zeus Drive overdrive pedal, you can growl while staying grounded in warm tone with an outstanding dynamic response. The Zeus features an all-analog circuit and a stepped-up internal voltage that work in tandem to not only boost your output, but also keep that sonic variety of your tone intact.
When you want to boost your low end, a Fat mod switch makes it easy. Easily blend distortion with your clean signal via a dual concentric Gain control for truly amp-like tones. The Zeus also features a Treble control that lets you elevate your highs without watering down your bass response. Guitarists here at Sweetwater have put the Zeus Drive through the paces and are amazed at the results — just wait until you hear this pedal for yourself!
If you grab this pedal, you'll want to check out this overdrive pedal guitar lesson from Jeff McErlain's Guitar Effects Survival Guide.
10. EVH 5150 Iconic Series 40-Watt 1×12″ Tube Combo Amp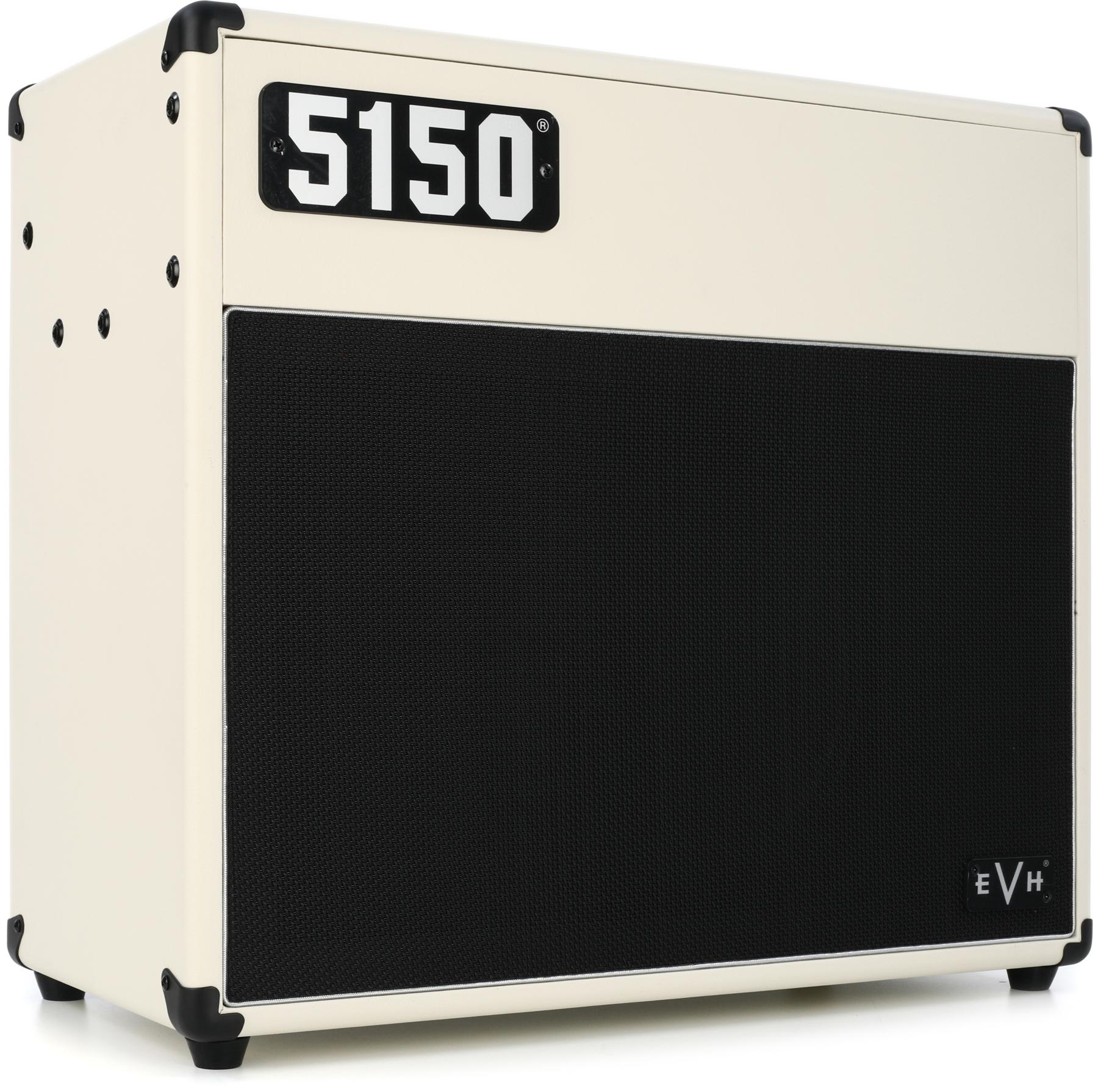 One of the best guitar gear deals out there, the 5150 Iconic Series combo delivers two channels of tube-infused, EVH-style tone with a streamlined design that satisfies the needs of gigging and recording guitarists alike. This tube amp combo covers the full gamut of Edward Van Halen's contemporary hard rock tones, with an extra voicing on each channel for added versatility. There's plenty of sound shaping onboard, with per-channel Gain and Volume, a shared 3-band EQ, and global Resonance and Presence controls.
What's more, this amp's custom-designed EVH Celestion speaker and tailor-built cabinet produce pristine cleans and articulate high-gain tones with ample low-end response. The 5150 Iconic Series combo also includes a top-shelf noise gate, footswitchable Boost function, and high-quality reverb to ensure a dynamic performance and U.S.-prime, grade-A-stamped sound. Other features include a power reduction circuit, speaker-emulated output, dual parallel speaker outputs, selectable impedance, and an excellent-sounding effects loop.
If you're craving EVH's latter-day sound, the 5150 Iconic Series combo delivers the searing tone and growling gain that King Edward made famous.
R.I.P. EVH. Here are some Eddie Van Halen guitar lessons at TrueFire for you to check out!
Want More Guitar Gear Deals?
Dig these guitar gear deals? Join TrueFire for free for more plus a free 14-day TrueFire All Access trial!
Sweetwater Guitar Gear Deals