When looking for the best guitar amps out there, it can be a matter of opinion, brand preference, or simply taste. The sound and tone you desire are, of course, the most important factors, especially if you're trying to emulate the sound of your guitar heroes.
Each guitar amp on the market has its pros and cons, but if you're trying to find the best guitar amps in 2022, a good place to start is by looking at which guitar amps sell the best.
Our friends at Reverb publish a list of the best-selling guitar amps annually, and we've leveraged their data to put this list together of the best guitar amps you can find in 2022.
The Best Guitar Amps in 2022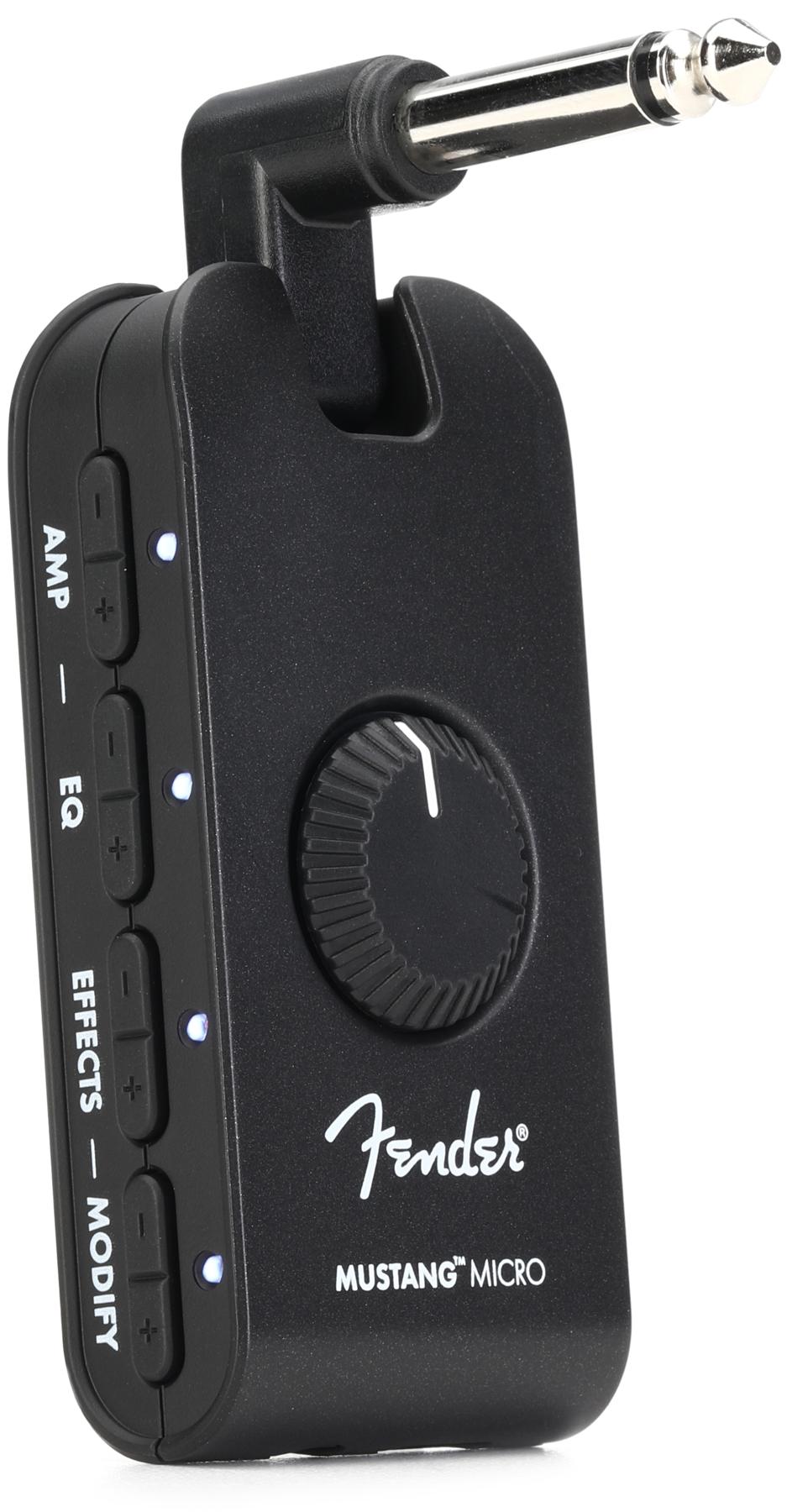 The Mustang Micro headphone amp/audio interface is the simplest way to get your hands on Fender's next-level Mustang GTX amp and effects models. Whether you're jamming at home, tracking in the studio, or even gigging out on the weekend, this tone-loaded processor is all you need to get great guitar tone. Hands-on controls for EQ, amps, and effects eliminate the need for software control. And when it's time to take your music on the road, the Mustang Micro's articulating plug (compatible with both Strat- and Tele-style electrics) folds flat for easy storage in a front pocket. Unlike other headphone amps, the Mustang Micro features an onboard rechargeable lithium-ion battery to keep you juiced up on the go. Sweetwater guitarists report an average of 4–6 hours of battery life per charge — plenty to get you through a weekend gig or worship set. What's also unique is that the Mustang Micro is itself a USB-C interface. This feature lets you capture those hard-worked stereo guitar tones in the studio without any special cables and without incurring any loss in quality. Factor in Bluetooth audio streaming with automatic A/V sync for song learning and cover creations, and the Fender Mustang Micro headphone amp is one piece of gear that no guitarist will want to be without.
Buy this guitar amp now at Sweetwater >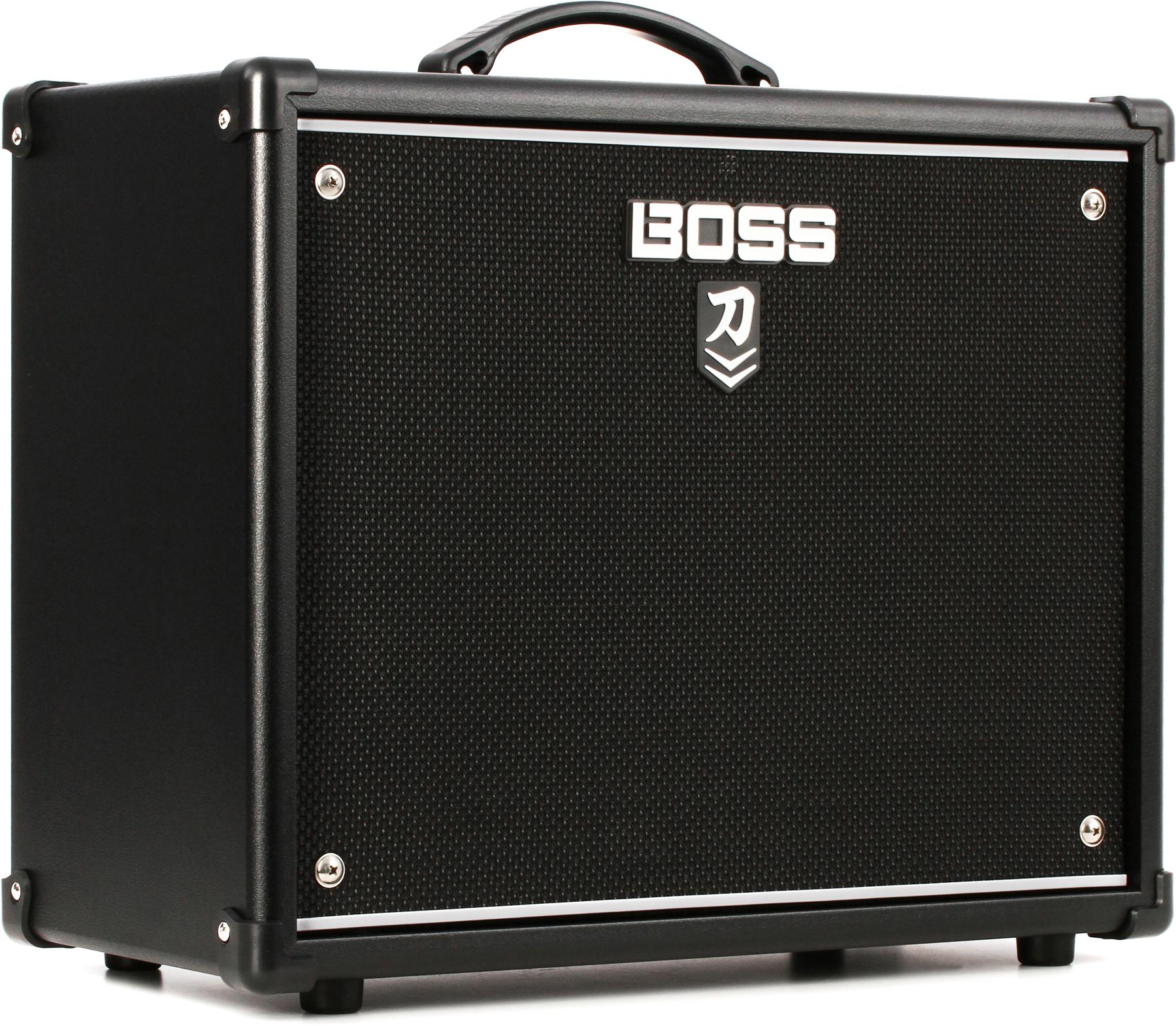 The BOSS Katana-50 MkII is the latest installation in BOSS's esteemed line of Katana series amplifiers. And whether you're interested in accessing its pummeling 50-watt output section and platform-perfect 12-inch speaker to amplify your existing modelers and preamps, or in building your dream tones from the ground up to create the ultimate all-in-one gig and practice solution, take it from Sweetwater — the Katana-50 MkII is a powerful tool in the hands of any electric or acoustic player. Cab-emulated outputs and monitoring make the BOSS Katana-50 MkII a truly silent stage and studio guitar solution, while multichannel footswitch support provides hands-free remote access to every sound in your arsenal. New amp variations and access to 60 timeless BOSS effects within the BOSS Tone Studio editor make the 50 MkII a tone tweaker's holiday.
Buy this guitar amp now at Sweetwater >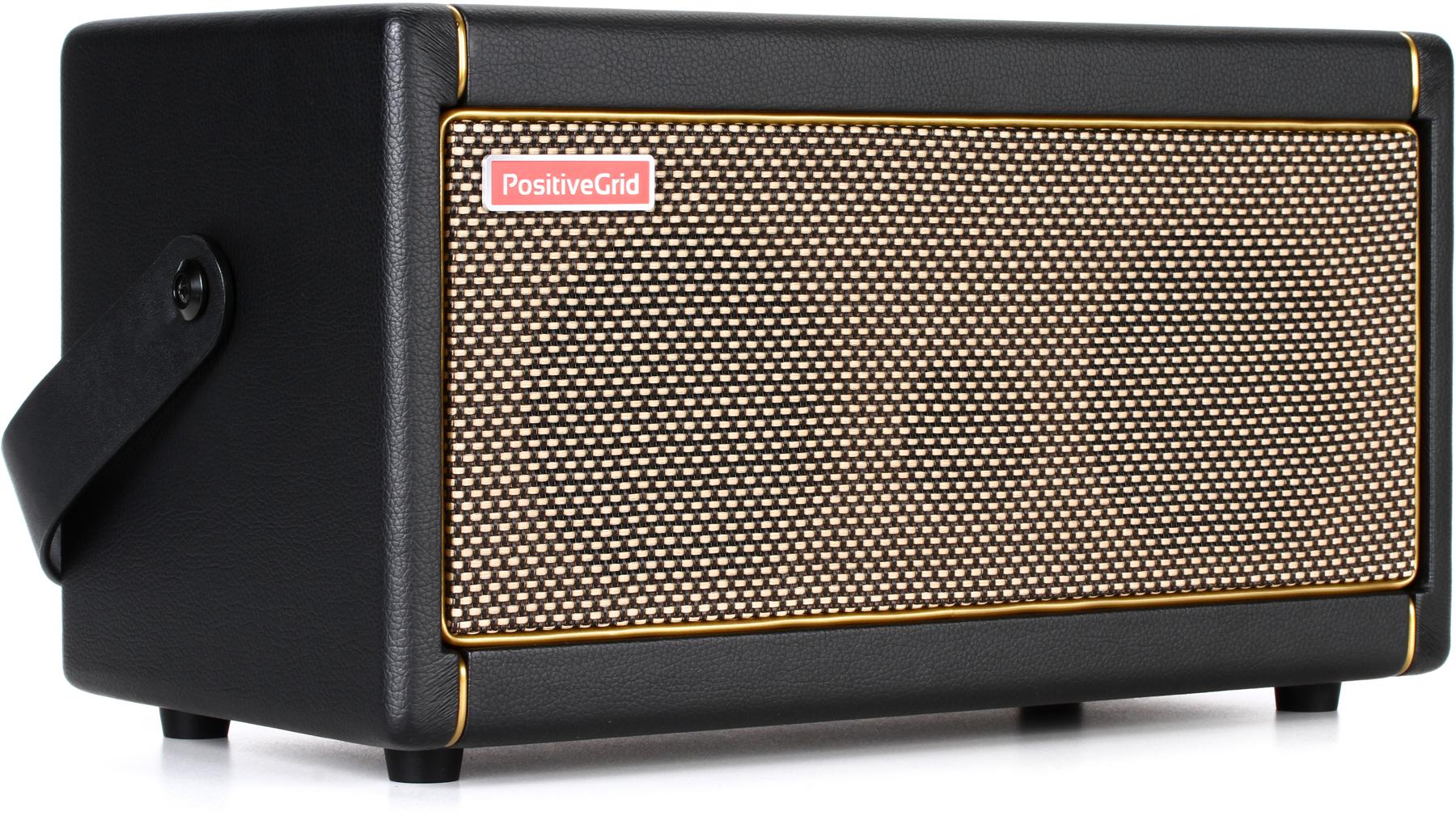 Positive Grid's Spark is a breakthrough new way to jam, track, practice, and learn songs. This powerful app-driven smart amp delivers a bedroom-filling 40 watts of 10,000+ classic BIAS amp/pedal/cab presets through its twin 4″ ported hi-fi speakers, ready for direct injection into your DAW recording session or live PA via USB or 1/8″ TRS headphone output. And impressive as that is, it's just scratching the surface of all the Spark can do for you. Voice control via the Spark App gives you Slash-worthy lead tones and solo-ready rock and blues backing tracks without lifting a finger. You can even feed Spark your own chord progressions and listen in amazement as a virtual session drummer and bassist accompany you in real time. A massive list of downloadable tone presets and an impressive library of virtual pedals and amps — which are easily navigable by style, artist, or genre — suit this one amp for every electric guitar, acoustic, and bass in your arsenal. And at a mere 11.5 pounds (slightly less than a bowling ball, slightly more than a gallon of paint), the Positive Grid Spark is transportable enough for day-to-day outings.
Buy this guitar amp now at Sweetwater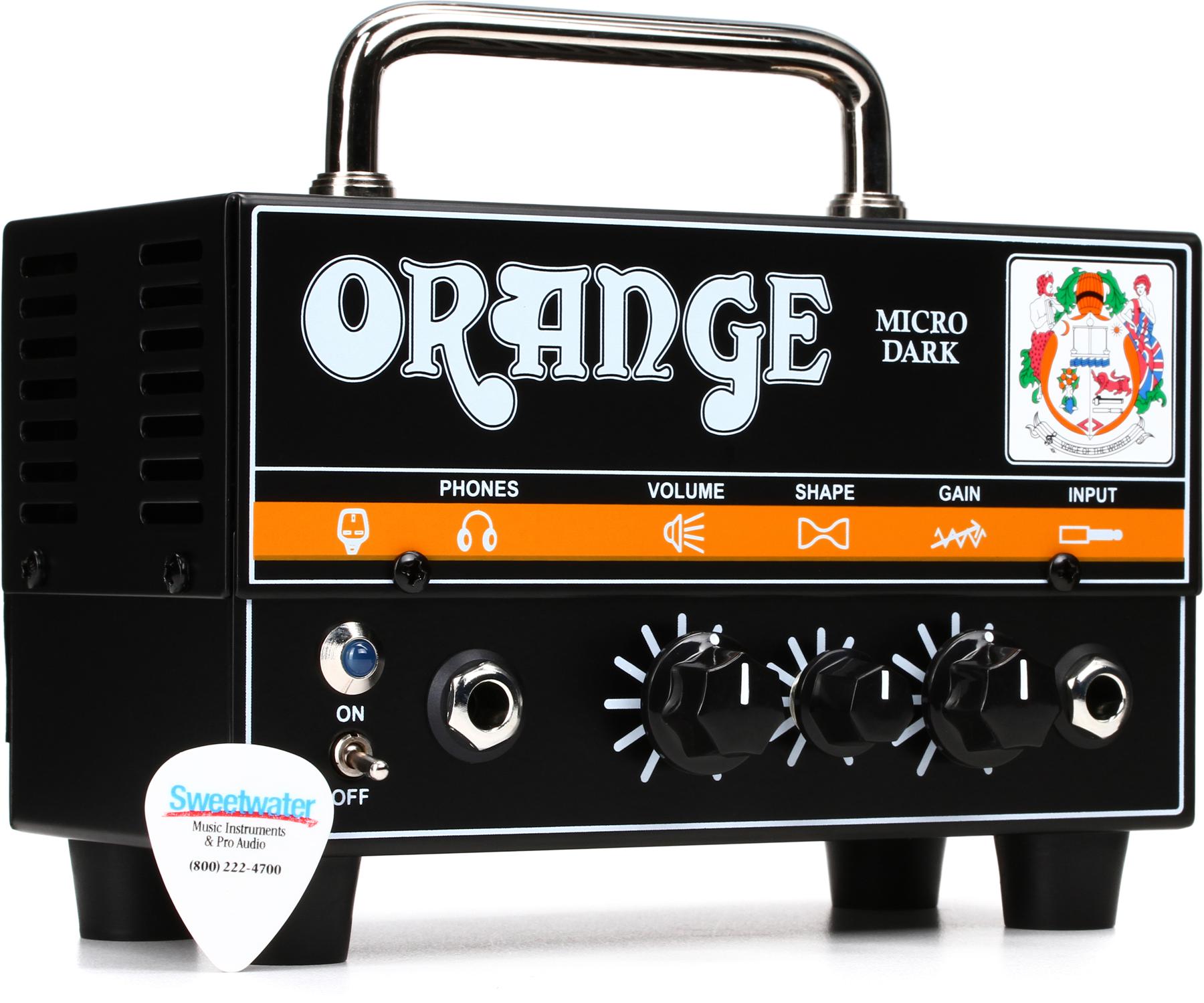 The Orange Micro Dark hybrid electric guitar amplifier head puts great high-gain tones in a simple and very portable package. Based around Orange's popular Dark series of amplifiers, the Micro Dark offers the same searing gain and tonal versatility as its big brothers, but boasts the same tiny format as the Micro Terror. This mighty mite crams 20 watts into a head about the size of a small lunchbox. If you need a simple-to-use, portable amplifier with huge tones, check out the Orange Micro Dark.
There simply aren't many other amplifier heads this small that can keep up with the Micro Dark's 12AX7-driven tones and 20 watts of power. At under three pounds, the Micro Dark amplifier head is a cinch to transport to any recording session, rehearsal, or gig. And its diminutive size makes it an easy fit in any room, no matter how tight the space may be.
The 3-knob control panel makes pulling great sounds out of your Orange Micro Dark easy. It features pots for volume, gain, and shape. The shape control is the same used on the other Dark series of amplifiers, going from scooped grind on one side of the dial to a more classic mid-focused tone on the other. Want even more tonal options? The Micro Dark boasts a buffered effects loop in the back for patching in your favorite time-based effects. And the single input and single speaker out streamlines your setup so you're getting great tone in no time.
Buy this guitar amp now at Sweetwater >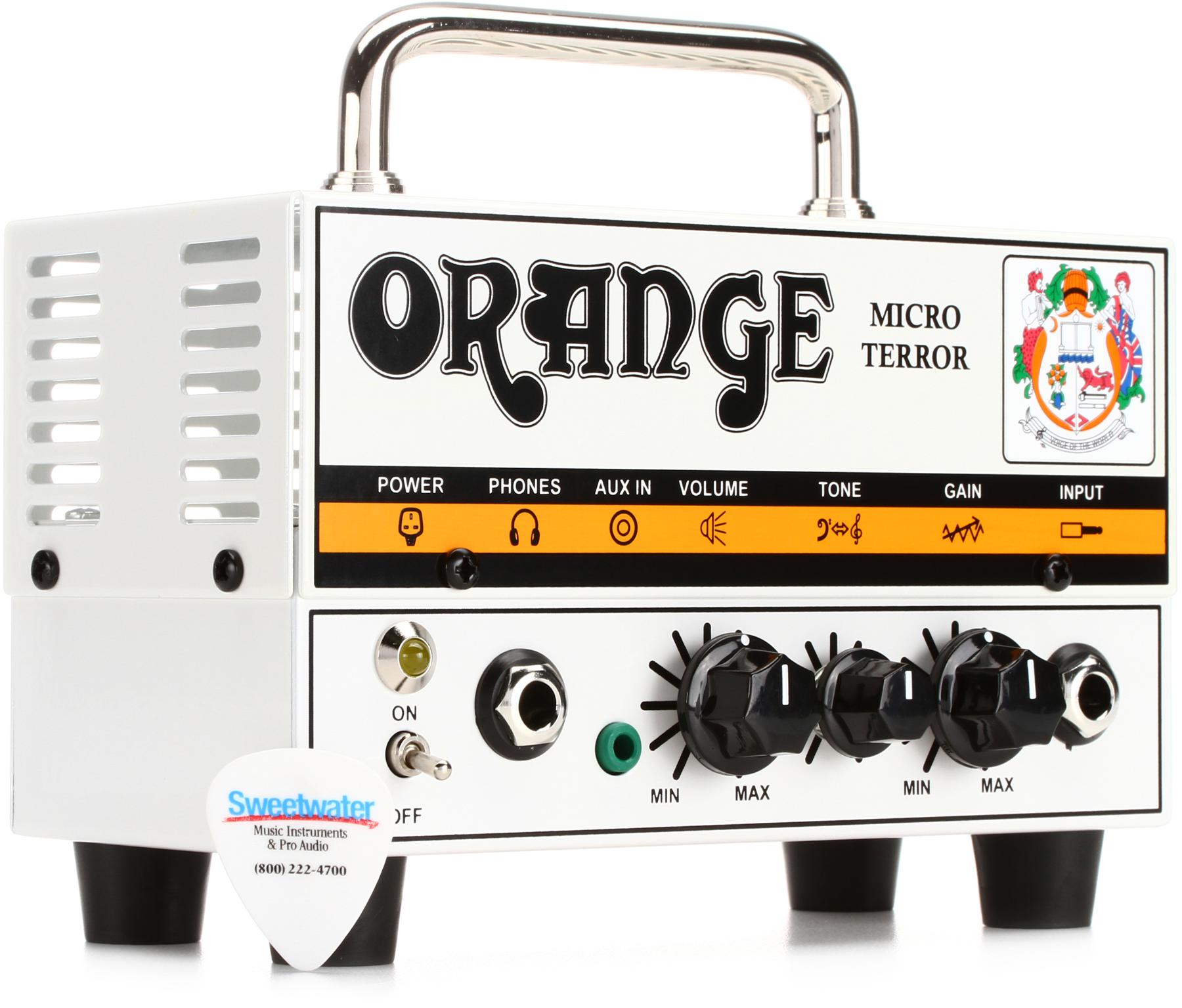 Do you need an amp with an extremely small footprint that still puts out big sound? Orange's Micro Terror guitar amplifier head is extremely small but still packs a sonic punch. This amp's hybrid design features a 12AX7 preamp tube and a 20-watt solid-state power amp. You'll notice the distinct British character of the Micro Terror on every setting from clean to overdrive. A headphone output and MP3 player input make this amp head perfect for practicing. If you're after that big Orange tone, but want it in a teeny-tiny package, then you want the Orange Micro Terror guitar amplifier head.
If you are after classic British tones, the Orange Micro Terror guitar amp head has them by the truck load. From chimey cleans to meaty crunch to pummeling overdrive, the Micro Terror is all Orange all the time. The 12AX7 preamp tube gives you warm tube characteristics that every guitar player looks for. The Orange Micro Terror delivers the great British-flavored tones you want in your rig.
The Micro Terror has been built to the same rugged specification as the bigger Orange amps and its portability makes it perfect for gigging around town or rehearsing. The Micro Terror delivers a surprisingly loud 20 watts of classic Orange tone. At 5.3″ tall and 6.5″ wide, the Micro Terror is one of the smallest amp heads available on the market.
Besides looking good, the Orange Micro Terror amp head is also a very versatile amp. The Micro Terror is the perfect practice tool; plug your MP3 or CD player in the aux input and learn your favorite songs note for note by playing along with them. The headphone output lets you practice quietly without annoying your neighbors.
Buy this guitar amp now at Sweetwater >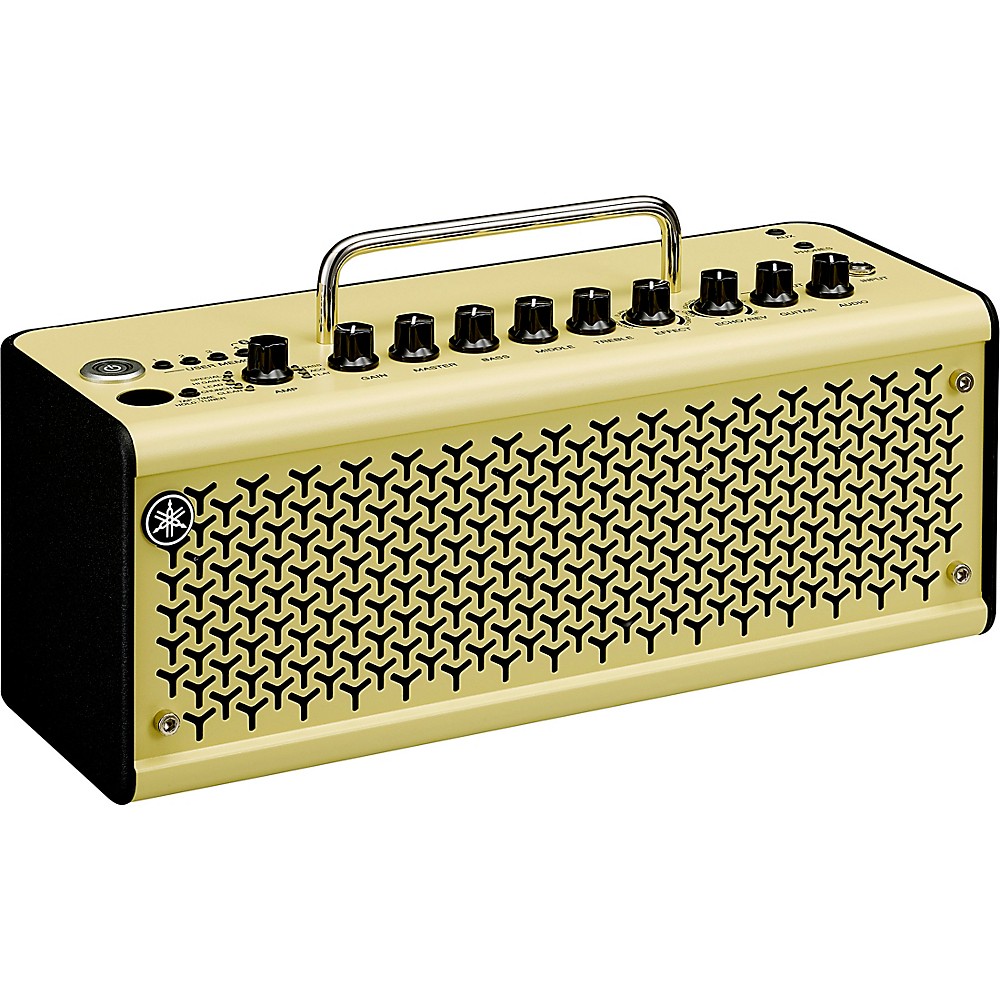 The Yamaha THR10II 20W amp brings realistic tube-amp tones and feel to your desktop. Yamaha originated the "desktop amplifier" category, and the THR10II takes the concept to new heights. New amp models for electric guitar and bass, mic models for acoustic-electrics, and flat voicings for everything else let you cover any genre.
Bluetooth support lets you wirelessly play your music through the hi-fi speakers, sculpt your perfect tone with the mobile editor app, and more. A redesigned enclosure with increased bass response and a refreshed look that complements any décor complete the package.
Buy this guitar amp now at Guitar Center >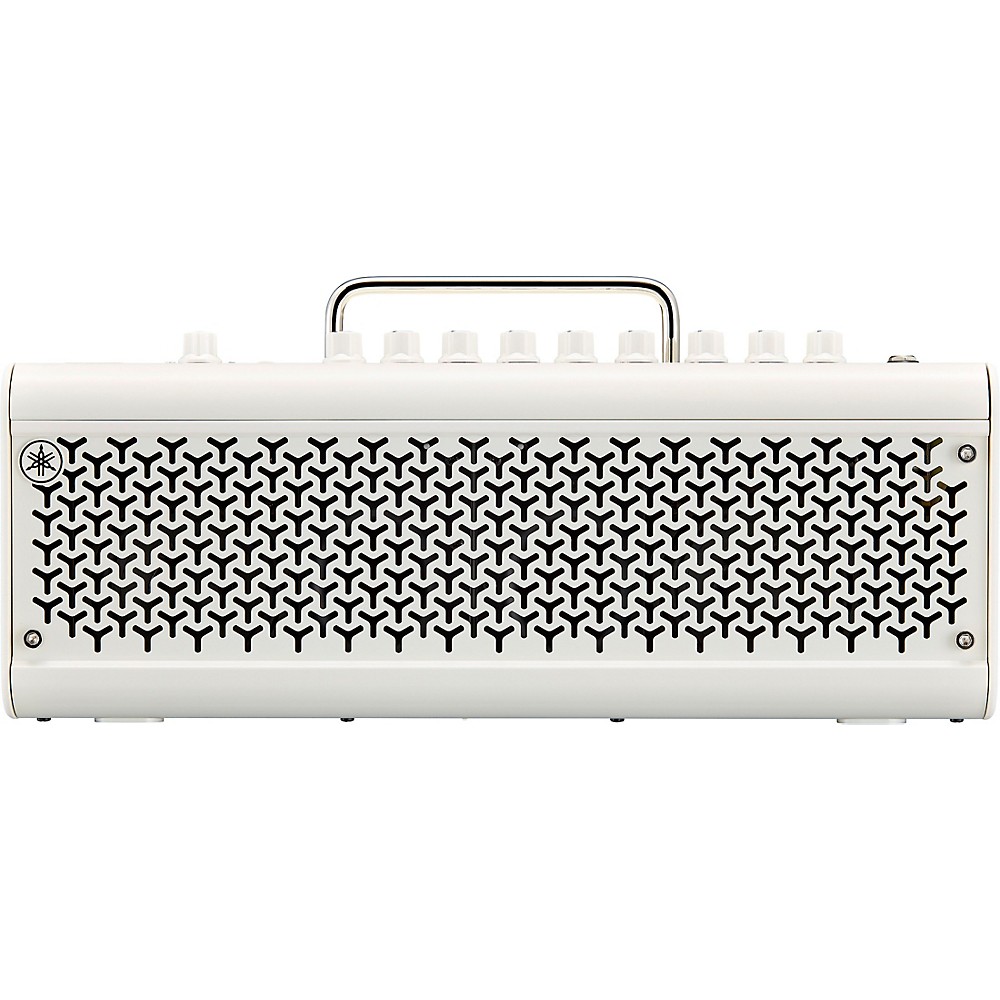 The Yamaha THR30II Wireless 30-watt 2×3 guitar combo amplifier brings realistic tube amp tone and feel to your desktop and beyond. Cover any genre with amp models for electric guitar and bass, microphone models for acoustic-electrics and flat voicings for everything else, plus enjoy increased bass response thanks to the redesigned enclosure. Bluetooth support, a Line 6 Relay wireless receiver, a built-in rechargeable battery and stereo line outputs enable you to play anywhere your music takes you.
Buy this guitar amp now at Guitar Center >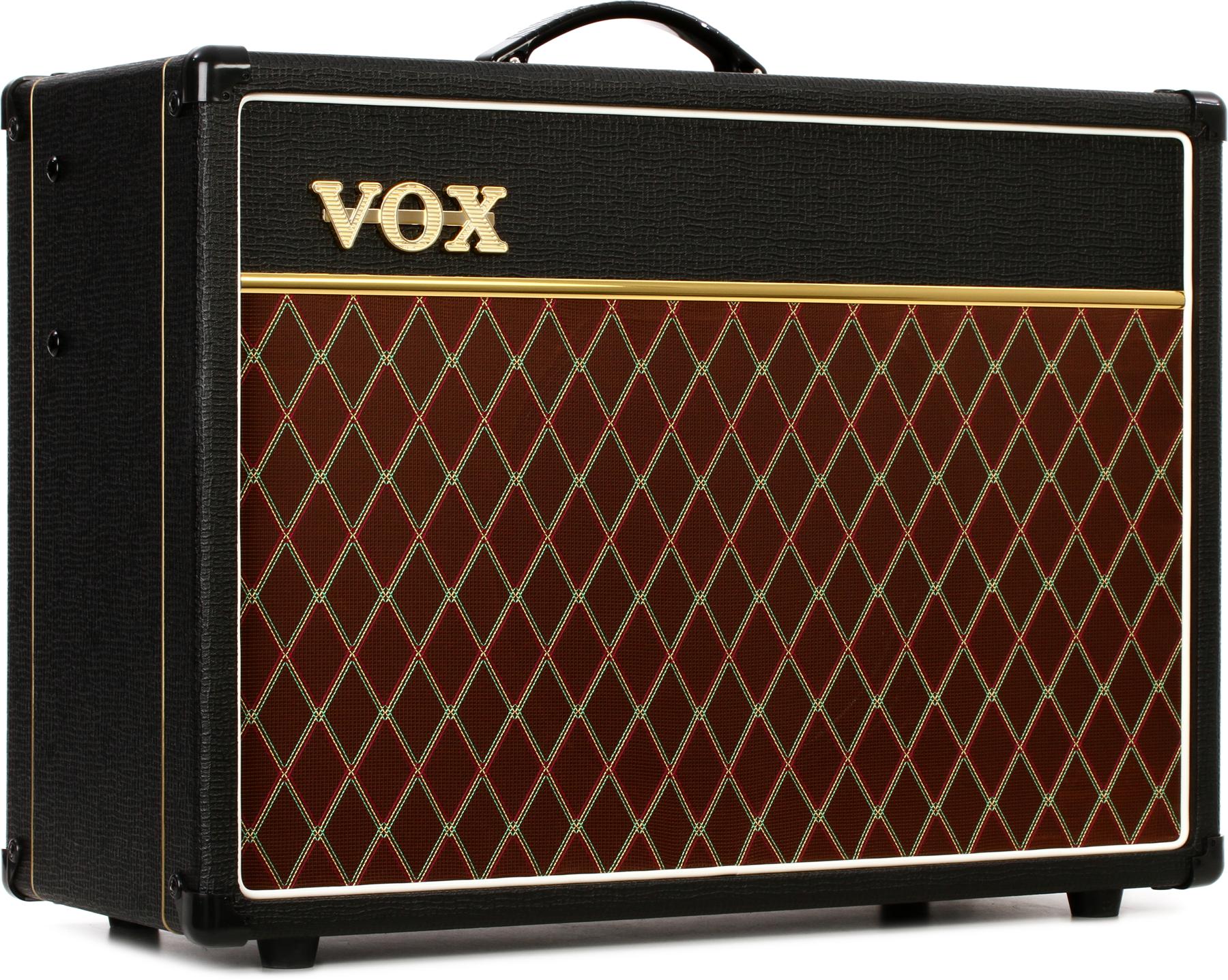 This Vox AC15 Custom delivers the classic chime and complex grind that has made the brand famous. This 15-watt combo amp was one of the first to define the British sound and continues to be used on stages and in studios around the world. The AC15 Custom's 15-watt design offers manageable volume in the live environment while still being able to get above the band. And the 25-watt Celestion Greenback speaker mellows high frequencies. If you want a Vox with a look that's both vintage and rare, grab this AC15 Custom.
Buy this guitar amp now at Sweetwater >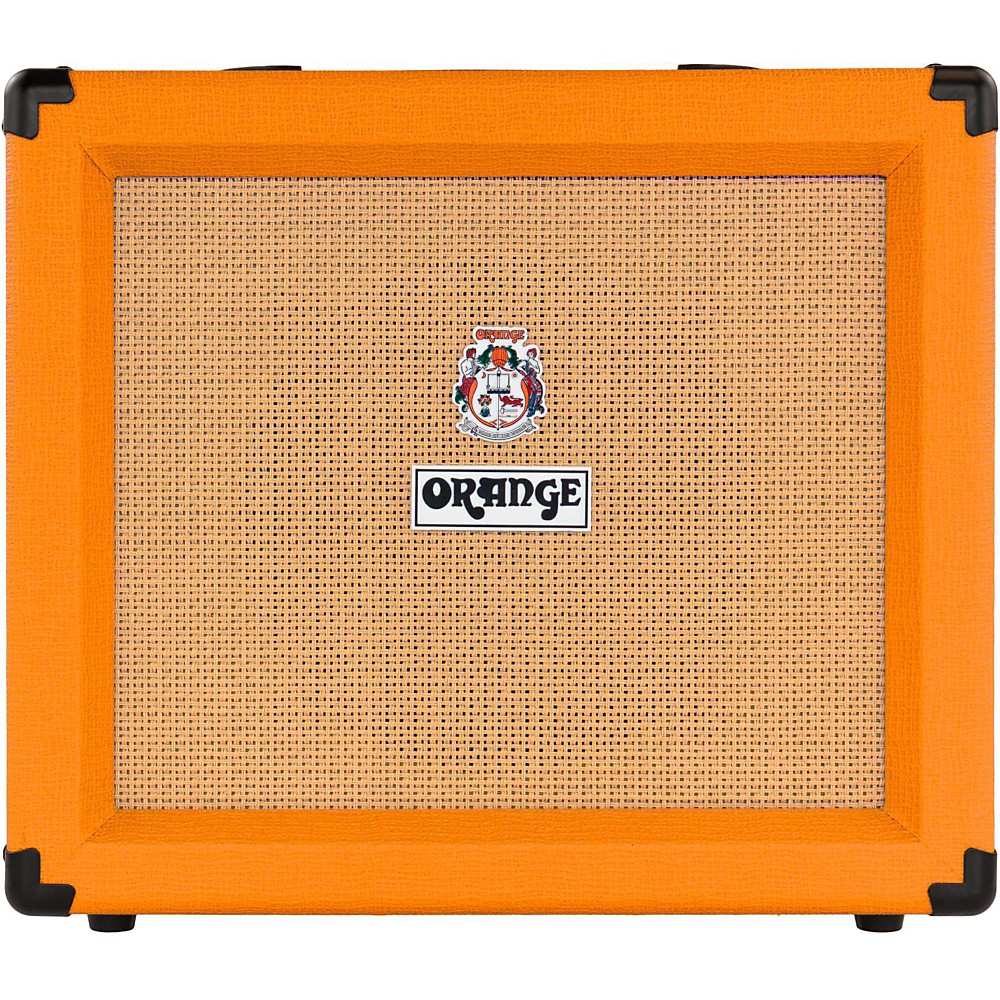 The Orange Crush 35RT 35W guitar combo brings the legendary Orange sound to the rehearsal room. Sharing the Crush 20RT's twin-channel design, digital reverb and chromatic tuner, the Crush 35's larger size and bigger output section delivers even greater punch and volume. Complete with a transparent, fully buffered effects loop this amp goes way beyond the call of the traditional "practice amplifier. And, with Orange's CabSim technology, you get an emulated 4×12" cab tone through the headphone output to give you huge sound even when you're practicing silently.
Buy this guitar amp now at Guitar Center >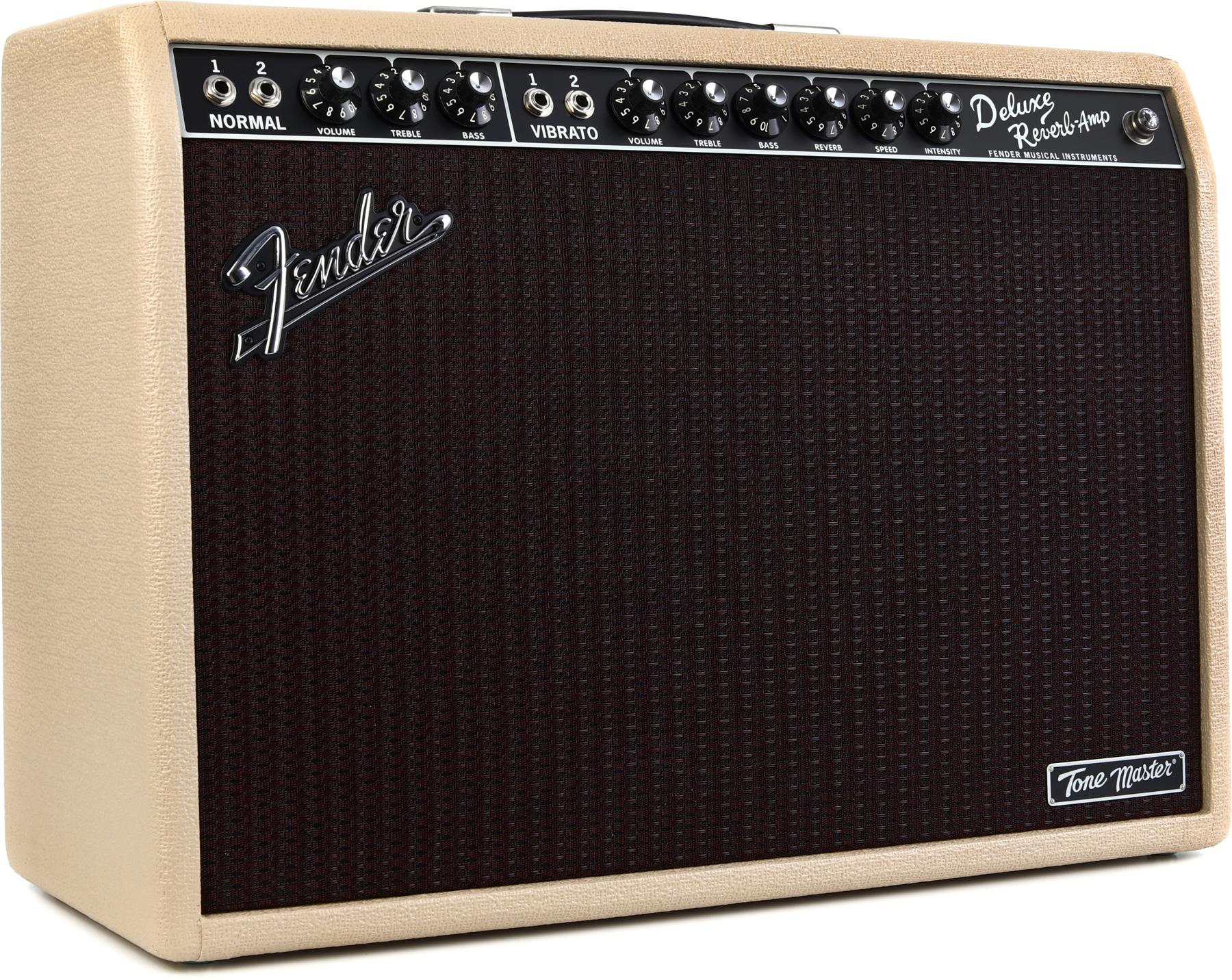 The Fender Tone Master Deluxe Reverb — here in textured Blonde vinyl with an Oxblood grille — is a stunning facsimile of a '60s-era all-tube Deluxe, built using the latest in Fender digital amplification and loaded with an ultralight Celestion neodymium-magnet speaker for a distinct rock 'n' roll voicing. Faithful modeling of the classic tube architecture gives the Tone Master all the headroom, output, and reactivity of the original at a massive weight savings. A solid pinewood cabinet further shaves off poundage. Inside you'll find a 12″ Celestion Neo G12 Creamback speaker voiced to handle everything from Midwest indie pop to wide-open hard rock covers. Around back, a 5-way power attenuator transparently reduces wattage to let you achieve just the right tube-flavored cluck and breakup for any live and studio setting. You also get an XLR balanced output with your choice of flat-response or two onboard cab simulations for silent performance and recording.
Buy this guitar amp now at Sweetwater >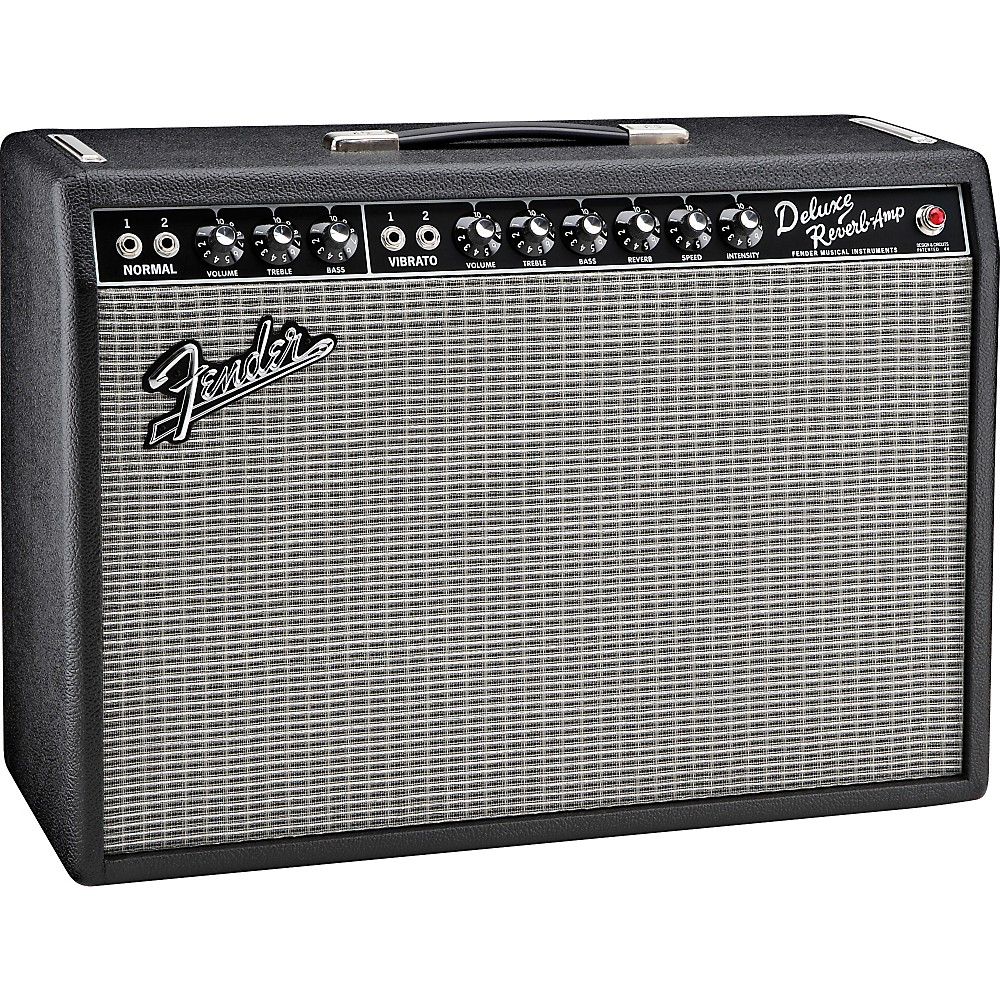 The Fender '65 Deluxe Reverb Combo Amp has a sound big enough to cut through the muddiest mix, but it's small enough to turn up make the most of natural tube distortion in small clubs. This makes it the perfect studio amp, as well. It's a resurrection of a classic vintage tone monster, and its current iteration is used by many big-name bands, such as Flogging Molly, O.A.R. and Maroon 5. Crank up this faithful, U.S.-made reissue for your daily requirement of fat Fender tone. Delivers 22W through a 12″ speaker. Features two channels (normal, vibrato), all-tube circuitry, tube vibrato, tube spring reverb, Blackface cosmetics and two-button footswitch to control the reverb and vibrato effects.
Designed to sound as close to the original as possible, the ˜65 Reissues are assembled in Corona, California and feature Jensen speakers (One C12K for the Deluxe and two C12Ks for the Twin, four P10Rs for the Super and one C10R for the Princeton), Schumacher transformers, traditional tremolo and tube-driven reverb to create that classic, "Blackface" sound so many players desire. They do have PCBs (Printed Circuit Boards), as opposed to the original's "hand-wired" circuitry, but the components (capacitors and resistors) are the same values as amps from that period. They also have hand-wired tube sockets and other parts for added strength.
Tonal Characteristics: Bright, scooped midrange that is known as the "Blackface" sound, pronounced "Wine Glass" highs from the Jensen speakers and a slightly more polite power amp for crystal cleans that can also be cranked for great overdriven tones.
Who's it for: Players that love the original versions but are priced out of owning vintage amps, blues players, country players, rock players, guitarists trying to get classic "Blackface" sounds (a la Stevie Ray Vaughan, Jimi Hendrix, John Mayer), American-made amp enthusiasts, traditionalists, avid Fender collectors.
Buy this guitar amp now at Guitar Center >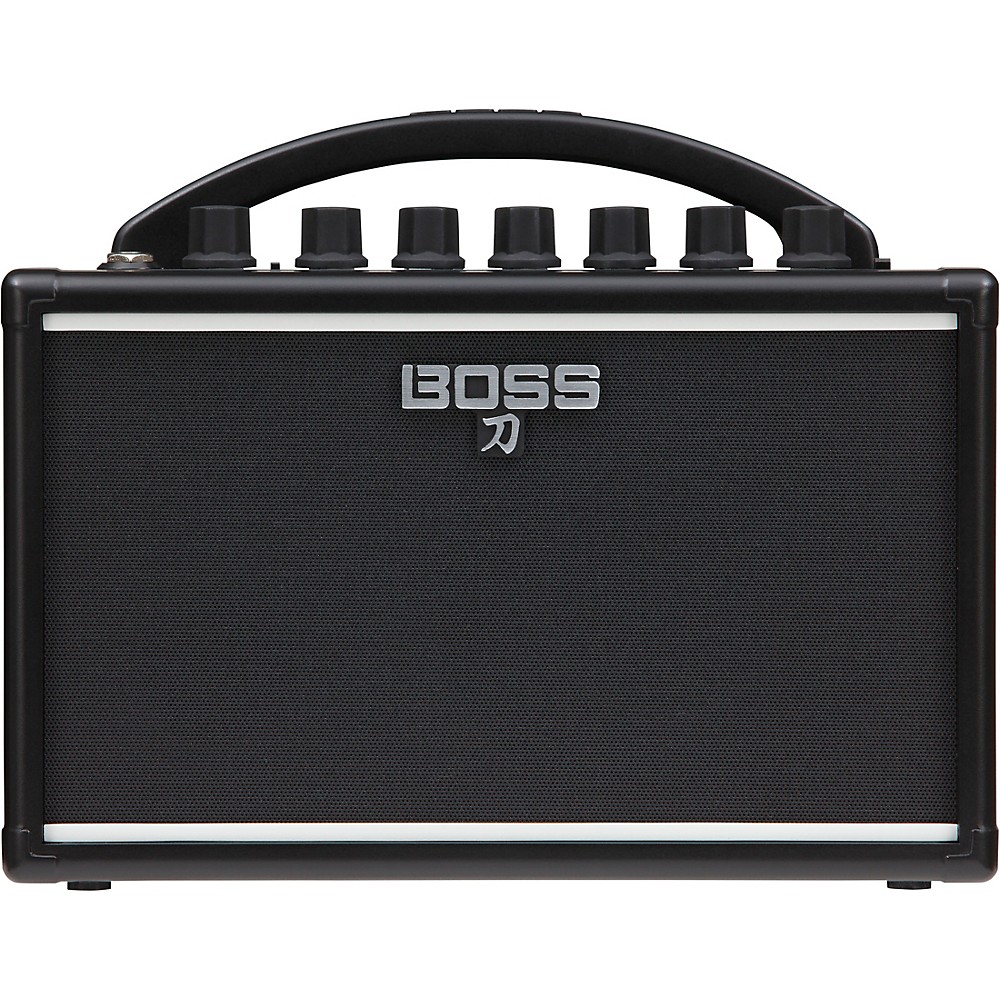 BOSS Katana amps have received accolades from guitarists everywhere for their fantastic sound and feel, onboard effects and great value. Now, the Katana-Mini makes serious Katana tone accessible in a small, go-anywhere amp that runs on batteries. Offering sound quality that far exceeds other amps in its class, this miniature powerhouse features an authentic multi-stage analog gain circuit for big, expressive sound, plus a traditional analog EQ and an onboard tape-style delay. Ultra-compact and travel-ready, the Katana-Mini delivers inspiring Katana tone anywhere you want to play.
Buy this guitar amp now at Musician's Friend >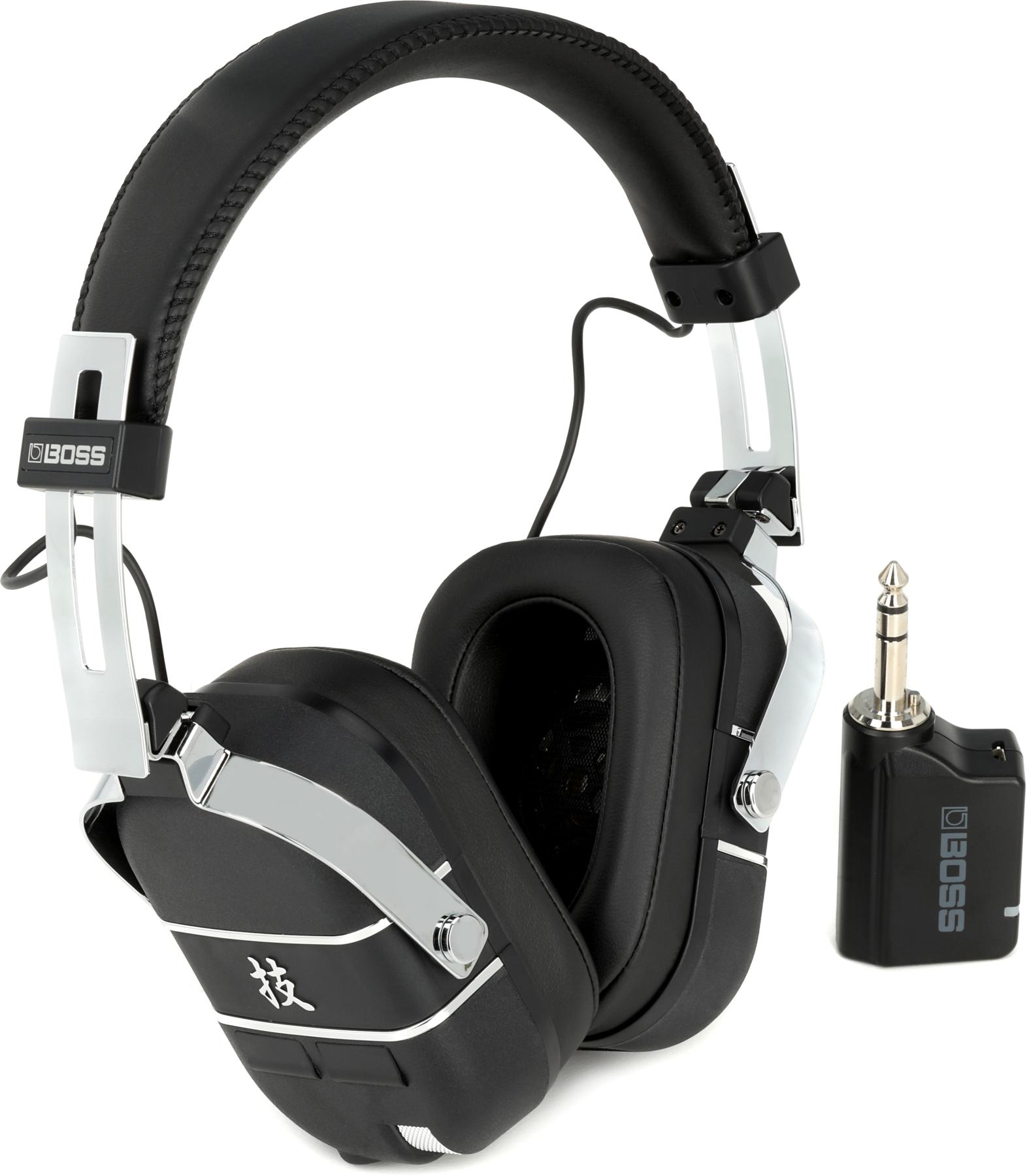 Practice just got real with the Waza-Air wireless headphone amplifier system from BOSS. Waza-Air combines BOSS's cutting-edge wireless technology, ground-breaking spatial technology, and premium sounds from its Katana amplifier series into a personal practice system unlike any other we've seen at Sweetwater. Waza-Air's studio-quality headphones and low-latency WL-T wireless transmitter offer unmatched audio quality, and its innovative 3D algorithms inject life and space back into your headphone practice sessions by simulating three unique performance environments. Featuring five customizable amp combinations and over 50 tweakable effects, Waza-Air gives you incredible control over your tone, for nearly limitless creative exploration.
Buy this guitar amp now at Sweetwater >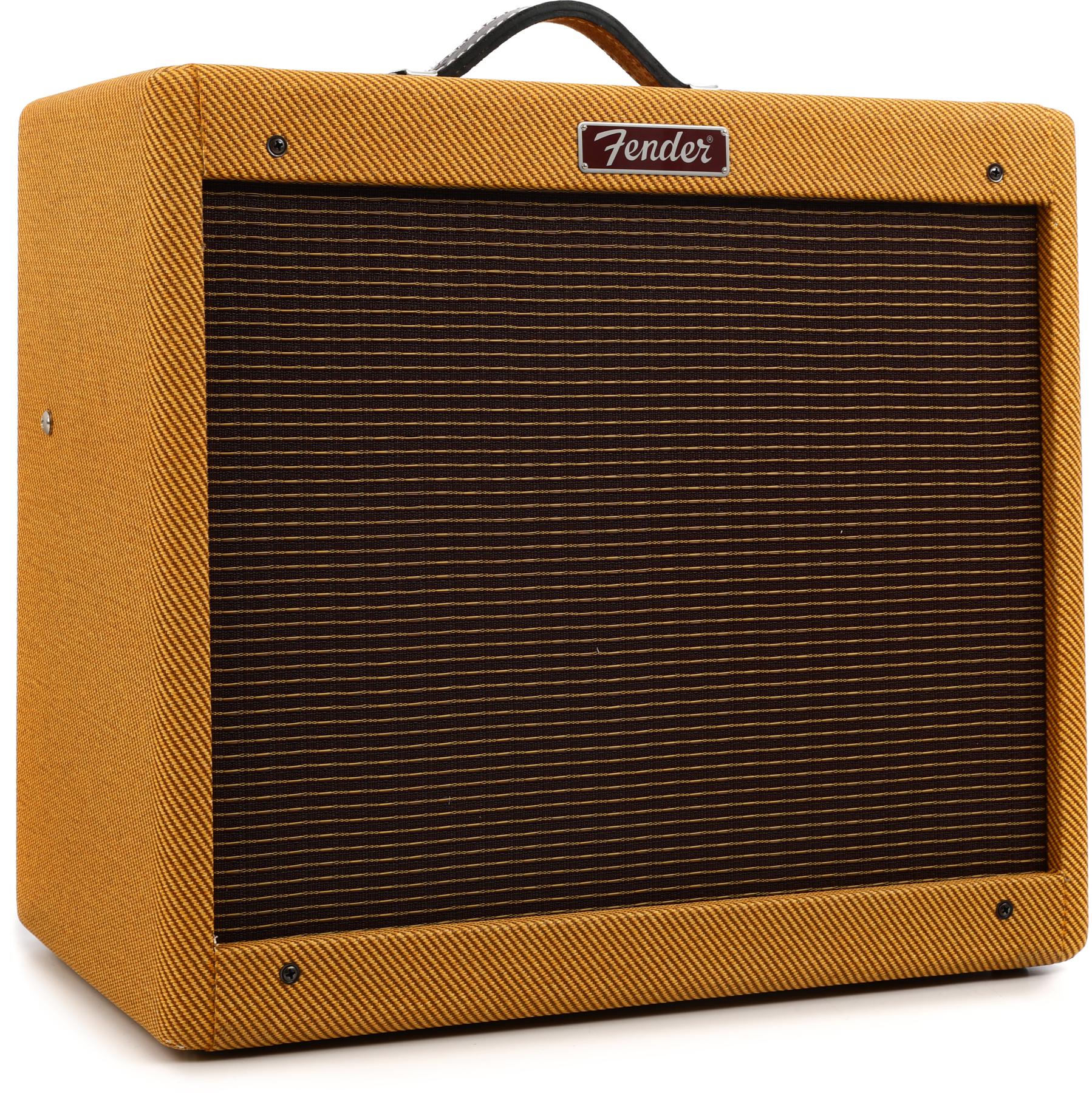 The Fender Blues Junior Lacquered Tweed combo amplifier is more than just a 15-watt tube amp – it's a vintage tone machine! Complete with a killer lacquered tweed covering, this amp will floor you with its depth of character. Three 12AX7s and a pair of EL84s powering a Jensen C12-N speaker give you everything from crystalline Fender cleans to crispy crunch to growling overdrive. Plug in, fire it up, and prepare to be blown away by the Fender Blues Junior Lacquered Tweed combo amplifier!
Buy this guitar amp now at Sweetwater >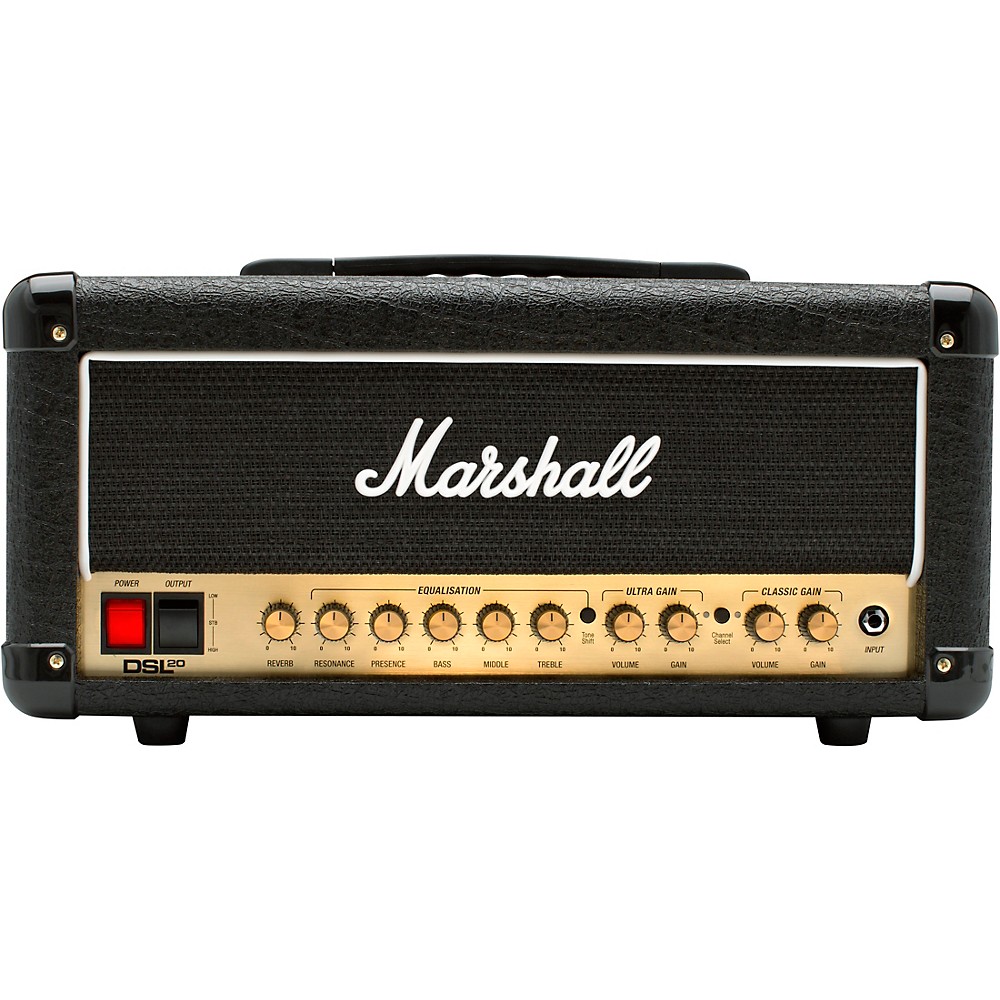 The next generation of the Marshall DSL series has arrived! These DSL amps are laden with Marshall tone, features and functionality for the novice, as well as pros performing on the world's biggest stages. The DSL series includes the following updated features:
The DSL models feature adjustable power settings, which delivers all-valve tone and feel, at any volume, from bedroom to stage. This technology adjusts power to the valves, instead of just turning off valve stages, allowing the amp to remain articulate and dynamic.
Some innovative tweaks to the EQ circuitry have given the new DSLs even greater tonal flexibility. The EQ section of the new DSLs can deliver exactly what your ears are looking for.
Marshall's partnership with Softube has led to the creation of award-winning plug-ins, as well as exceptional tone in its CODE digital amps. The same team is responsible for the development of the new emulated output feature, found in the DSL series. Both the headphone out, and line out on the DSL models boast incredibly accurate emulation of Marshall's famed 1960 cabinet.
The DSL is now more versatile than ever, with features including discrete master volume controls for each channel, built-in reverb and resonance controls (the DSL1 and DSL5 do not offer resonance controls).
Buy this guitar amp now at Musician's Friend >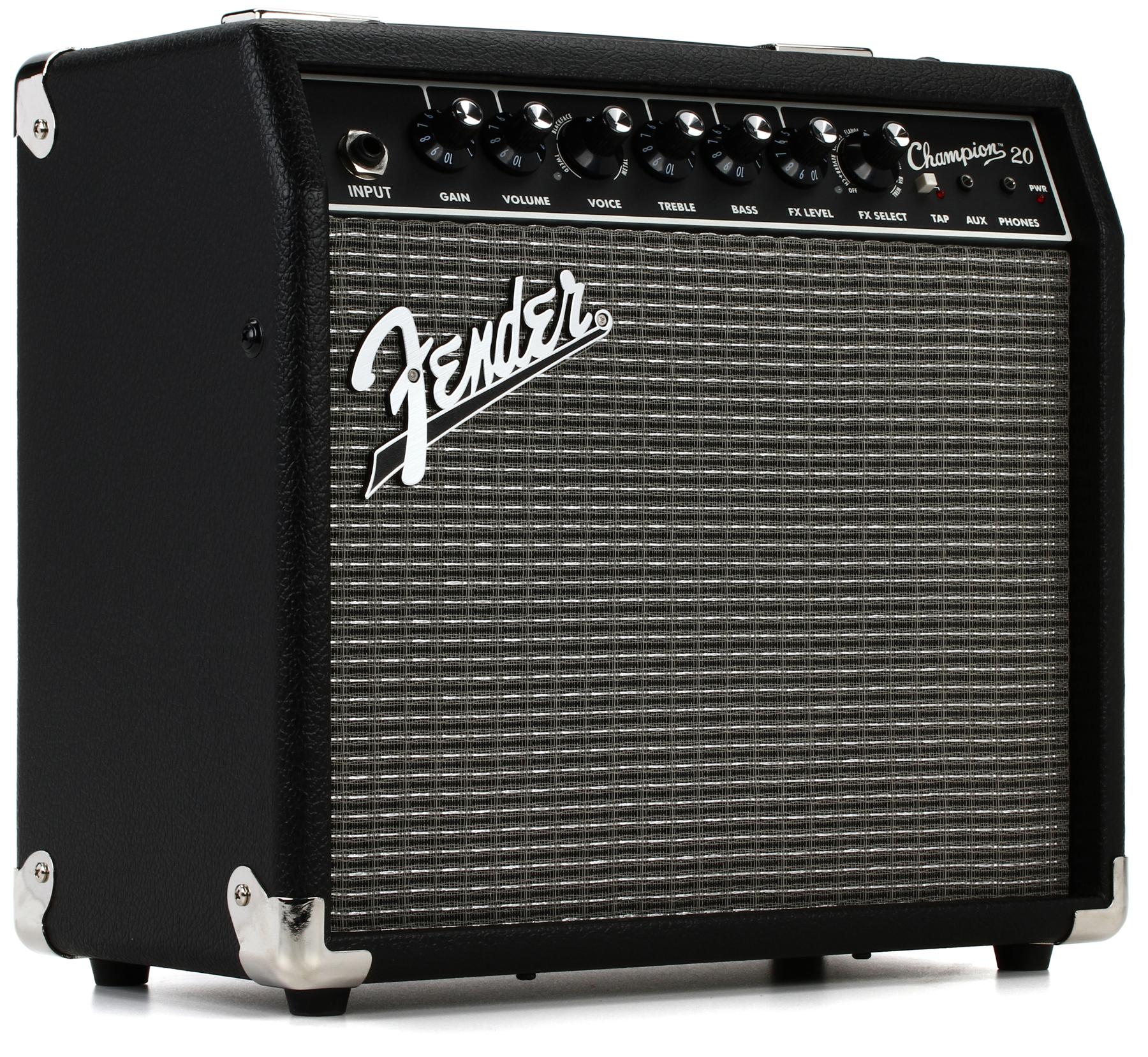 The Fender Champion 20 guitar combo amp gives you classic Fender tone in a stylish, affordable package. This ready-to-rock 1 x 8″ combo sports 20 watts and a wide range of tone – perfect for virtually any style, served up through a Fender Special Design speaker. The single channel's selectable amp voicing gives you everything from classic Fender cleans to modern high-gain, while built-in effects – including reverb, delay/echo, chorus, tremolo, Vibratone, and more – let you polish your sound. Iconic Blackface styling completes the uber-cool Fender Champion 20.
Buy this guitar amp now at Sweetwater >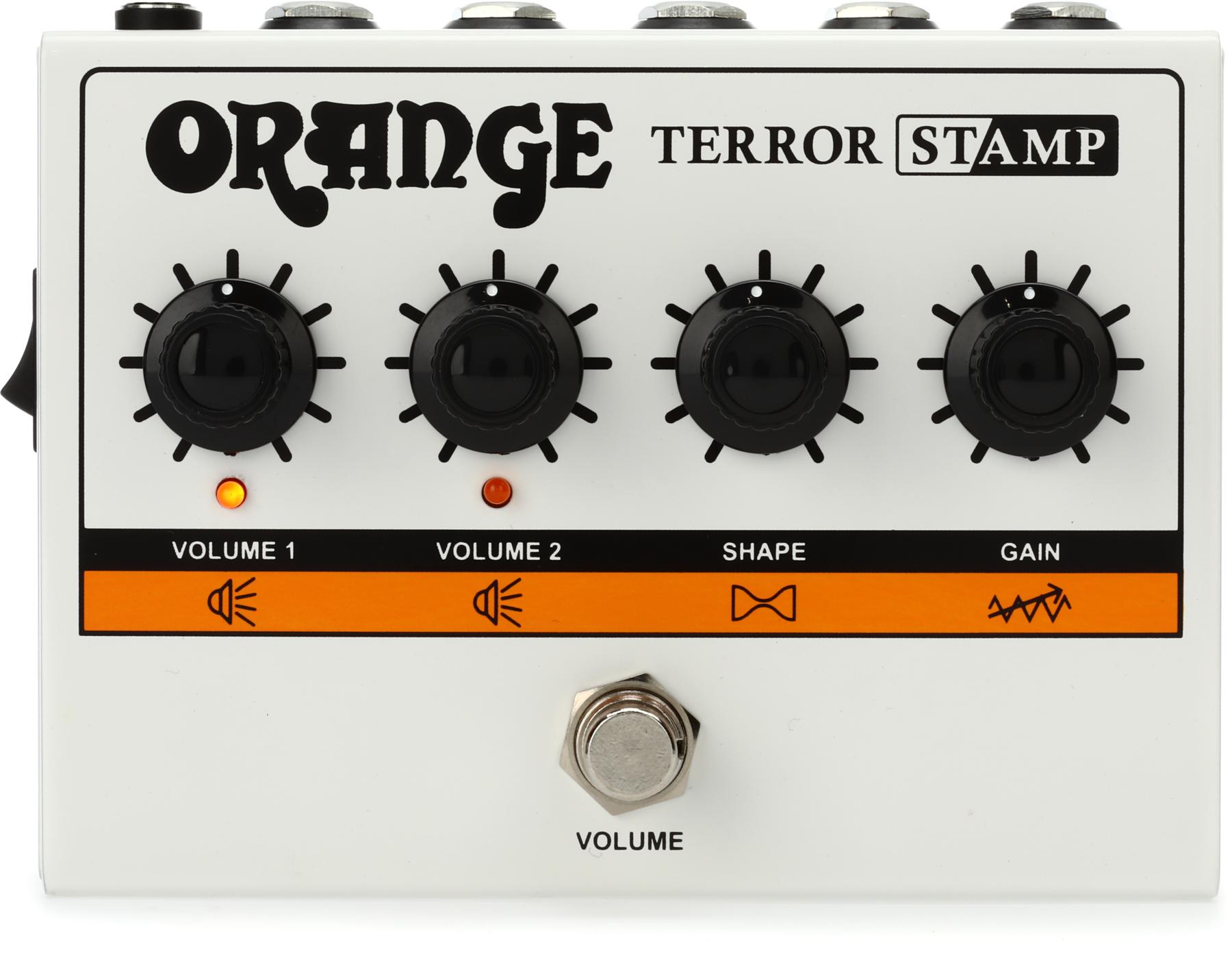 The latest addition to Orange's compact Terror amplifier series, the Orange Terror StAmp is a compact hybrid amp that easily fits on your pedalboard. You heard that right, Orange has crammed the punch and power of the Micro Terror into a stompbox you can keep on your pedalboard. The secret to the space-saving design is the 12AX7/ECC83-based tube preamp that's married to a 20W Class AB solid-state power amp. You'll get the compact amp you want without sacrificing the ear-splitting growl you love. Complete with a shaping control, buffered effects loop, and speaker output, the Orange Terror StAmp 20-watt Hybrid Amp Head proves that big things can come in small packages.
Buy this guitar amp now at Sweetwater >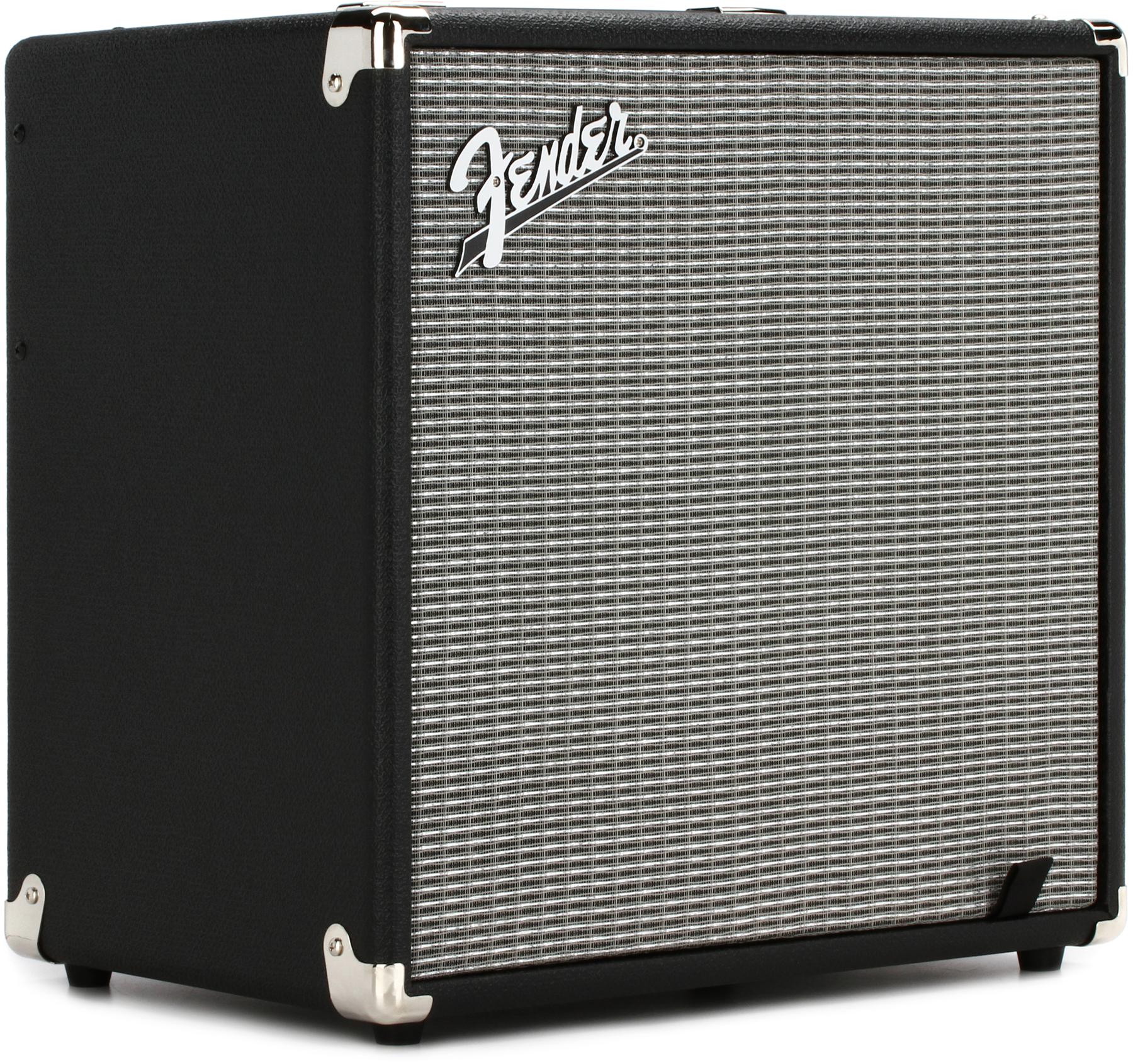 Fender gives bassists of all levels a solid amp that can handle anything. Plug into the Fender Rumble 40 for serious bass tone in a compact package! This black beauty offers a basement-friendly 40 watts, complete with both gain and blend controls in the overdrive section, so you can bring the perfect amount of overdrive into your sound. In fact, an optional footswitch is available that lets you easily bring the overdrive in and out whenever you need some extra tonal tenacity.
The Rumble 40 combo's 4-band EQ helps to shape your sound, and the 3-button voicing palette sculpts the sound further. Choose between bright (adds a treble zing to the sound), contour (low-end boost), or vintage (classic bass tone with deep lows and vintage character). These give you a ton of flexibility to find your signature sound. The XLR line output can pump the tone you love straight into the PA for bigger gigs. This will make your sound tech happy, since it'll greatly simplify getting you pumped into the PA. Need a little extra teeth for a particular song or passage? The Rumble 40's built-in overdrive has your back. Get the optional footswitch for instant onstage convenience.
Buy this guitar amp now at Sweetwater >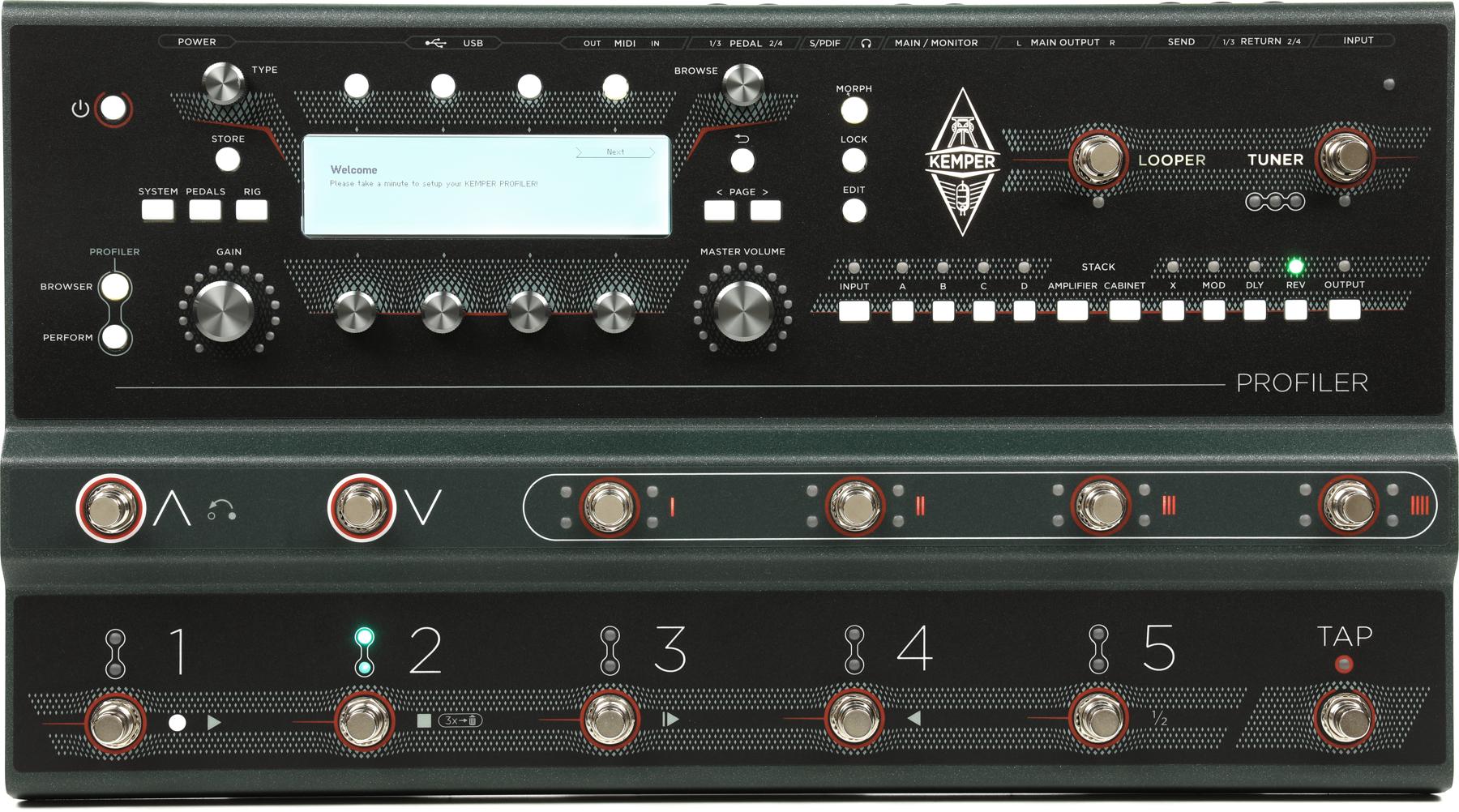 Players asked, and Kemper delivered — in a big way! The Kemper Profiler Stage gives you all the performance power of a full-size Kemper rack or toaster unit in a sleek and streamlined pedalboard format. Hundreds of the most carefully replicated amps, stomps, and studio effects await you in the Profiler Stage's stock library with thousands more available in the free Rig Exchange cloud. You can even profile your own amps and cabs for an all-access pass to your favorite tones of all time. The Profiler Stage's soft-touch switches make stepping through Performances (songs) and toggling virtual stomps simpler than ever. Around back, stereo effects loops, MIDI remote/expression pedal integration, and plenty of digital and analog I/O make the Profiler Stage one of the most powerful performance platforms to hit the market.
Buy this guitar amp now at Sweetwater >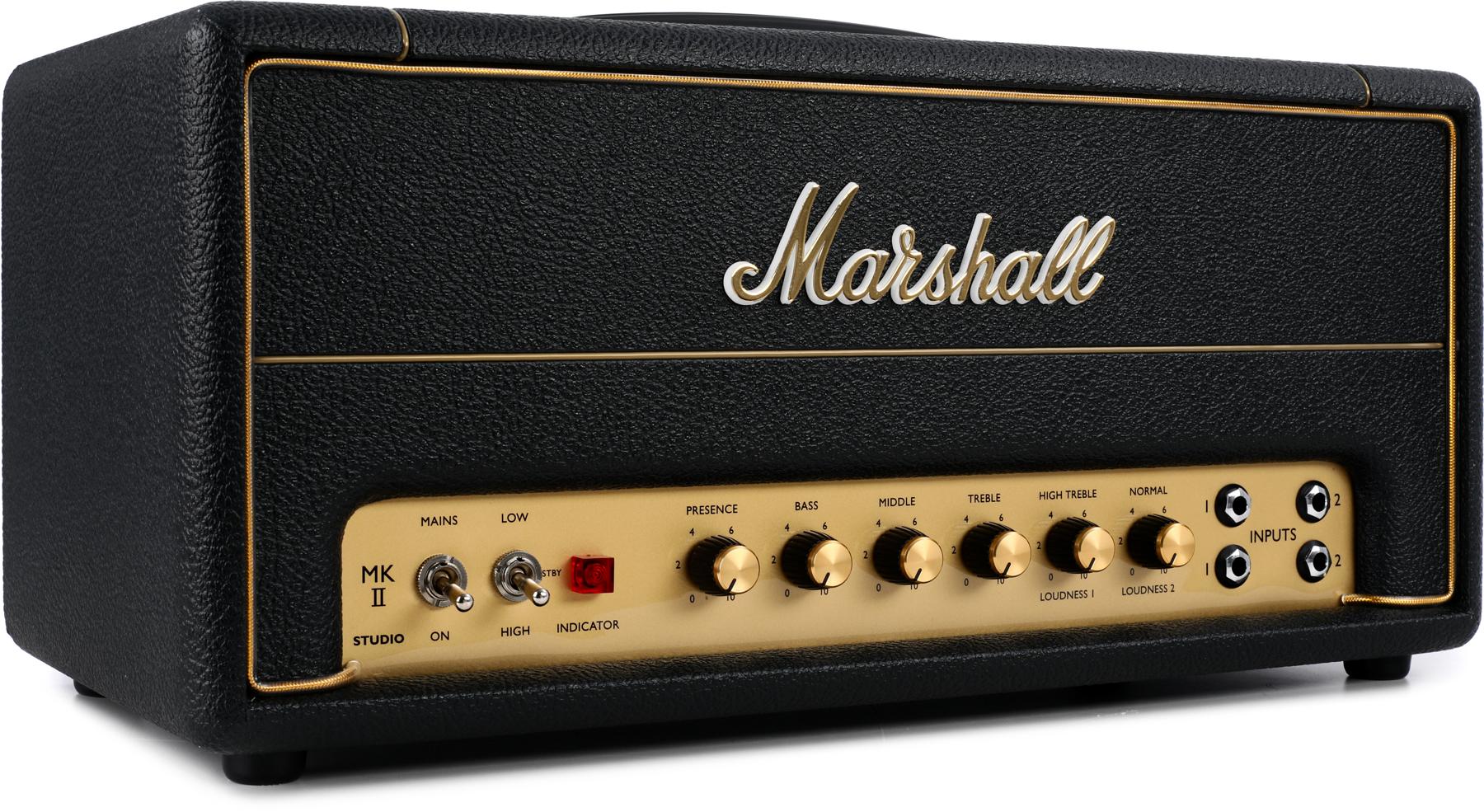 Ask any amp aficionado which amplifier led the rock revolution, and you'll get a near-unanimous response: the Marshall 1959 Super Lead. The Studio Vintage takes that legendary tone and packs it into a 20-watt head. Plug in, and you'll experience saturated blues grit and biting leads — the iconic Plexi tone. The Studio Vintage has plenty of player-friendly features on tap, such as four separate inputs, high- and low-sensitivity loudness controls, a 3-band EQ with Presence control, an effects loop, and a DI output. Worried about disturbing your neighbors? Don't — the Studio Vintage's power reduction circuit takes its wattage down to a bedroom-friendly five watts. If you want cranked Plexi tones from a compact, studio-sized amp, Marshall's Studio Vintage absolutely nails it.
Buy this guitar amp now at Sweetwater >
Put the Best Guitar Amps to Good Use!
Now that you've checked out the best guitar amps you can buy in 2022, it's time to grab your guitar and dig in with TrueFire's 50,000+ video guitar lessons across every style and skill level presented by top educators available anytime, anywhere, on any device. Join free and start your free 14-day All Access trial today (no credit card required!).