When looking for the best guitar effects pedals out there, it can be a matter of opinion, brand preference, or simply taste. The sound and tone you desire are, of course, the most important factors, especially if you're trying to emulate the sound of your guitar heroes.
Each guitar effects pedal on the market has its pros and cons, but if you're trying to find the best guitar effects pedals in 2022, a good place to start is by looking at which guitar effects pedals sell the best.
Check out the best guitar amps you can buy in 2022, too!
Our friends at Reverb publish a list of the best-selling guitar effects pedals annually, and we've leveraged their data to put this list together of the best guitar effects pedals you can find in 2022.
The Best Guitar Effects Pedals in 2022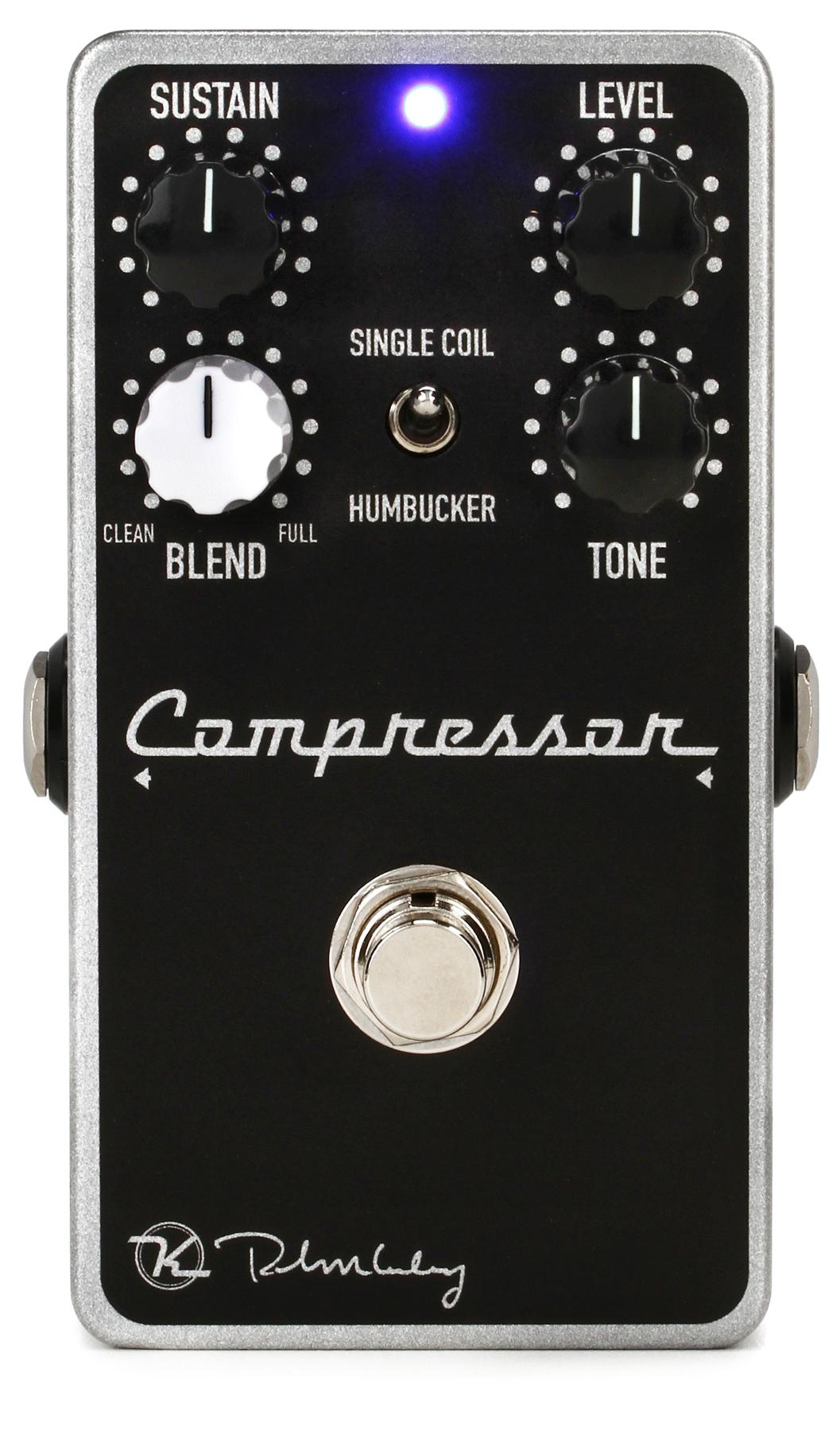 Keeley's compressor pedals have gathered worldwide acclaim, and the Keeley Compressor Plus pedal continues the trend by incorporating player-requested features. Like the Blend control, which allows you to bring in some of your dry signal along with the compressed signal for the best of both worlds — dynamic and fatter at the same time. A much-requested Tone control allows you to fine-tune the Keeley Compressor Plus appropriately for any guitar. And the simplified Attack switch makes it faster to dial in a great sound. Whether you want to tame the peaks on a plucky Tele, or simply want to fatten up your tone with any guitar, Sweetwater can highly recommend the Keeley Compressor Plus pedal.
Buy this guitar effects pedal now at Sweetwater >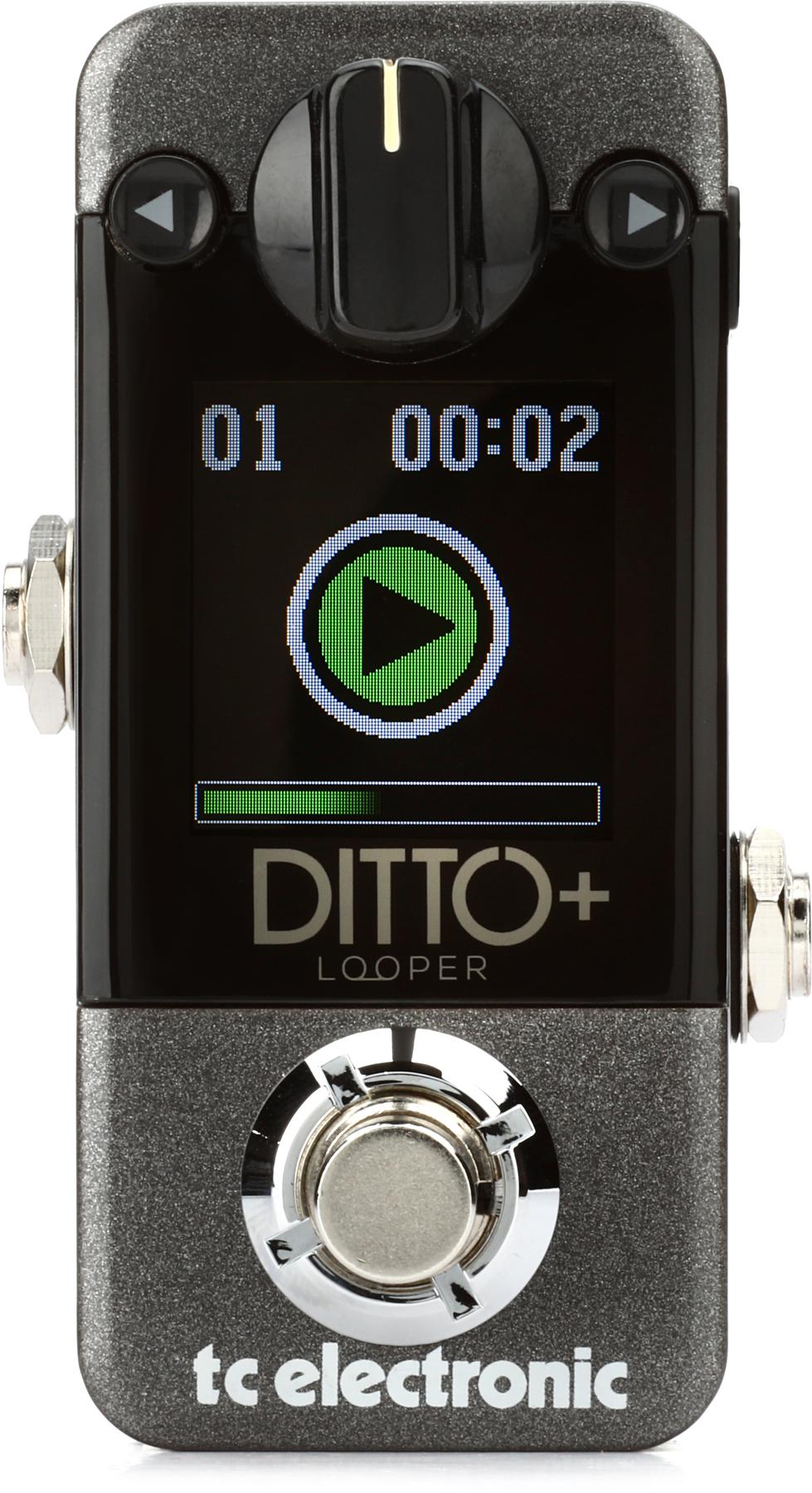 The TC Electronic Ditto+ is a next-gen 60-minute looper with loads of player-friendly features. Enjoy total creative freedom with unlimited overdubs, while dynamic loop length enables you to layer long overdubs onto shorter loops. Experience easy import and export of your loops via USB. Benefit from detailed real-time information about your loops, thanks to a high-resolution color display. The Ditto+ also retains your loops in its internal memory after you power the stompbox down. Feeling nostalgic for the simplicity of your old-school looper? No problem. The Ditto+'s 1-knob control and easy-to-navigate layout supplies a familiar feel that lets you concentrate on your playing, not your pedalboard. The Ditto+ employs uncompressed 24-bit audio for maximum sound quality, while its analog-dry-through design maintains the integrity of your dry signal — even while the effect is on. If you appreciated TC's original Ditto looper, you'll flip over the Ditto+.
Buy this guitar effects pedal now at Sweetwater >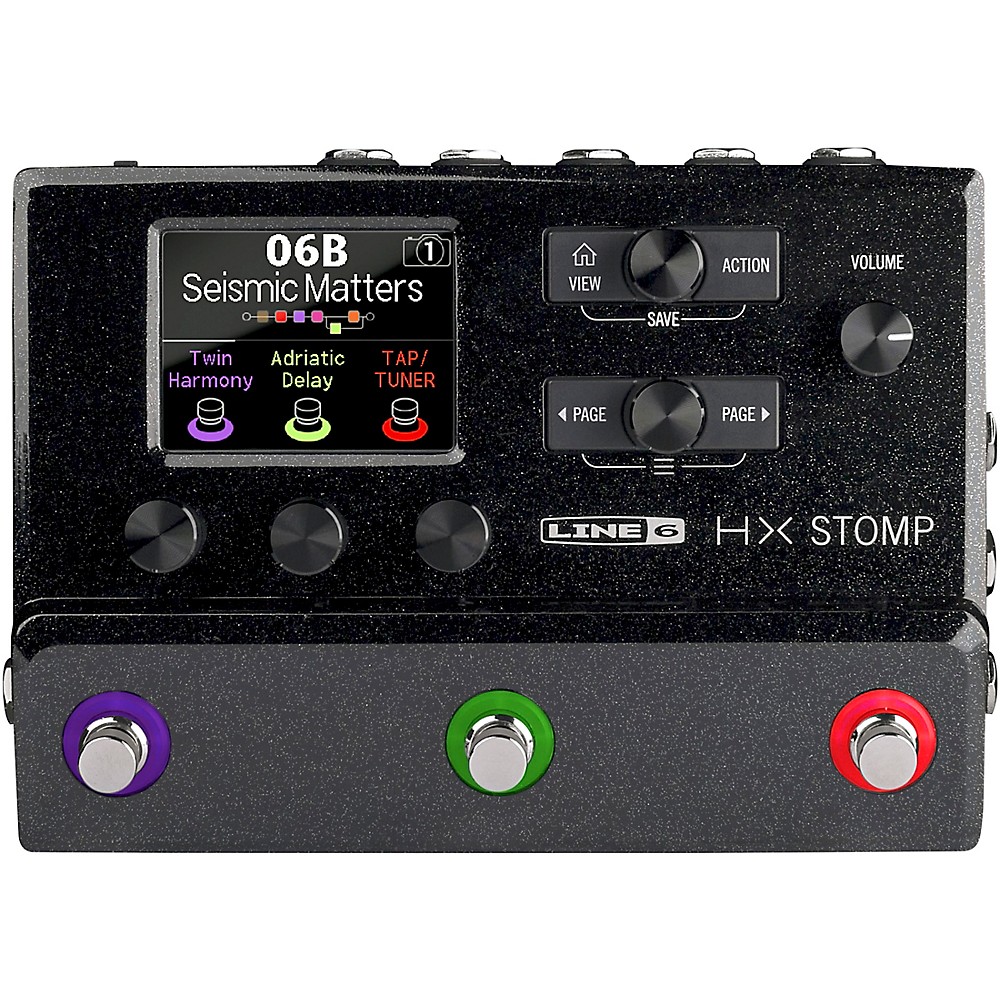 The Line 6 HX Stomp is a professional-grade multi-effects processor that delivers the sound of Helix amps, cabs, and effects in an ultra-compact pedal. Whereas the Line 6 HX Effects pedal is designed to be the centerpiece of a pedalboard, providing full control over individual effects, amp switching, and external MIDI-equipped pedals—HX Stomp is a programmable amp/cab/effects/IR pedal that seamlessly integrates into a variety of environments and applications. Use it as a "super stompbox," a backup or travel rig, an add-on tone expander when combined with other modelers, an audio interface—or even a complete guitar or bass rig.
Buy this guitar effects pedal now at Musician's Friend >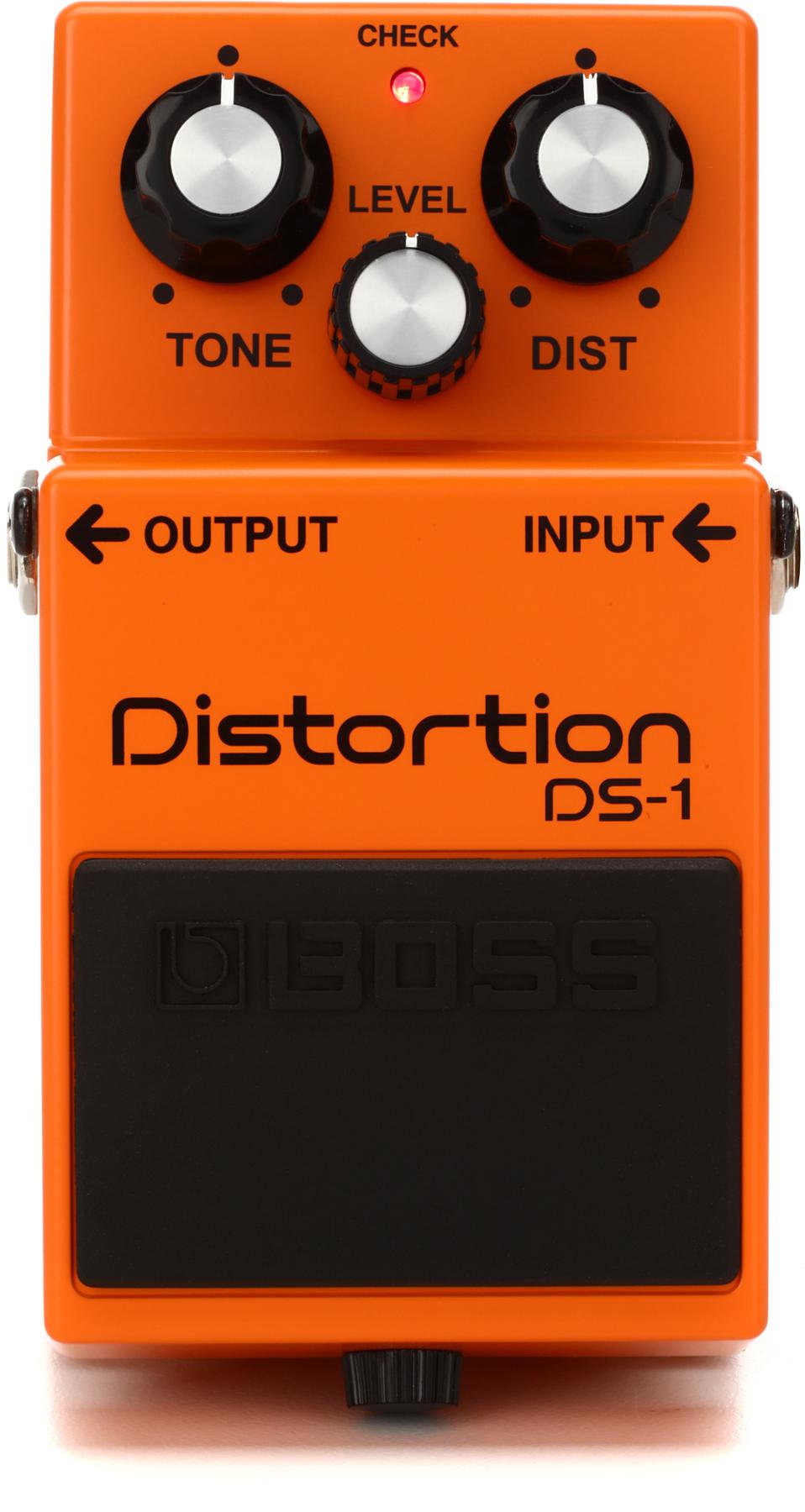 Simply put, the BOSS DS-1 distortion pedal is a modern classic. For the better part of 30 years, you've heard this orange box put through its paces on countless top rock recordings – from Kurt Cobain's "Nevermind"-era grunge to the renowned distorted tones of Steve Vai. The DS-1 is affordable, it's incredible sounding, and it's a rock pedalboard staple – the perfect first distortion stompbox and one that may well be your last. Whether you pair it with your guitar's single-coil or humbucking pickups, expect rich, dynamic-laden tone with the BOSS DS-1. The BOSS DS-1 features three knobs that can take it in a number of different tonal directions. There's a tone knob, a level knob, and a distortion knob. By cranking each up or down, you can pull out a range of different tones – from subtle bite to rich crunch to all-out fuzz. The midrange on the DS-1 is scooped, which gives it a distinct tonal flavor, which many players prefer. Want sonic reference? Give Nirvana's "Smells Like Teen Spirit" a listen – all that crunch came courtesy of the BOSS DS-1.
Buy this guitar effects pedal now at Sweetwater >
Microcosm is a granular effects pedal that rearranges and reinterprets your sound in new and exciting ways using a variety of sampling, pitch-shifting, delay, and looping techniques. Cascading micro-loops can be locked into tight, tap-tempo synced rhythms, diffused into glacial ambient textures, woven into hypnotic drones, and much more. Microcosm's 11 groundbreaking effects (with a total of 44 preset variations) allow you to slice, stretch, rearrange, and manipulate your playing in musical ways. Tweak the sound further using Microcosm's built-in pitch modulation, lush stereo reverb (with 4 selectable modes), and resonant lowpass filter. When you've found a sound you like, the built-in stereo phrase looper can capture up to 60 seconds of your performance and even allows for layering phrases from different effects. All loops, overdubs, and settings can be saved and recalled later using the pedal's 16 user presets.
Buy this guitar effects pedal now at Reverb >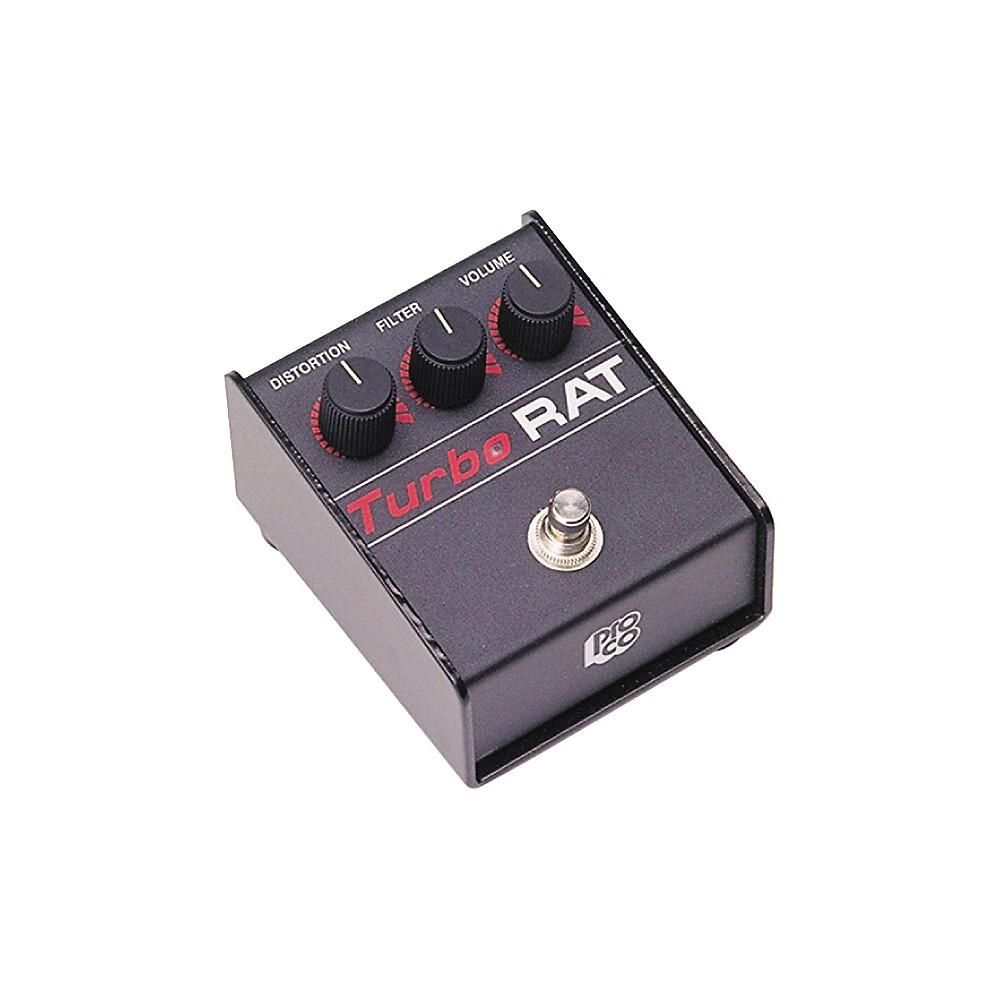 The TurboRAT expands the versatility and sustain of the unique rat tone, and its maximum output of 2.8V is more than double that of the Turbo's predecessors. Features a nearly indestructible steel housing with "no tools" battery compartment. Built for trouble-free reliability on the road. An LED indicates on/off status, and luminescent control graphics enhance visibility. Powered by 9V battery, or a special jack accommodates the RPS-1 power supply (sold separately).
Buy this guitar effects pedal now at Musician's Friend >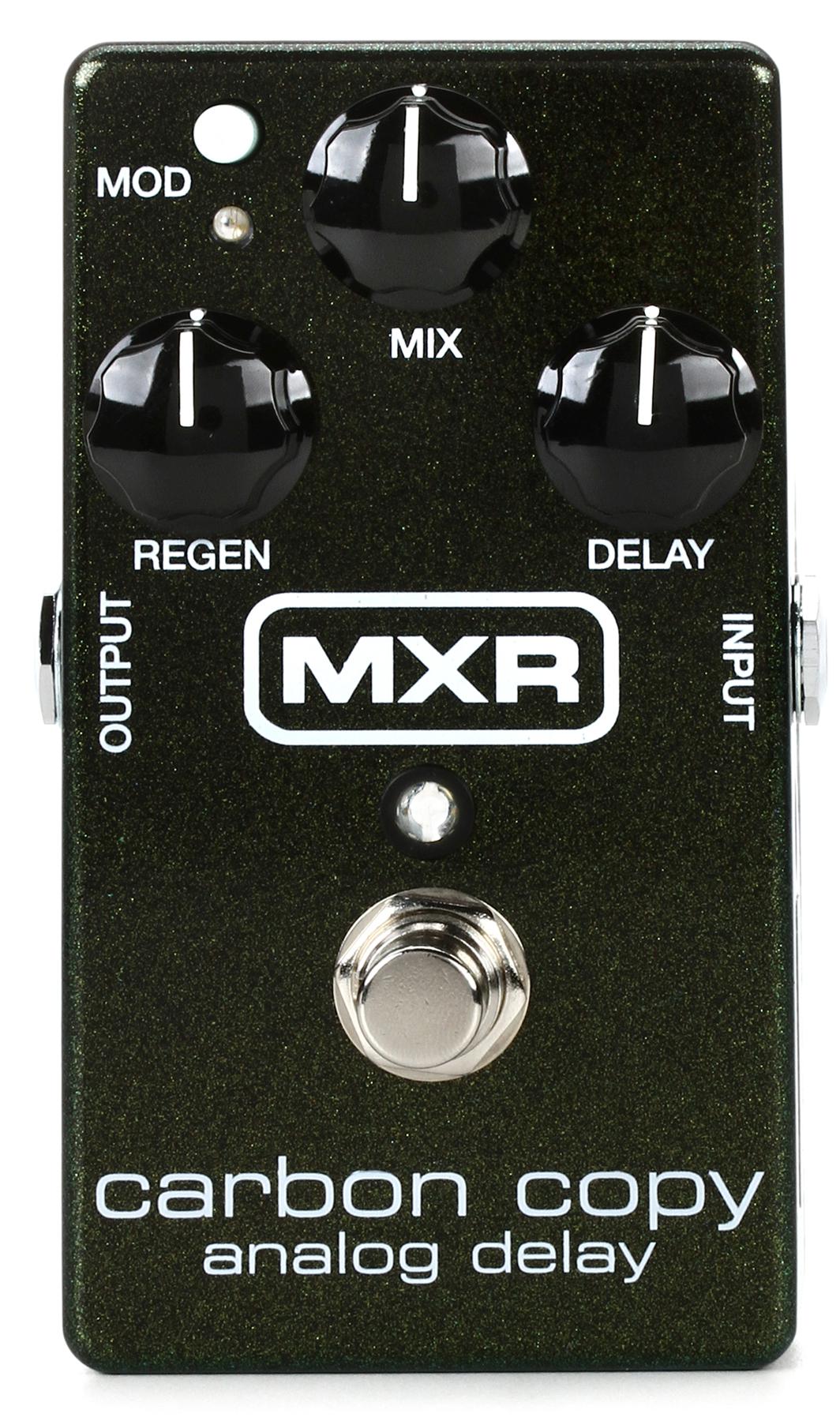 The MXR Carbon Copy analog delay features an entirely analog audio path, delivering rich, warm delay using old-school bucket brigade technology. The Carbon Copy boasts 600ms of delay time, with optional modulation via a top-mounted switch, and its simple three-knob layout gives you complete control over Delay, Mix (dry/wet blend), and Regeneration (delay repeats) – all in one incredibly compact pedal! For even more tonal options, you can also adjust width and rate control of the modulation via two internal trim pots. This pedal gives you everything from crisp bathroom slap echoes to epic delays, all with the simple twist of a knob. Stage-worthy blue LEDs and 9-volt operation round out this MXR Carbon Copy analog delay!
Buy this guitar effects pedal now at Sweetwater >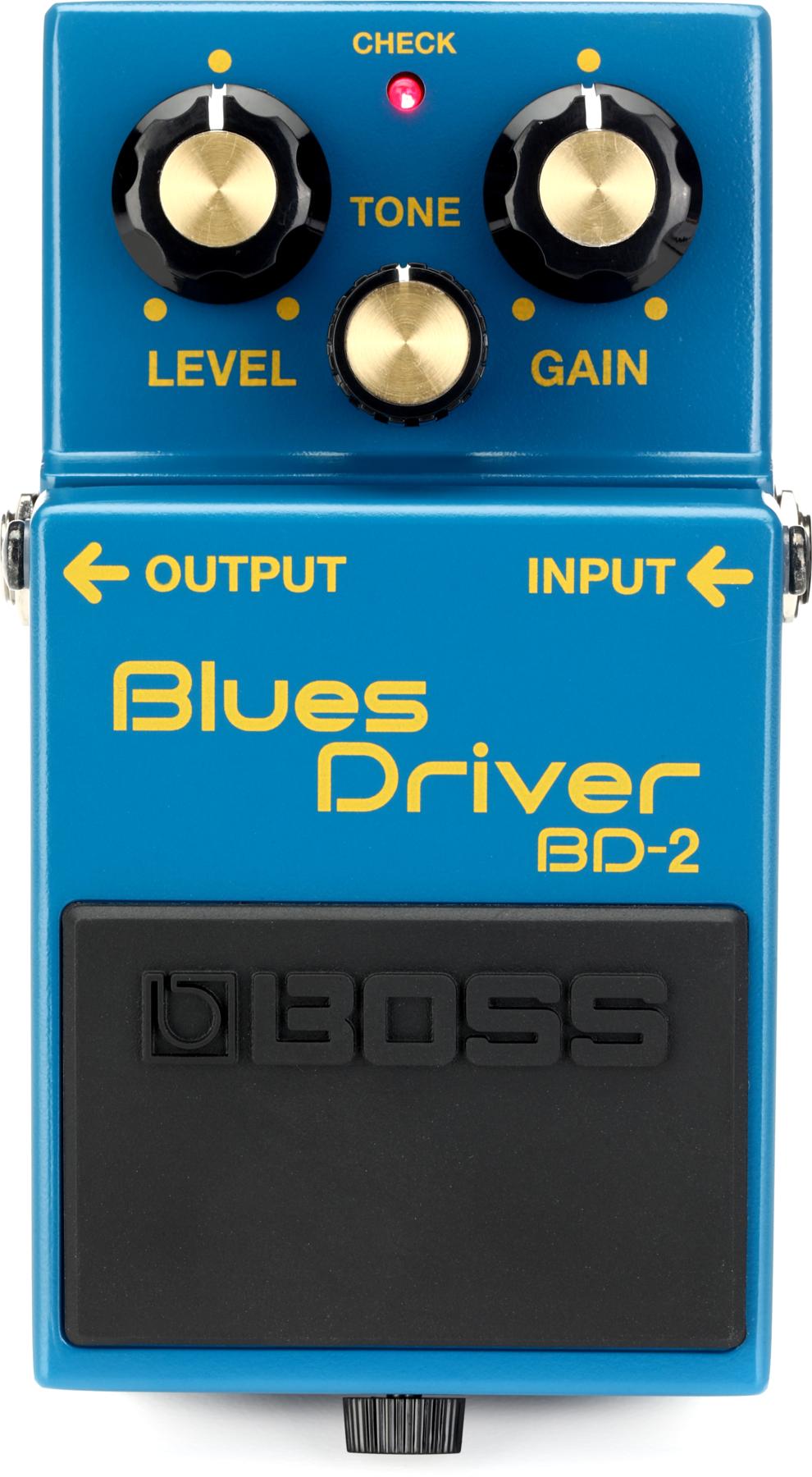 The BOSS BD-2 Blues Driver guitar effects pedal delivers that creamy yet crunchy sound you've heard countless great blues guitar players call up – and at a great value! The BD-2 Blues Driver simulates the sound of a vintage tube amplifier, giving you instant access to timeless tones. It also responds to your playing dynamics, so you can pull out a range of tones to give each note the perfect flavor and feel. All in all, you'll love the warm overdrive and emotive distortion the BOSS BD-2 Blues Driver adds to your rig. If you're after that killer blues sound, then you know it's loaded with warm overdrive – for a killer creamy yet crunchy tonal blend. And the BOSS BD-2 Blues Driver is designed to deliver just that sound. It's like having a finely-aged vintage tube amplifier in your rig, only it's built tough – just like all BOSS pedals – and it's offered at just a fraction of the price. If you're playing Blues – or if you're wanting to give your rock rig a different overdriven flavor than every other guitar player on the block – then you'll definitely want to put the BD-2 Blues Driver into your signal chain.
Buy this guitar effects pedal now at Sweetwater >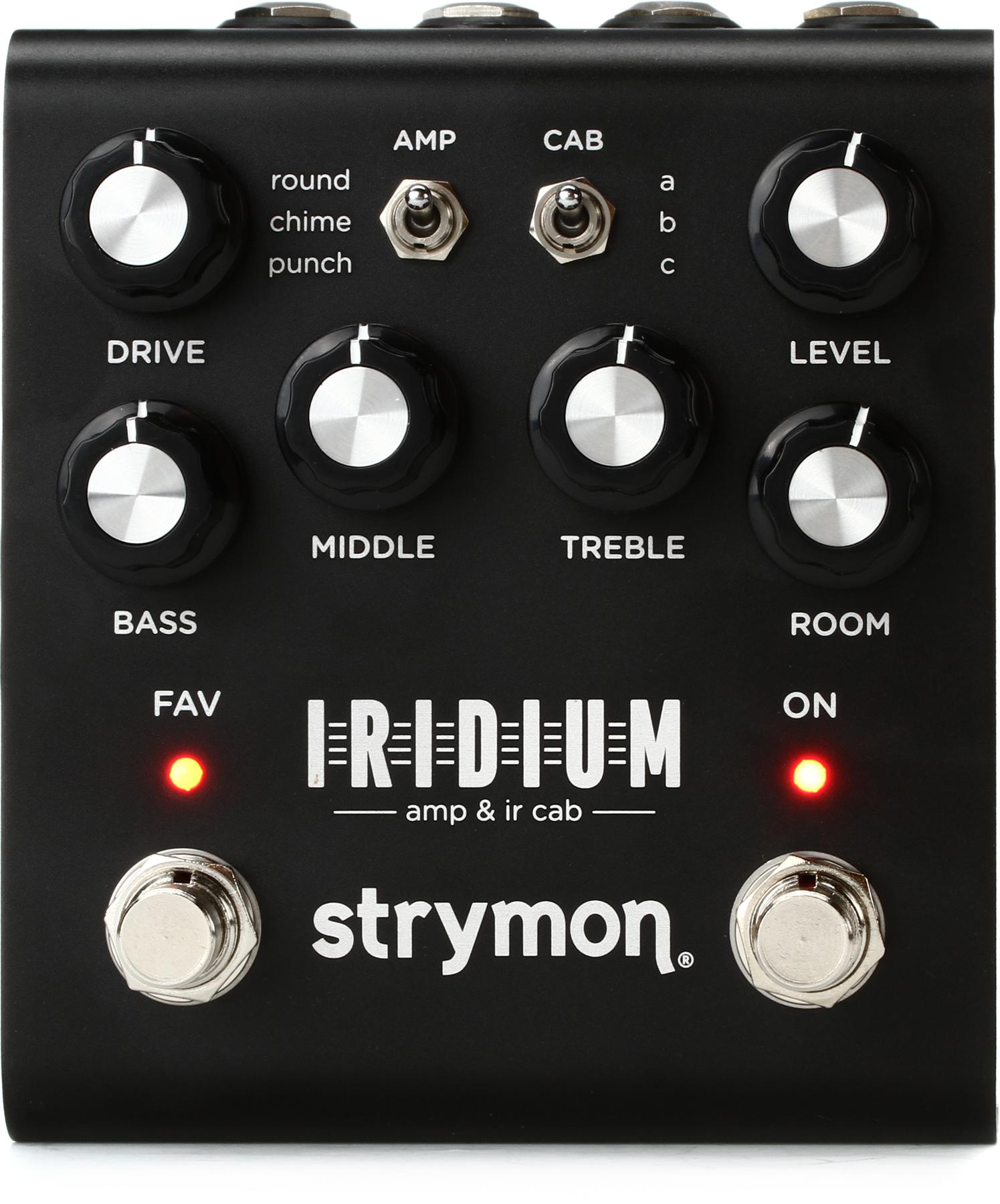 Love your pedals but tired of hauling an amp to practice or play out? The pedal-sized Strymon Iridium gives you the tube staging, tone stack, and touch response of three iconic amplifiers, each with three corresponding cabinet choices, all in a line-level stereo output, which you can send straight to FOH — no amp required. Iridium's Class A JFET preamp handles your guitar and stomps just like a true tube amp. Its analog front end feeds a powerful 2-stage DSP processor that carefully approximates the tube bias, harmonic breakup, cone compression, and EQ interaction of some of your favorite front ends. Whether you're playing the blues through a chunky American 1 x 12-inch or raising the roof through a dimed British high-watt amp, the Strymon feels and handles much like your favorite stacks and combos. A preset switch gives the Iridium the functionality of a 2-channel amp for clean/dirty applications, with an additional 300 accessible via MIDI switch. Meanwhile, a front headphone jack lets you monitor yourself directly from the stage — no in-ears required.
Buy this guitar effects pedal now at Sweetwater >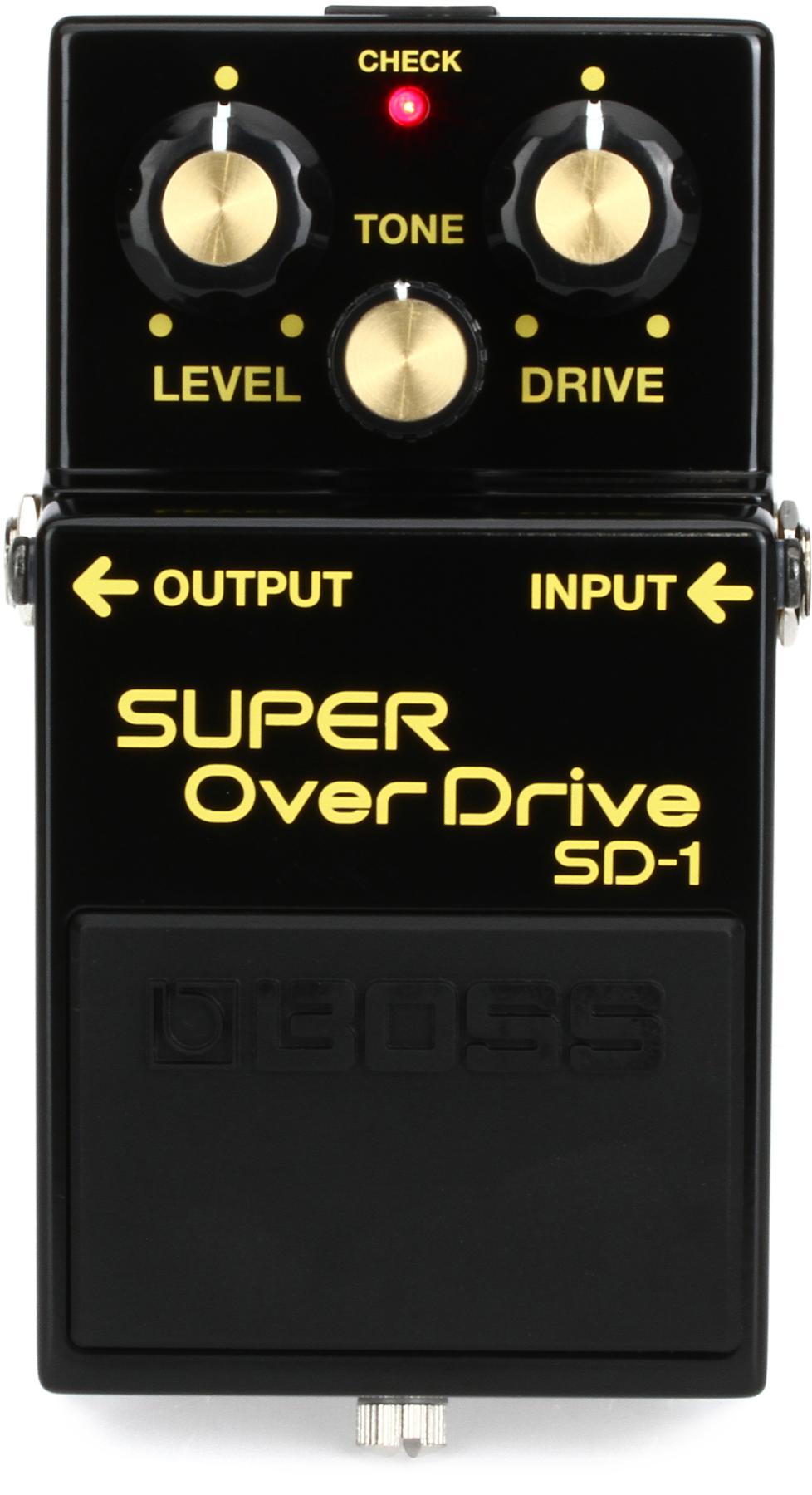 Back in 1981, BOSS unveiled their workhorse SD-1 Super Overdrive, a core gain pedal that has been subsequently wielded by generations of players across genres. The BOSS 40th Anniversary SD-1 Super Overdrive celebrates four decades of this classic stompbox, vaunting the same asymmetrical clipping circuit, along with a head-turning reverse color scheme that will stand out on even the most crowded pedalboard. The SD-1 has long been renowned for its mid-focused tone and natural tubelike overdrive characteristics. It's ideal for warming up or adding grit to a clean or edge-of-breakup tube amplifier, and it's a great way to add tightness and definition to a high-gain setup. It also makes a stellar lead boost and stacks well with other dirt pedals. If you're searching for a drive stomp with a rich, harmonic-infused tone, join the legions of satisfied guitarists who build their sound around the SD-1. Grab the BOSS 40th Anniversary SD-1 Super Overdrive today!
Buy this guitar effects pedal now at Sweetwater >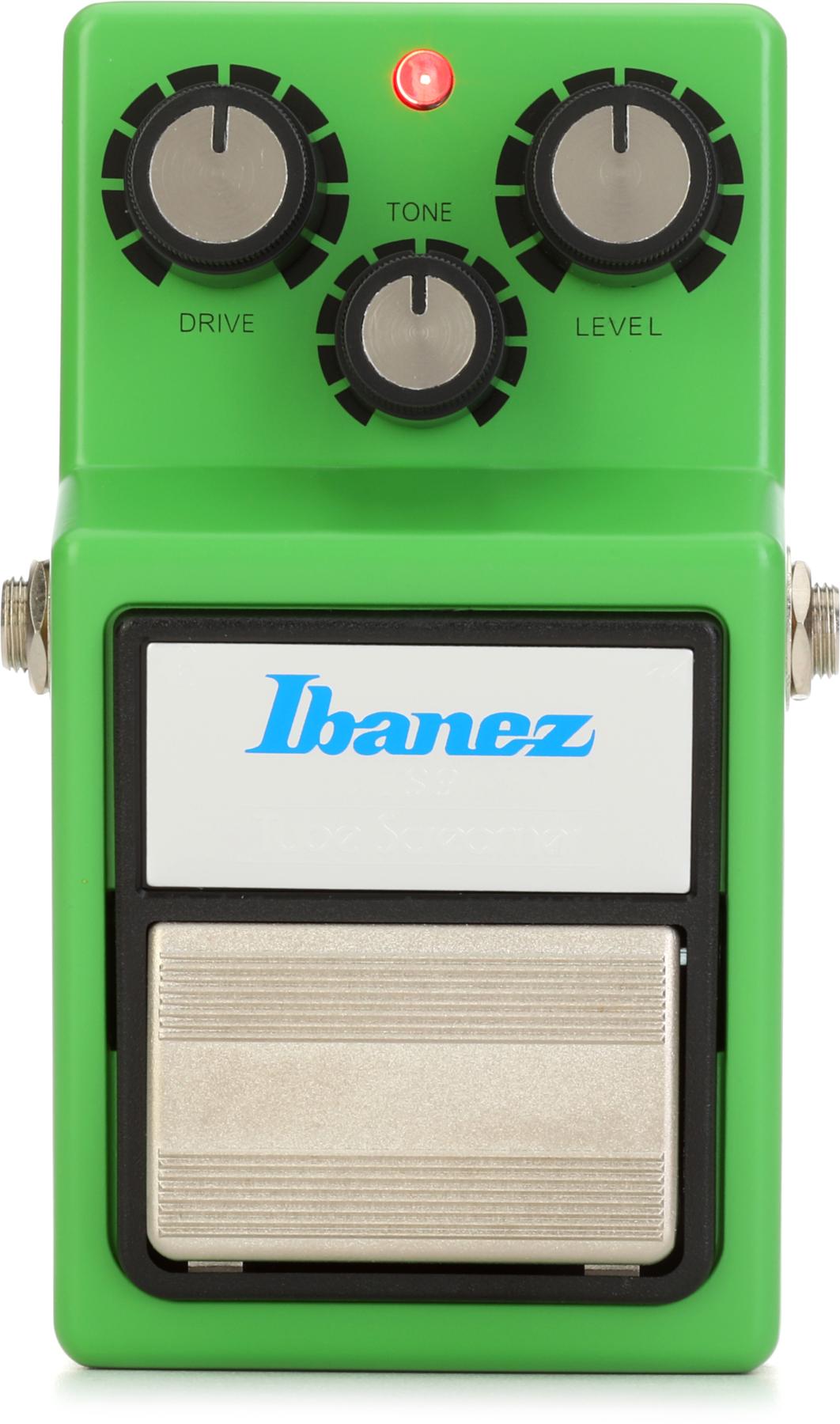 Here's a reissue of the original Ibanez TS9 Tube Screamer distortion/overdrive pedal for an incredibly reasonable price. The TS9 Tube Screamer is one of the most imitated classic distortion pedals ever made. Now you can get your hands on a reissue that's every bit as authentic as an original. In fact, this TS9 Tube Screamer features the same components, housing, and seasick-green paint used to make the original models. They're even made in the same factory! What's even more important is that the sound is dead on. Discover classic stompbox distortion and drive – plug into an Ibanez TS9 Tube Screamer!
Buy this guitar effects pedal now at Sweetwater >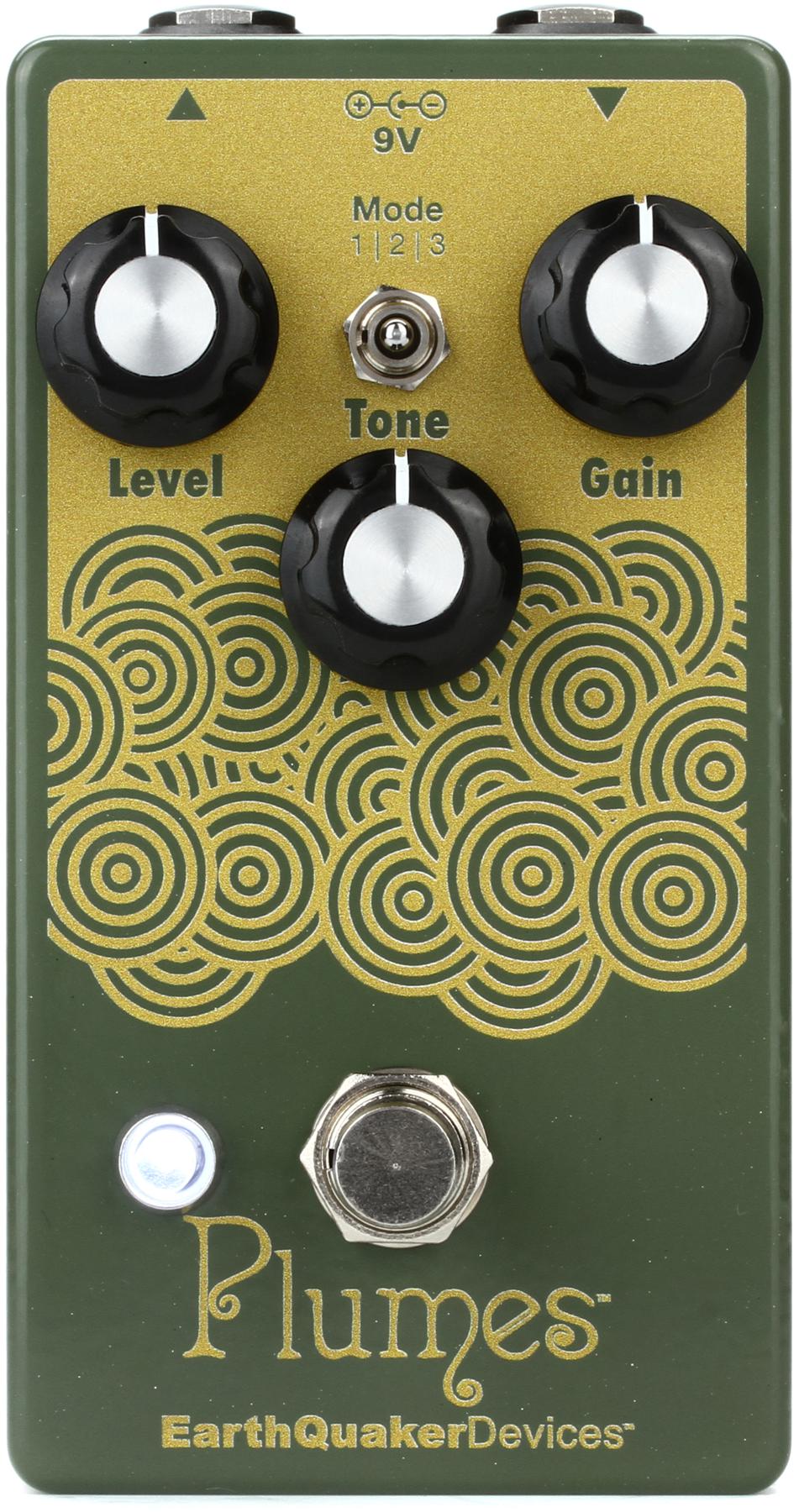 Ready to cook some tubes? Then put the EarthQuaker Devices Plumes between your guitar and amp. Armed with JFET op-amps, this high-headroom OD is chock-full of chime and clarity. Three different modes enable you to inject grind into your playing with symmetrical LED clipping, goose your amp with a wide-open op-amp clean boost, or give yourself a transparent dirty boost with asymmetrical silicon diode clipping. And once you dial in your clipping voice, you can mold it to perfection with a fine-tuned Tone control. What's more, EarthQuaker Devices' Flexi-Switch enables you to use momentary- and latching-style switching simultaneously. If you want your amp to sing with well-sculpted lows, focused mids, and ultra-clear highs, Plumes is your one-way ticket to tonal nirvana.
Buy this guitar effects pedal now at Sweetwater >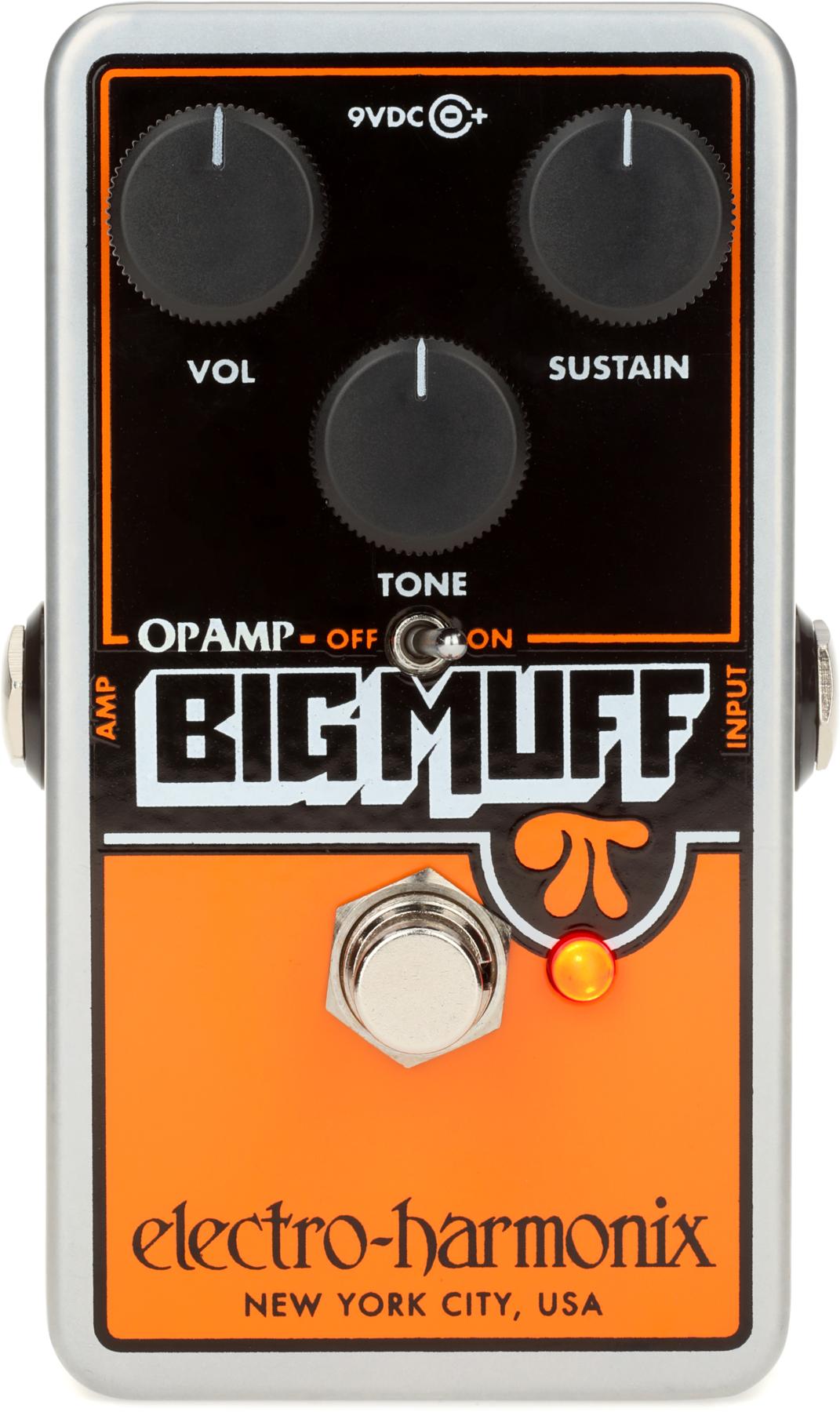 Billy Corgan and James Iha (Smashing Pumpkins) built an empire on Siamese Dream's distinct brand of psychedelia-meets-rock-alternative. A key ingredient to this record's iconic sound, as guitarists today know, is Billy's famed late-'70s V4 IC Big Muff. Now, Corgan and EHX have carefully bottled the tone and response of the original in the Electro-Harmonix Op-Amp Big Muff Pi. This pedal faithfully captures the fuzz-laden and explosive textures of Billy's op-amp equipped '70s Muff. Controls for Volume, Tone, and Sustain (gain) make it quick to dial in the textures your music demands. Meanwhile, a tone bypass toggle temporarily bypasses the pedal's tone circuit for maximum output and aggression. The new compact size and die-cast durability preserve the Siamese Dream tone for a new generation of fuzz fans.
Buy this guitar effects pedal now at Sweetwater >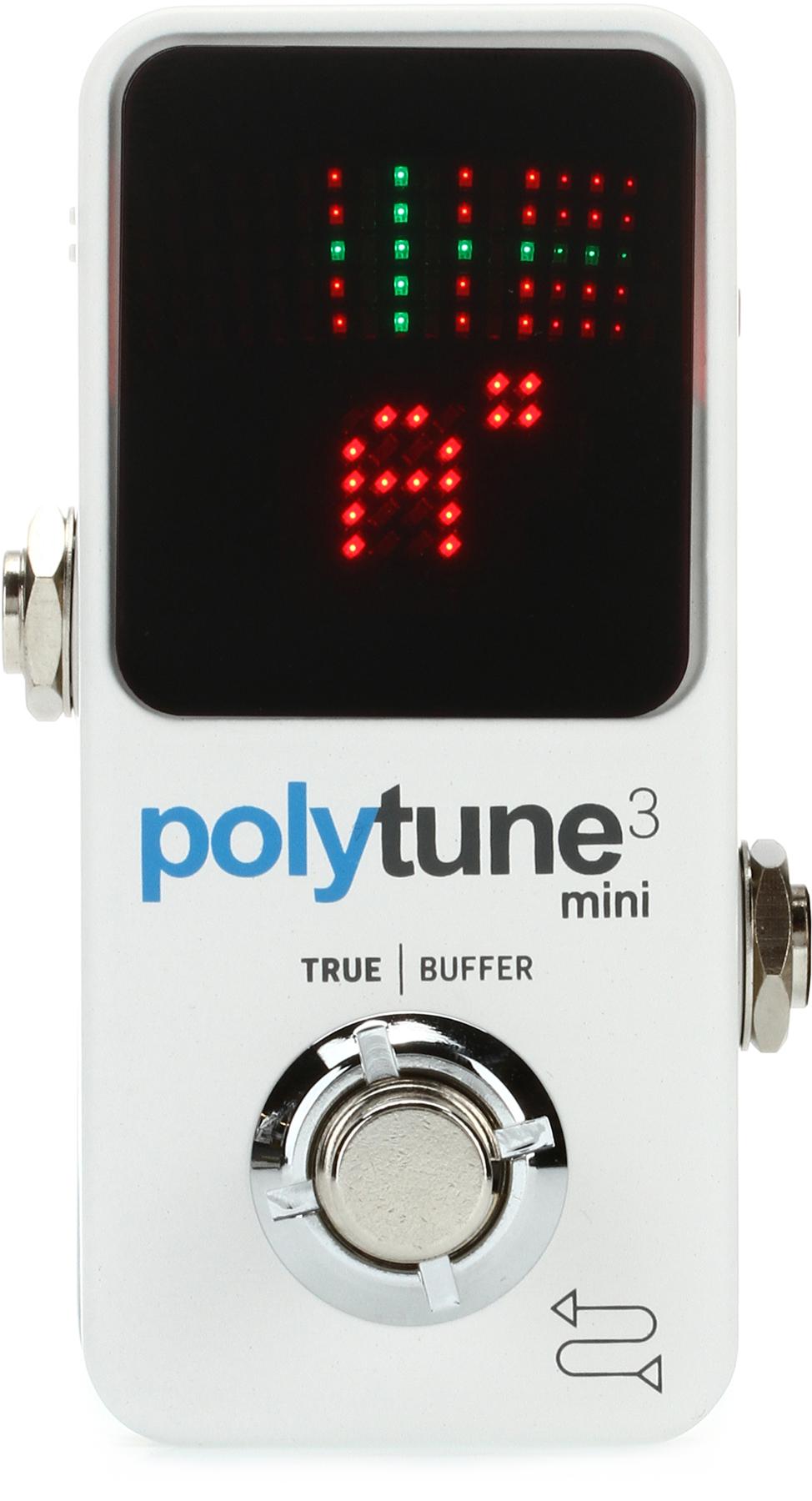 The PolyTune 3 Mini manages to pack all the pedal-tuning and tone-preserving power of TC's full-sized PolyTune 3 into a miniature pedal format. The TC Electronic PolyTune 3 Mini is just as fast, dependable, and intuitive as ever, boasting accuracy within 0.02 cents and delivering a no-nonsense approach to guitar and instrument tuning. Strum all strings* to see which ones are out of tune at a glance, or tune up one string at a time. The PolyTune 3 Mini automatically switches between mono and poly modes based on the incoming signal. And thanks to its built-in, high-quality-analog BonaFide Buffer (switchable to true bypass), the PolyTune 3 Mini can even improve your tone over extended cable runs. This means you get a bite, presence, and transient response that's much closer to plugging directly into an amp. But that's not all that's cool about the TC PolyTune 3 Mini. Alternate tuning modes make it fast and easy to explore new ways to craft your art, even in the middle of a frantic set. And an improved auto-dimming, 109-LED display makes tuning more comfortable in any environment, indoors or out.
Buy this guitar effects pedal now at Sweetwater >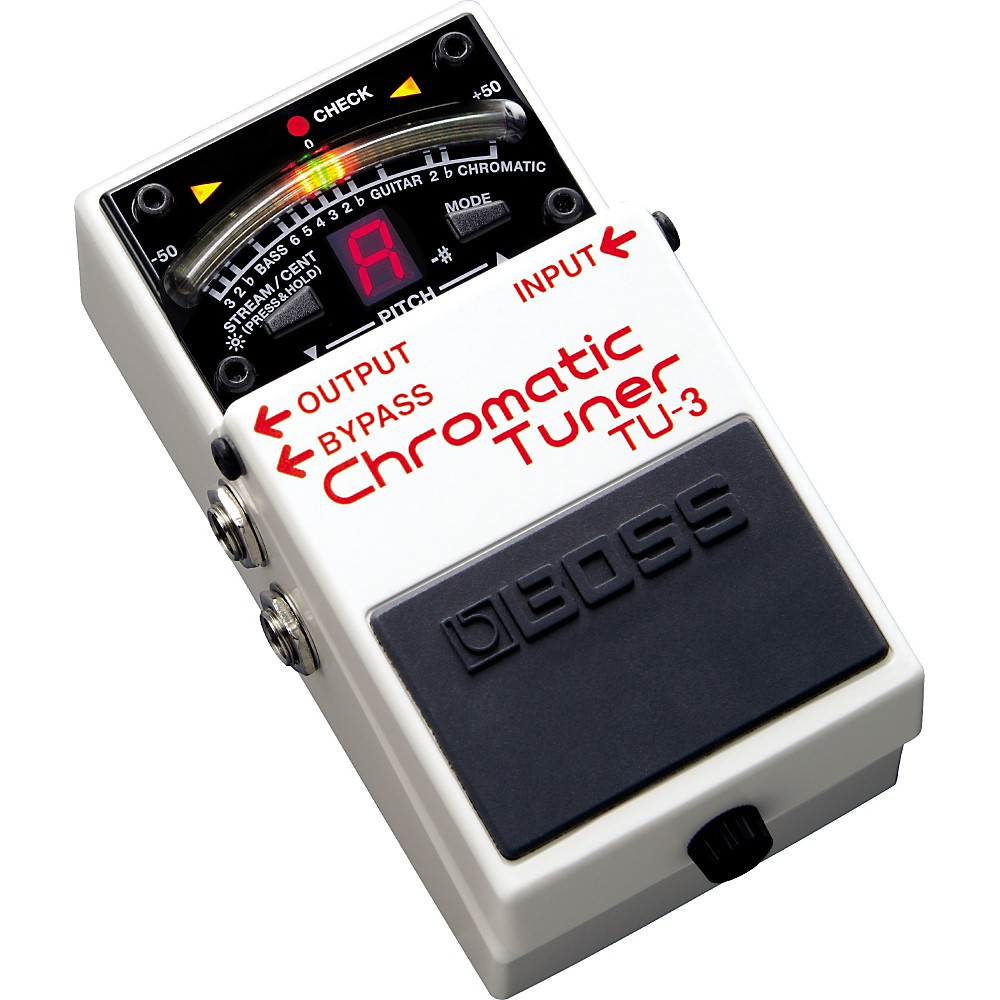 One of the world's top-selling stage tuners, the BOSS TU-2, has evolved and improved into the TU-3 pedal tuner. Housed in a tank-tough BOSS stompbox body, the TU-3 chromatic tuner features a smooth 21-segment LED meter with a High-Brightness mode that cuts through the harshest outdoor glare. Choose between Chromatic or Guitar/Bass tuning modes. Accu-Pitch Sign gives you pinpoint visual verification that tuning is complete. The BOSS TU-3 tuner incorporates a convenient Note Name Indicator that can display notes of 7-string guitars and 6-string basses, while the Flat-Tuning mode can support up to 6 half-steps. It's the kind of instrument pedal tuner that no performing guitarist or bass player should be without.
Buy this guitar effects pedal now at Guitar Center >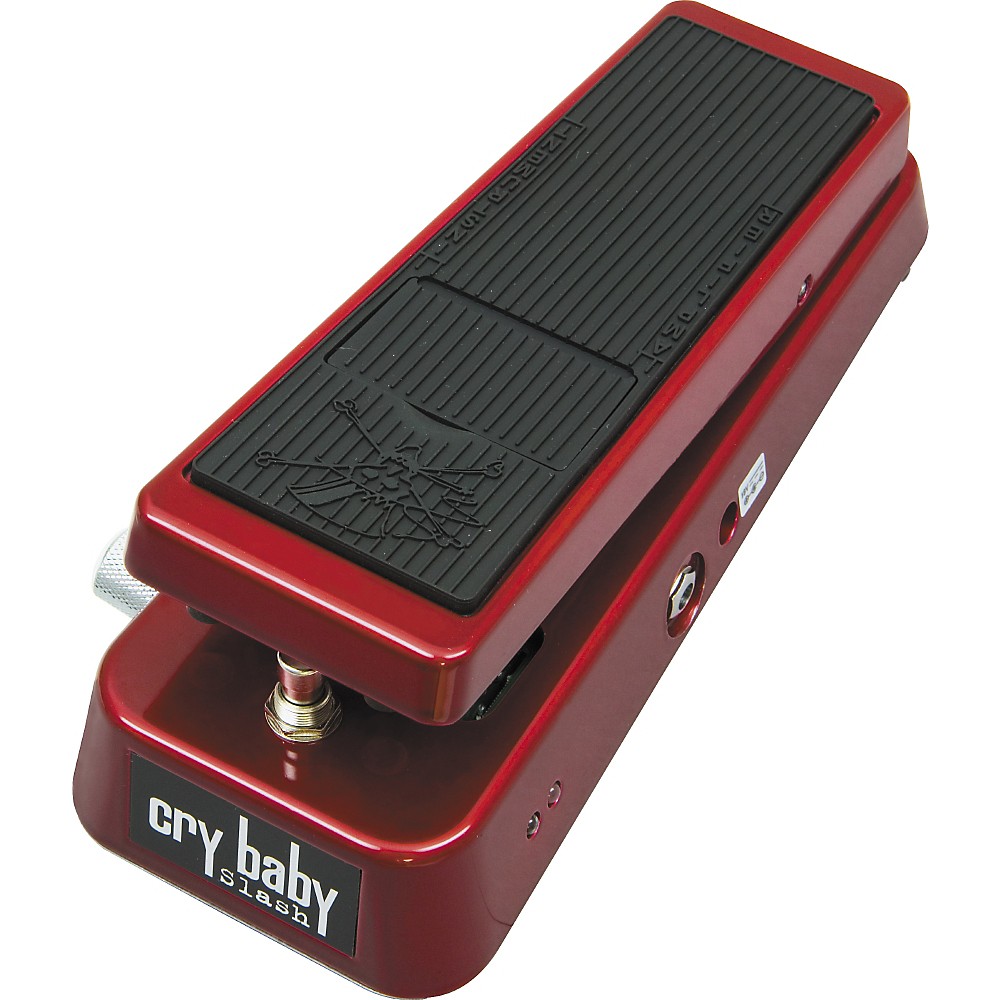 Like the guitarist himself, the Dunlop SW-95 Slash Cry Baby Wah is revolutionary and a classic at the same time. It sports a hot rod, metallic-red finish and a cutting edge, high gain circuit for a different and distinct sound. It also has a modified Fasel inductor for sweet, singing top end and upper midrange bite and sparkle on the wah. 18V operation yields tons of extra headroom. LED indicators for distortion on/off and wah on/off modes keep you clued in at all times. Top hat not included.
Buy this guitar effects pedal now at Musician's Friend >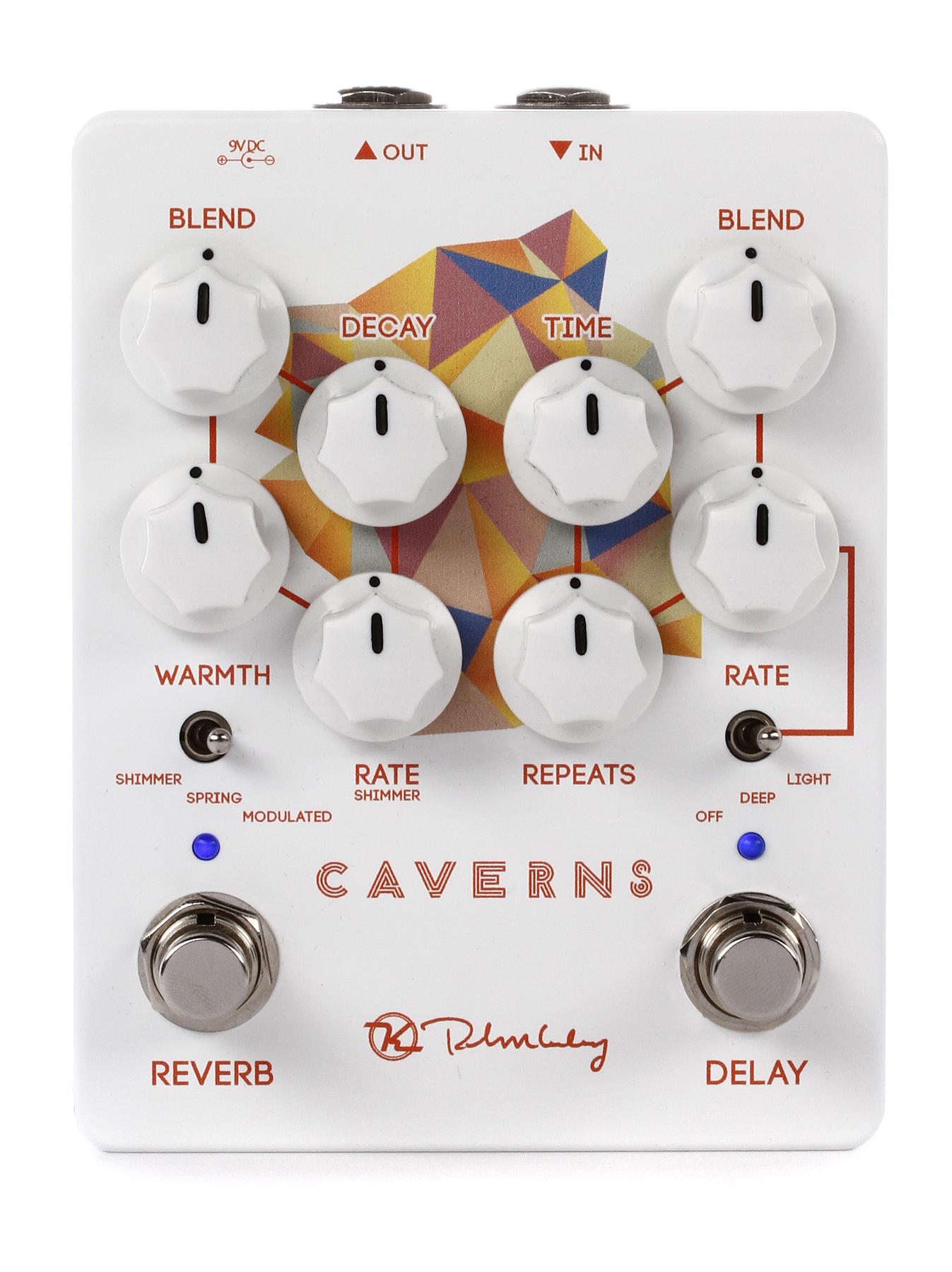 Combining three sweet reverb types with analog-style tape delay, the Keeley Caverns V2 effects pedal for electric guitar delivers two must-have effects. The delay section (based on Keeley's Magnetic Echo delay) ranges up to 650ms, and you can add modulation for even more analog character. The reverb side offers Spring, Shimmer, and Modulated reverb modes, with modulation available via the Rate knob. It's perfect for ambient styles, surf rock, and much more. But no matter what genre of music you create, the Keeley Caverns V2 packs two great-sounding, must-have guitar effects in a single, gig-ready pedal.
Buy this guitar effects pedal now at Sweetwater >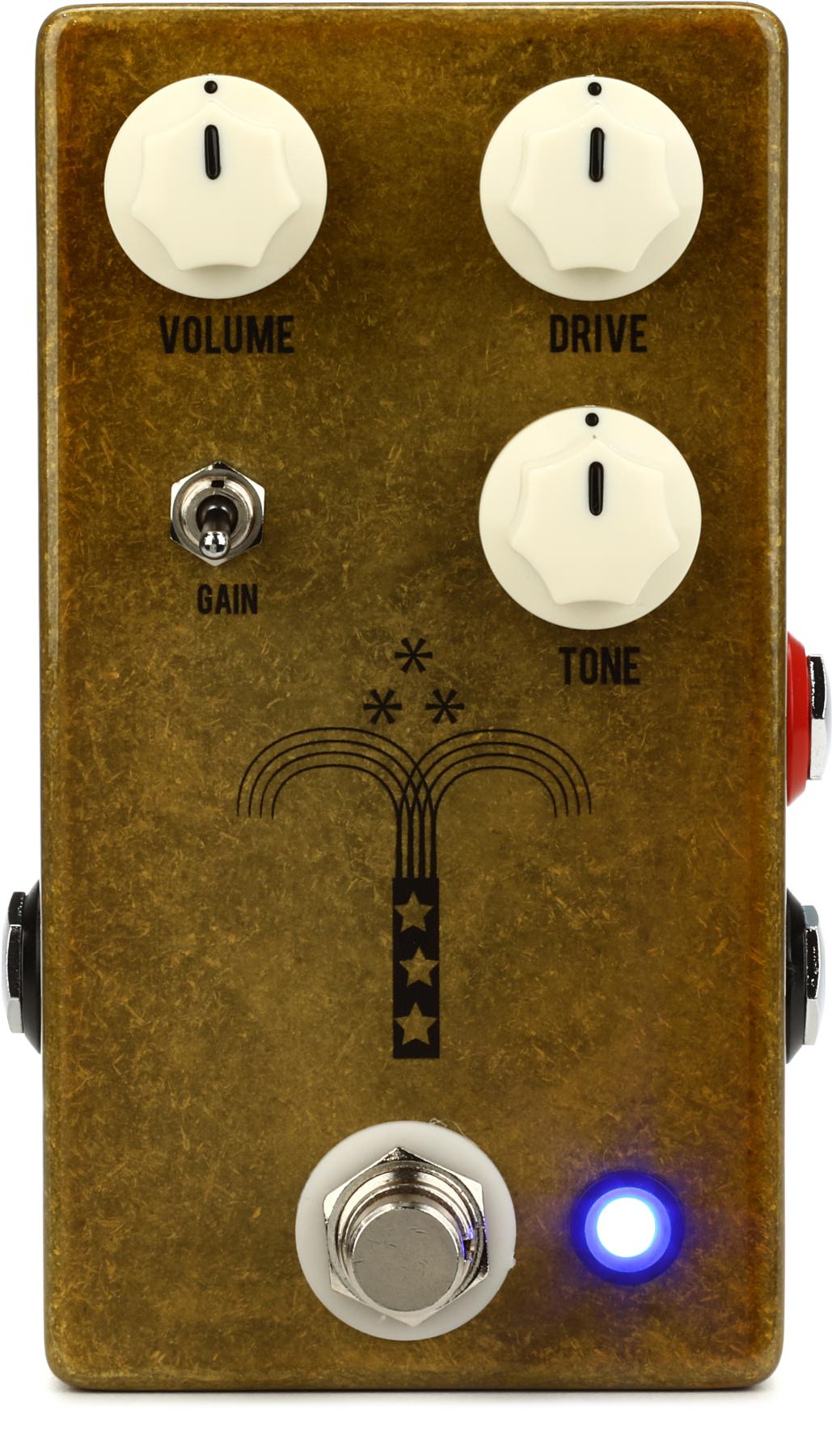 The JHS Morning Glory overdrive pedal adds dirt to your guitar tone without changing its fundamental character. Dialing in your sound with the Morning Glory is a piece of cake, thanks to its straightforward layout. Simply crank the Drive control until you reach your desired level of overdrive, twist the Tone knob to hit the sweet spot, then set your master output level with the Volume knob. A Gain toggle activates a boost mode that yields more power, more low end, and more high-gain sizzle. When we demo'd the JHS Morning Glory overdrive pedal here at Sweetwater, we loved the tone and touch sensitivity it imparted when we put it in front of our favorite tube amps.
Buy this guitar effects pedal now at Sweetwater >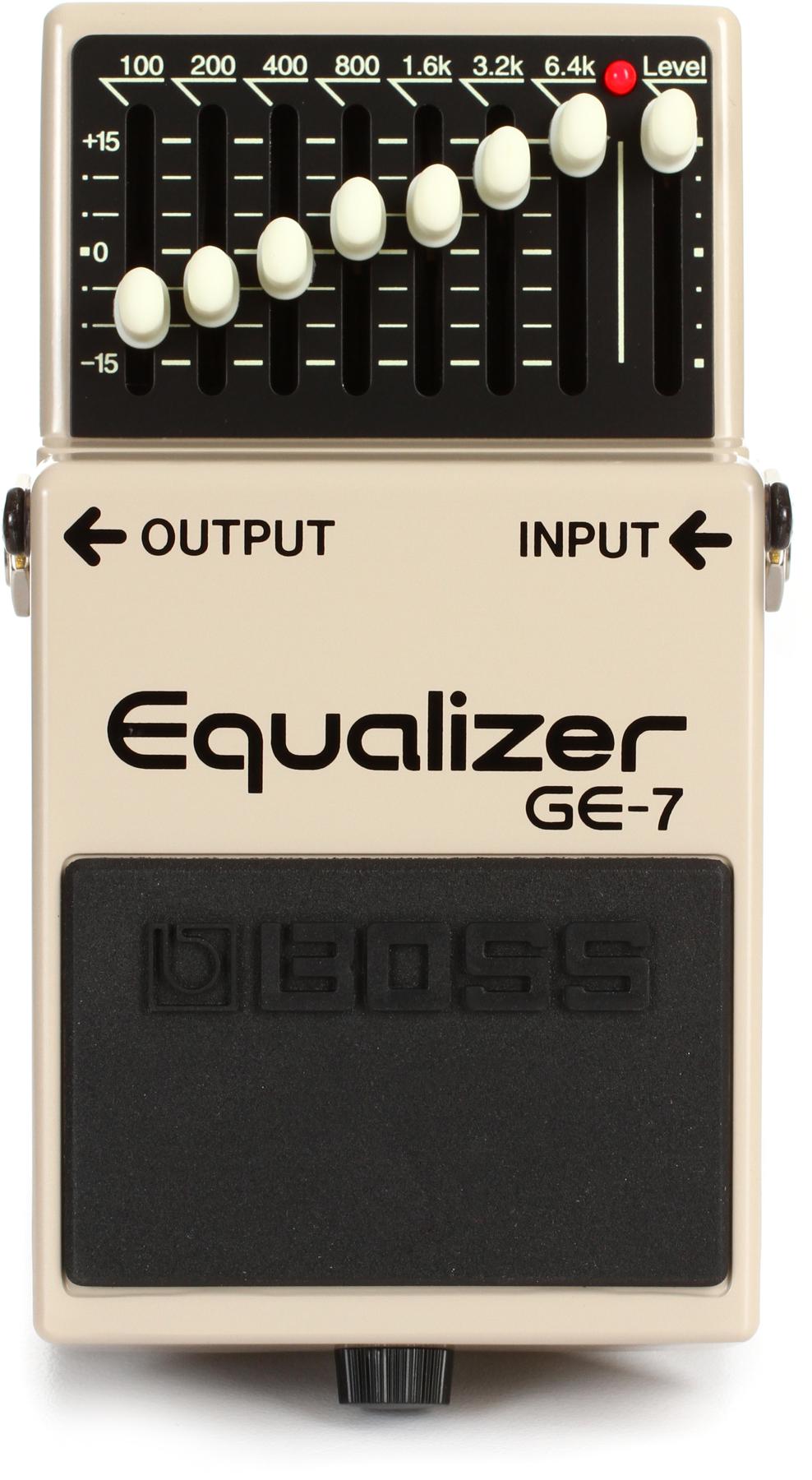 One of the handiest effects pedals we've seen at Sweetwater. The GE-7 has seven bands ranging from 100Hz to 6.4kHz — ideal for guitar sounds, with boost/cut of +/- 15dB per band. This lets you completely control your sound and eliminate unwanted feedback, particularly when connected after a distortion effect. "I use this pedal as a clean boost for my acoustic guitar when I want my solos to rise above the level of the band (which in my current situation includes bass and drums). It works perfectly for that. The fact that I can boost only some of the frequencies, and at varying amounts, means that I can sculpt a desirable lead tone while avoiding feedback from the downstage monitors. I can't do that if were to simply turn up the overall volume of the guitar like I would on an electric guitar. It's the only pedal I use with my acoustic guitar. It sounds great, and does the job intended."
Buy this guitar effects pedal now at Sweetwater >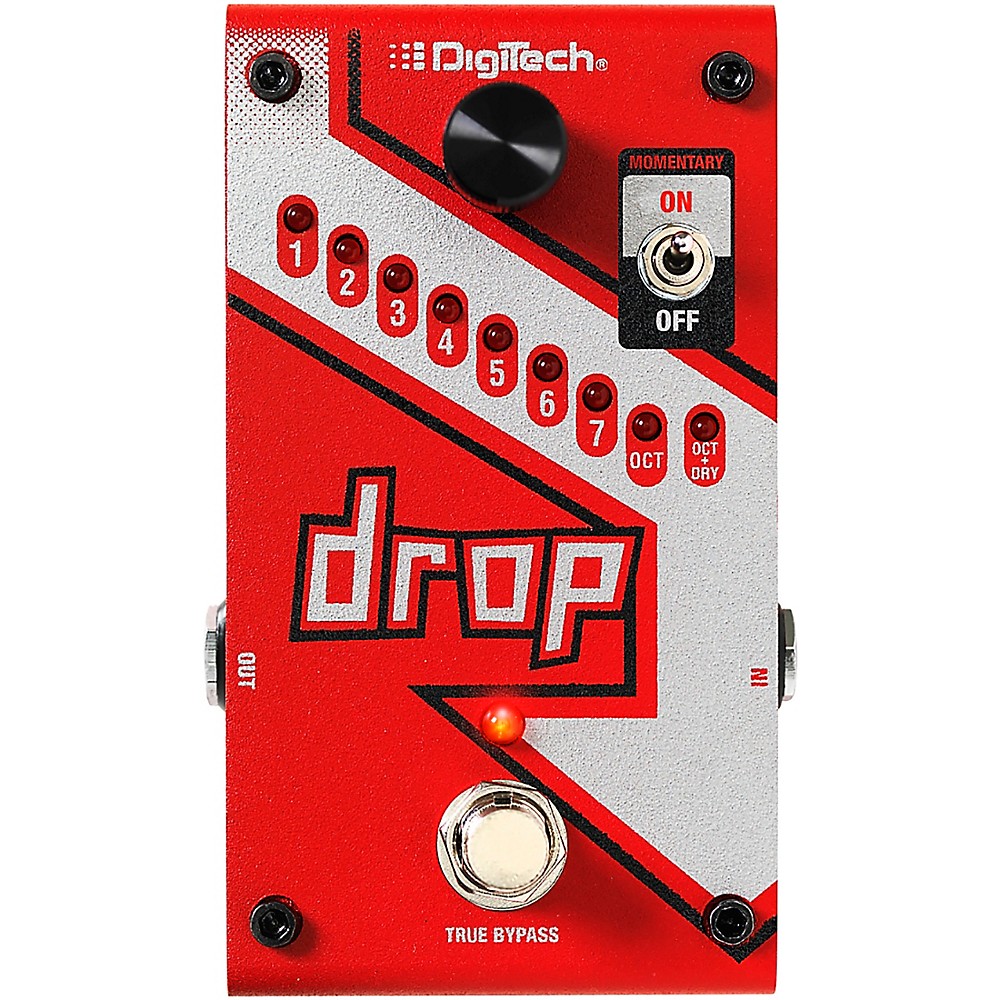 The DigiTech Drop is a dedicated polyphonic drop tune pedal that allows you to drop your tuning from one semitone all the way down to a full octave. Get down-tuned chunk without having to change guitars! The Drop also features a momentary/latching switch. With the switch set to momentary, you can turn the Drop into a true performance pedal. Fast trills and roller-coaster pitch dips are at the tip of your toes. Controls: Effects Selector Knob – Selects which of the Drop effect settings is used when the effect is active. Momentary On/Off Switch: Selects how the effect footswitch will operate. Setting this switch to "ON" will cause the footswitch to act as a momentary switch (the effect will be enabled or disabled only as long as the footswitch is pressed and held). Setting this switch to "OFF" will cause the footswitch to act as a standard latching on/off switch.
Buy this guitar effects pedal now at Guitar Center >
Put the Best Guitar Effects Pedals to Good Use!
Now that you've checked out the best guitar effects pedals you can buy in 2022, it's time to grab your guitar and dig in with TrueFire's 50,000+ video guitar lessons across every style and skill level presented by top educators available anytime, anywhere, on any device. Join free and start your free 14-day All Access trial today (no credit card required!).
Looking for a great place to start once you've signed up? Check out our Guitar Effects Survival Guide!