TrueFire and Sweetwater have partnered up to present you with the best guitar gear deals monthly. As you browse TrueFire's online guitar lessons, surely you have been curious about which guitar or pedals or amps our educators are using, and, if you're like the rest of us, you've probably been striken with a case of G.A.S. — gear acquisition syndrome. It's a serious condition!
To help you satisfy your cravings for the latest and greatest guitar gear and help you capture that sound and tone you're looking for, we have expanded our gear features and will continue to do so. For example, you can check out Jeff McErlain's preferred guitar gear, Corey Congilio's preferred guitar gear, or March 2022's best guitar deals here on our blog, and be sure to check back in often to see what guitar gear deals are hot at Sweetwater. You'll also notice we've linked to some great, relevant video guitar lessons from TrueFire to make your unboxing even more enjoyable!
Here are the 10 best guitar gear deals we've found on Sweetwater for the month of April 2022:
The Best April 2022 Guitar Gear Deals
1. Gibson Les Paul Studio Plus Electric Guitar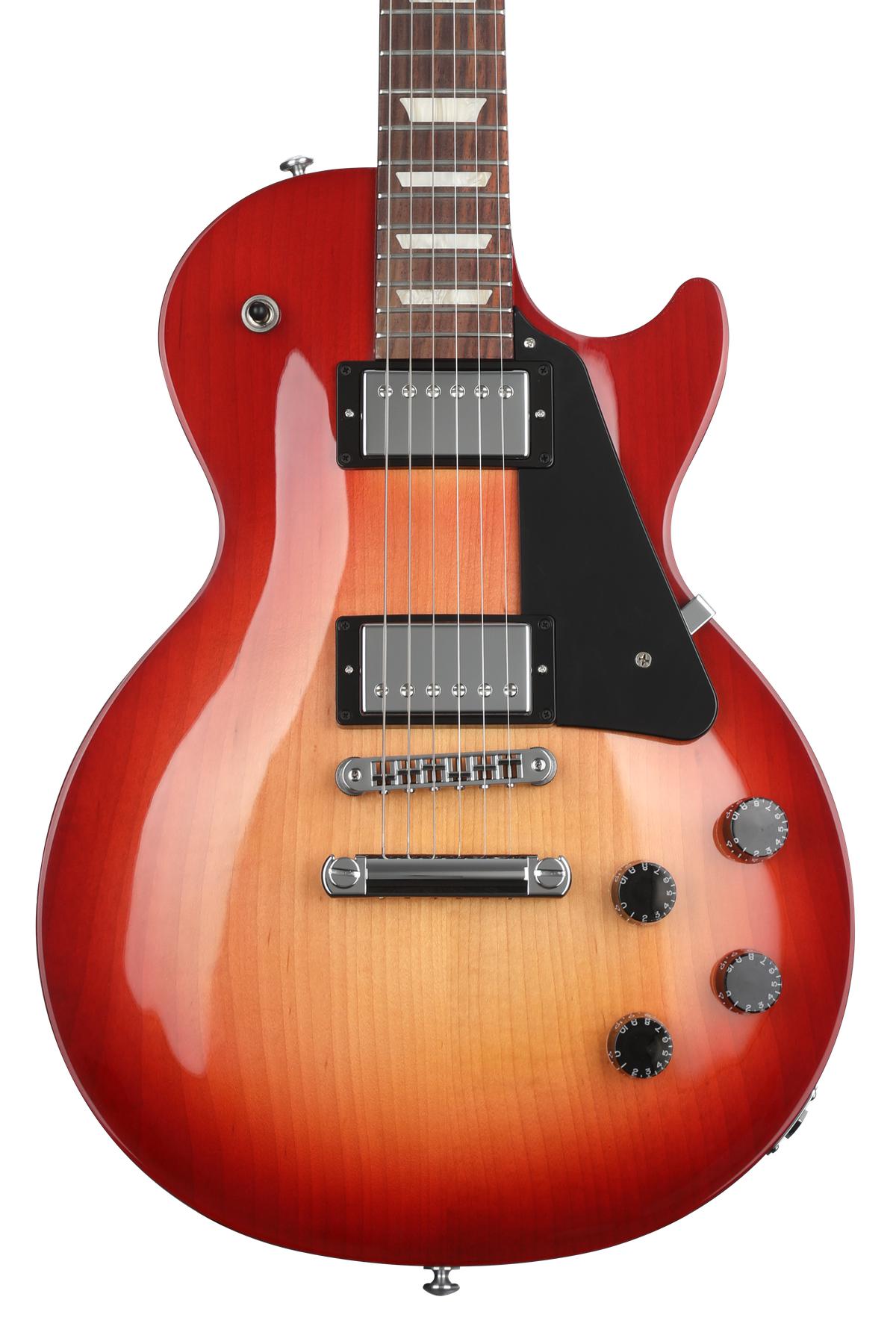 The Gibson Les Paul Studio Plus is celebrated by live performers and session players alike. This Sweetwater Exclusive Gibson Les Paul Studio Plus covers an even wider sonic territory with its coil-splitting 490R/498T humbucking pickups. This combination unlocks plenty of creative textures to flesh out musical ideas, from classic cleans and modern crunch to single-coil spank. Spec'd with a stunning AA maple top and eye-popping custom nitro finish, this Studio Plus also benefits from an Ultra-modern weight-relieved body; this reduction of more than a pound in weight provides extra comfort for extended sessions and performances.
A feature your fingers will thank you for is the SlimTaper mahogany neck, which re-creates the speed and playability that '60s Les Pauls are famous for. Dependable Grover Rotomatic tuners keep this axe pitch-perfect and ready to rock. The Gibson Les Paul Studio Plus is a limited edition and only available at Sweetwater — so you'd better reserve yours while you can!
Pick one up and don't forget to check out Les Paul guitar lessons on TrueFire!
2. Ernie Ball 2221 Regular Slinky Nickel Wound Electric Guitar Strings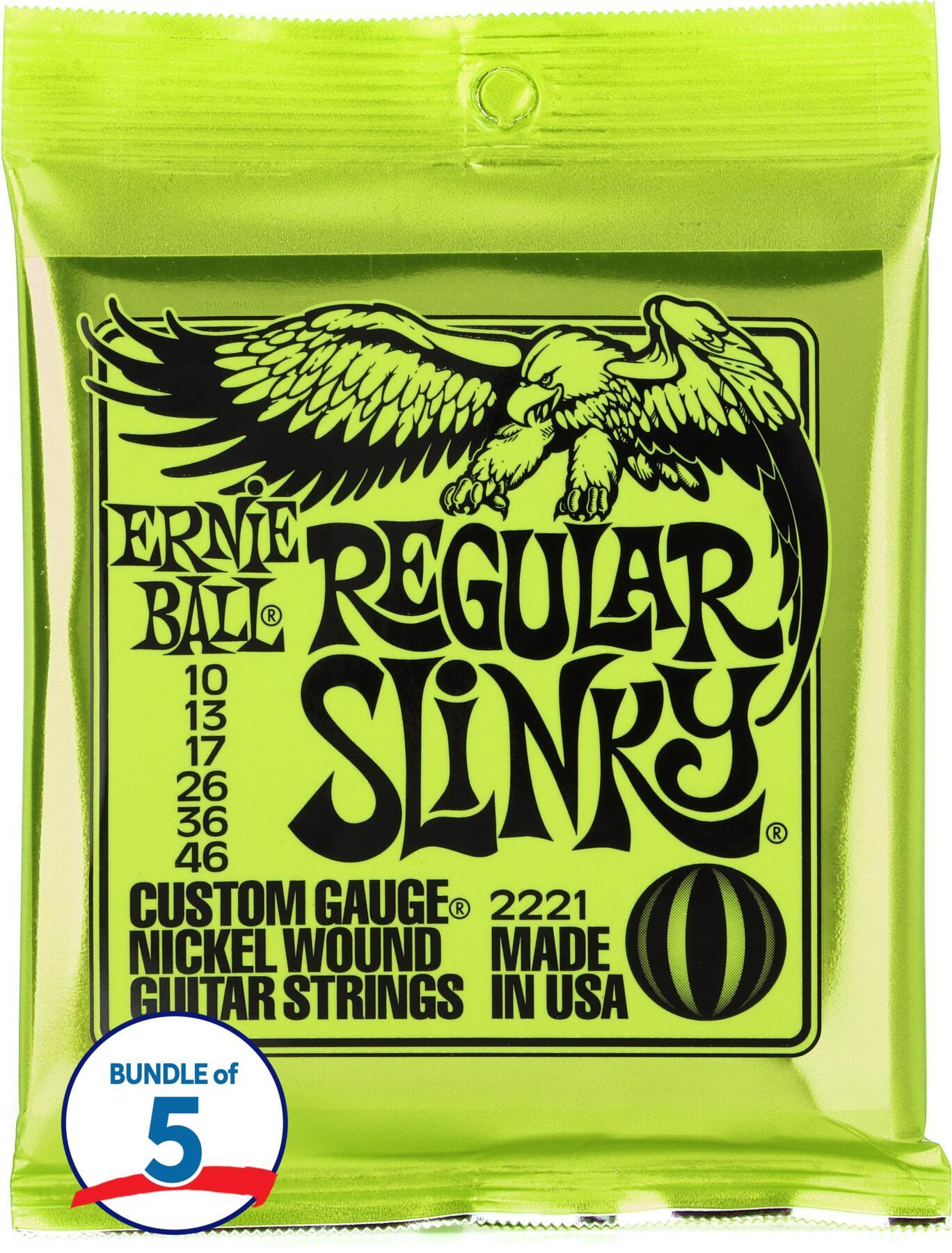 Ernie Ball strings have been a top choice for players of all types since the early 1960s, when guitarists came into Ernie Ball's music store, customizing their string gauges to make their axes easier to play. After fruitless attempts to interest major guitar manufacturers in a lighter set of strings, Ernie Ball decided to start making his own. The Ernie Ball Regular Slinky strings have been a hit among guitar players of all types since their release. When you open a pack of Ernie Ball strings today, you know you're getting a quality set of strings designed to give you great tone, reliable performance, and long life. You can't go wrong when you string up with Ernie Ball, and the Regular Slinky strings are just the right fit for your 6-string electric!
So you've got new strings… now time to dig into some guitar lessons!
3. Positive Grid Spark Combo Amp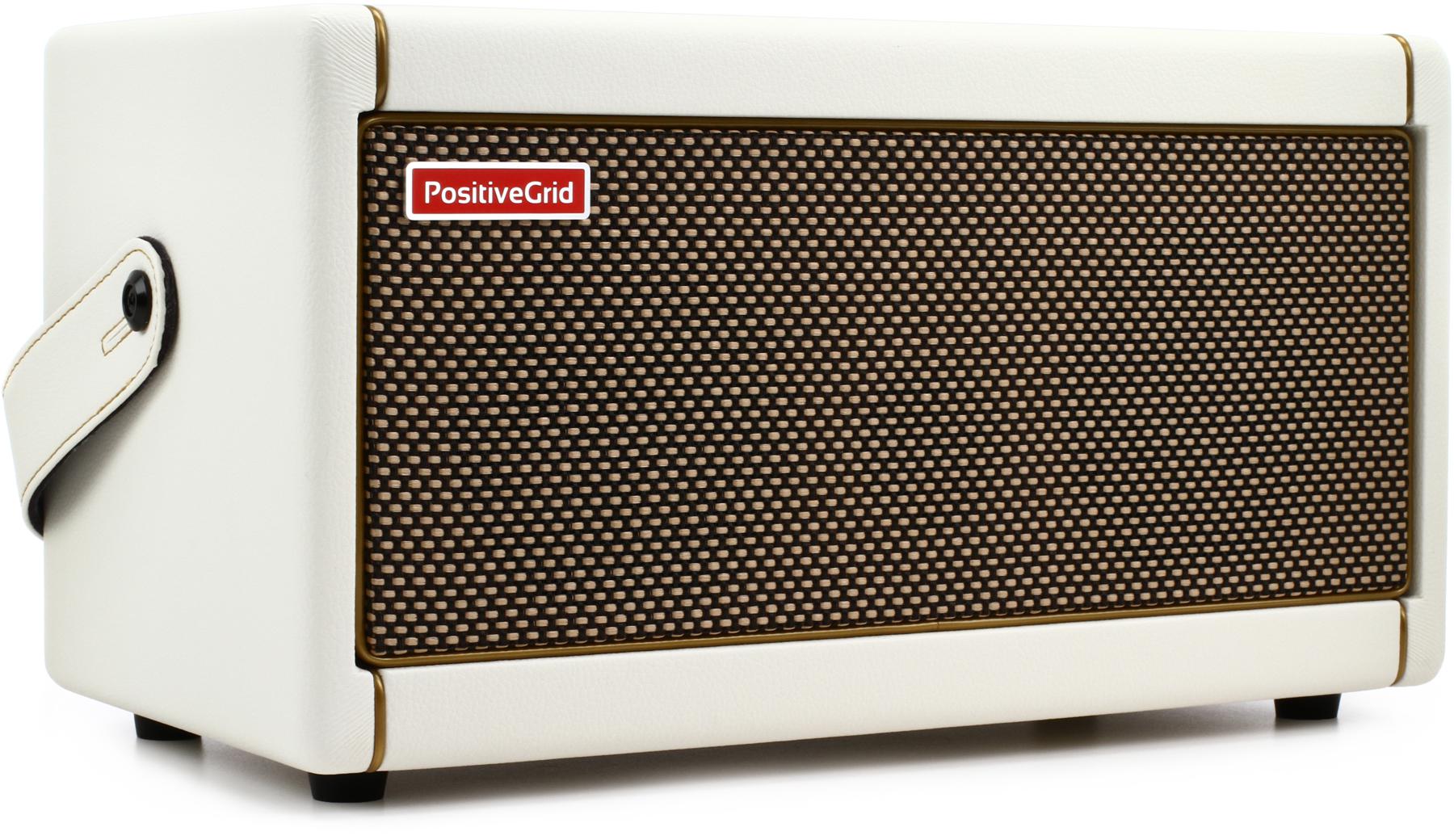 Positive Grid's Spark is a breakthrough new way to jam, track, practice, and learn songs. This powerful app-driven smart amp delivers a bedroom-filling 40 watts of 10,000+ classic BIAS amp/pedal/cab presets through its twin 4″ ported hi-fi speakers, ready for direct injection into your DAW recording session or live PA via USB or 1/8″ TRS headphone output. And impressive as that is, it's just scratching the surface of all the Spark can do for you. Voice control via the Spark App gives you Slash-worthy lead tones and solo-ready rock and blues backing tracks without lifting a finger. You can even feed Spark your own chord progressions and listen in amazement as a virtual session drummer and bassist accompany you in real-time.
A massive list of downloadable tone presets and an impressive library of virtual pedals and amps — which are easily navigable by style, artist, or genre — suit this one amp for every electric guitar, acoustic, and bass in your arsenal. And at a mere 11.5 pounds (slightly less than a bowling ball, slightly more than a gallon of paint), the Positive Grid Spark is transportable enough for day-to-day outings.
With this guitar amp, you certainly have the tool to sound great — check out our guitar tone lessons to take it to the next level!
4. Fender American Professional II Stratocaster Guitar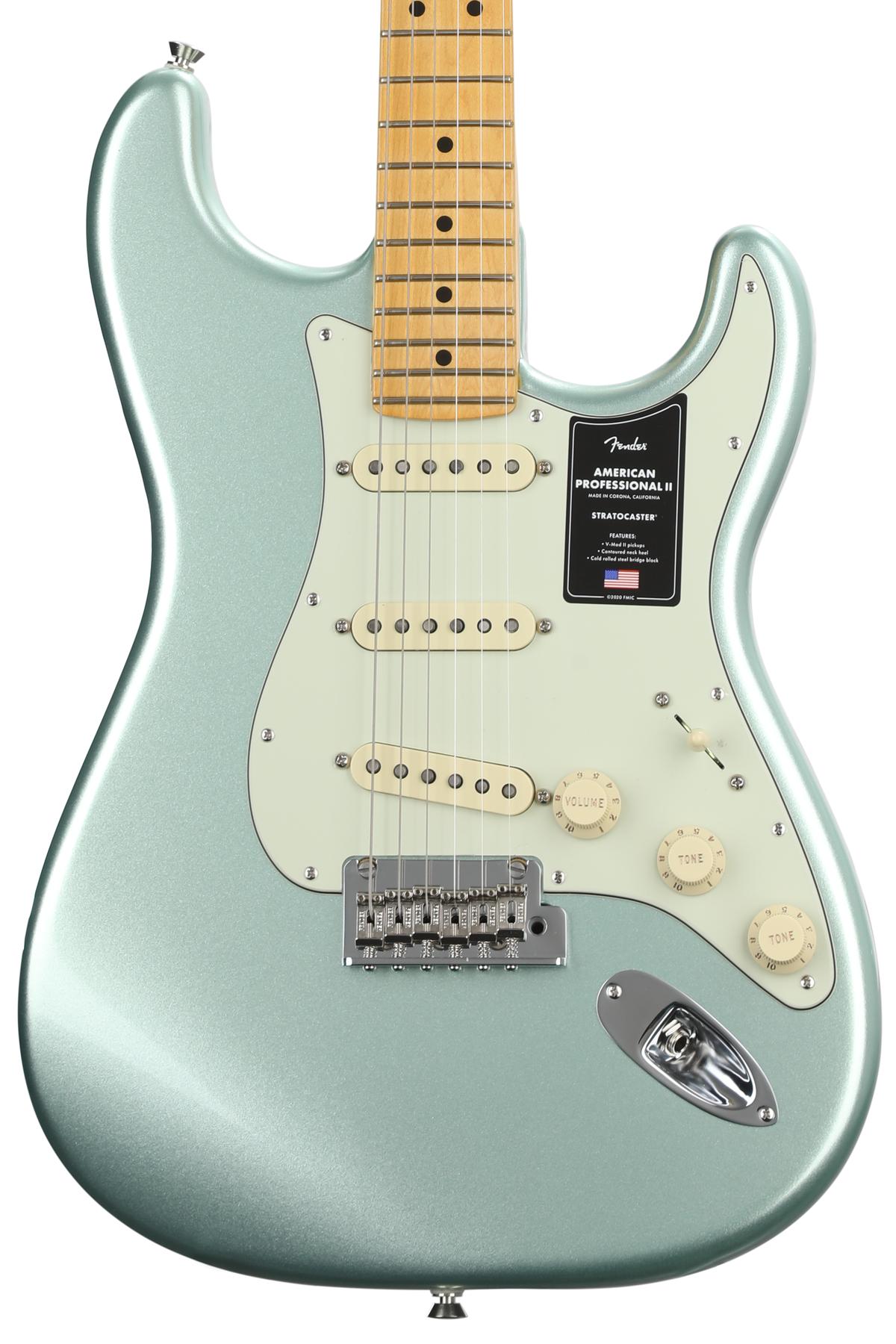 Fender's American Professional II Stratocaster offers multiple upgrades from its inaugural configuration. The lightweight, contoured body delivers a nicely balanced tonal foundation with a highly-resonant quality. This solid-body electric guitar's first major upgrade lies in the pickup selection. The American Professional II Stratocaster is loaded with a trio of V-Mod II single-coil pickups that pump out a vintage tone with modern refinements.
An upgraded 2-point tremolo bridge and cold-rolled steel block combine to give you plenty of sustain and brightness. Further performance upgrades include a contoured heel joint, a "Super-Natural" satin neck finish, and upgraded electronics. If you're looking for a guitar with a vintage voice and modern feel, the American Professional II Stratocaster is worth your consideration.
Speaking of stratocaster, check out these stratocaster guitar lessons at TrueFire!
5. D'Angelico Deluxe Bedford SH Electric Guitar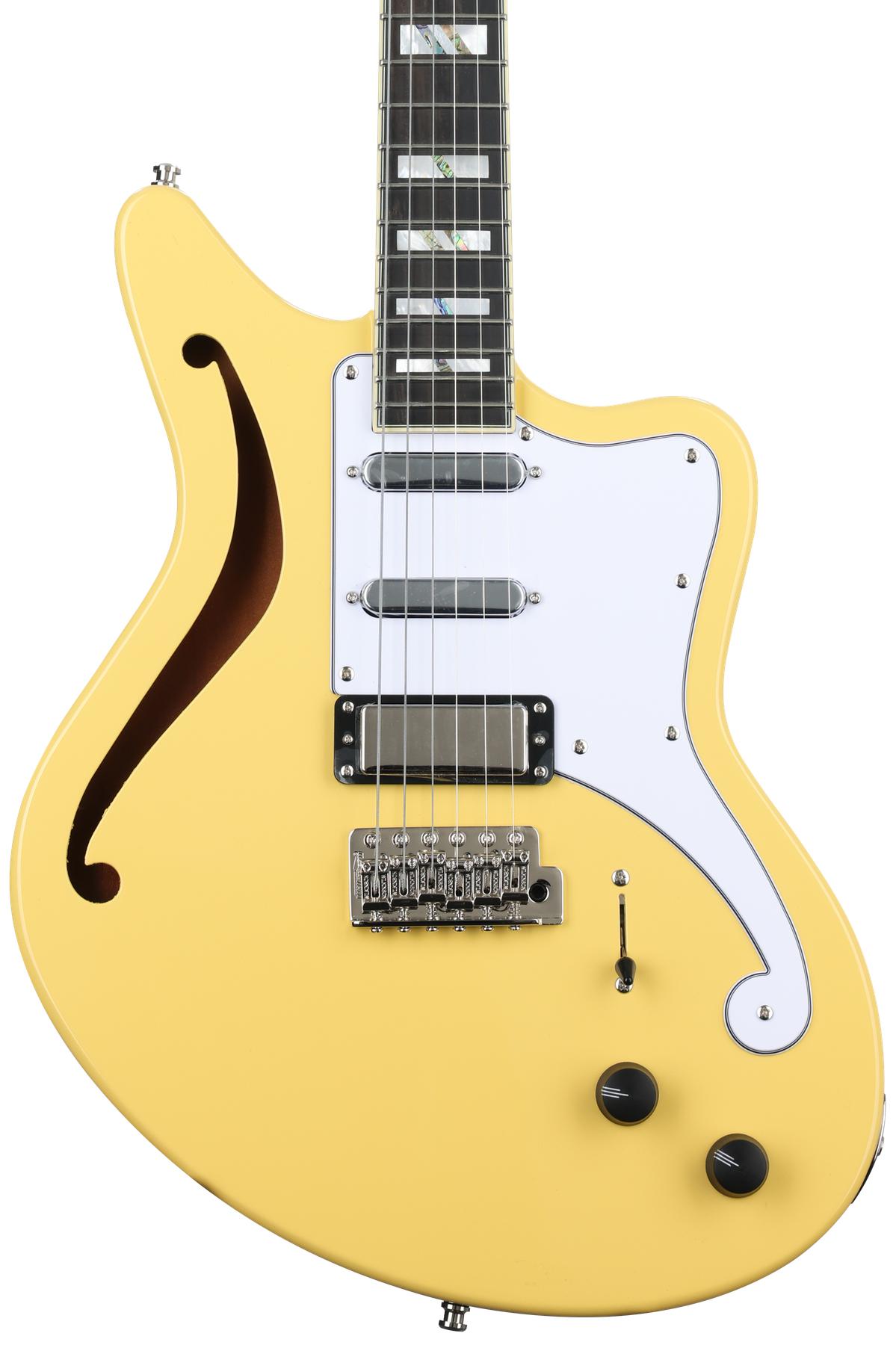 Sleek body shape, effortless playability, and a finish that's only at Sweetwater: that's exactly what you get with the Deluxe Brighton from D'Angelico. This stunning instrument embodies the classic D'Angelico style from headstock to tailpiece, complete with stairstep tuners, inlaid art-deco headstock, and iconic "diver down" fretboard inlays. Made with a swamp ash body and a set maple/walnut neck, the Brighton demonstrates superior resonance and sustain.
Deep cutaways allow you to play the highest frets in complete comfort. Its vibrant tone is supplied by a pair of Seymour Duncan Seth Lover A4 humbucking pickups. You'll have access to warm, sultry jazz tones from the neck pickup and ripping bluestones from the bridge pickup. With its premium features and rich tonality, the D'Angelico Deluxe Brighton will stand out in any guitar collection.
Need some jazz inspiration? Check out the Jazz Guitar Learning Path at TrueFire!
6. Vox AC10C1 1×10″ 10-Watt Tube Combo Amp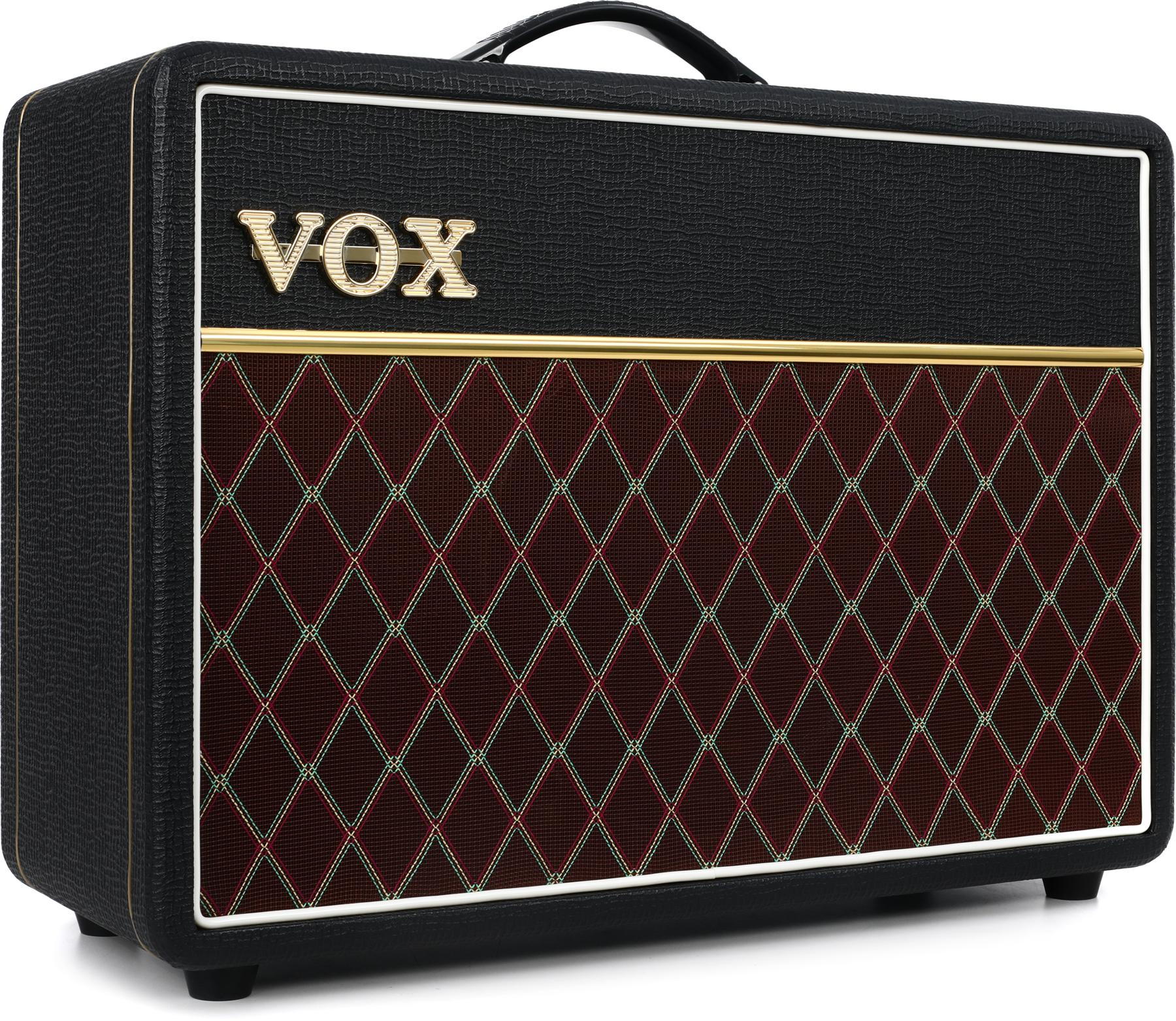 Get iconic Top Boost tone in a compact, all-tube package with the Vox AC10C1 guitar amplifier combo. This all-tube 10-watt combo gives you classic Vox tones through a custom Celestion 10″ speaker. Volume, treble, bass, reverb, and gain controls let you dial in everything from clean to crunch with a definite Vox style. Volume and gain controls let you dial in everything from clean, classic Vox to serious overdrive — and everything in between. If you want a punchy and touch-responsive British tube combo, the Vox AC10C1 is it.
Speaking of British-flavored tones, check out Jeff McErlain's Focus On: British Blues course at TrueFire!
7. Epiphone SG E1 Bass Guitar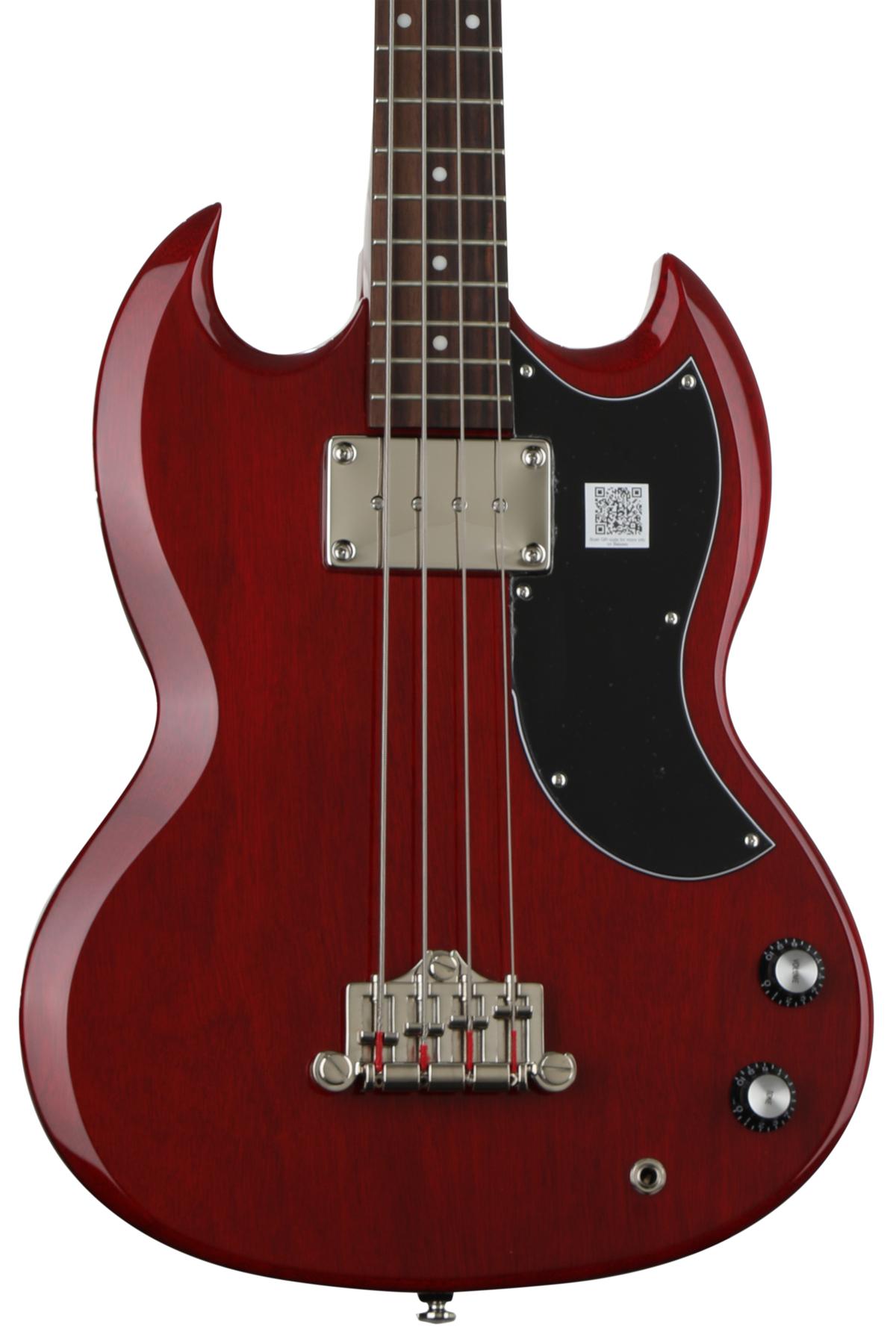 You'll love the feel of the Epiphone EB-0 four-string bass guitar, with its shorter-scale 30.5″ mahogany neck that's perfect for fast players, beginners, and guitarists that only occasionally play bass. And not only does the shorter scale make the EB-0 bass effortless to play, but it also packs your harmonics closer together for a vibrant and lively tonality. It's a great balance to the warm, solid low end with the rich sustain you get from the mahogany body. So get a bass that's packed with tone and is remarkably easy to play – get the Epiphone EB-0 four-string bass guitar from Sweetwater today!
Just learning how to play bass guitar? Start with our Bass Guitar Learning Path!
8. Line 6 HX Effects Guitar Multi-Effects Floor Processor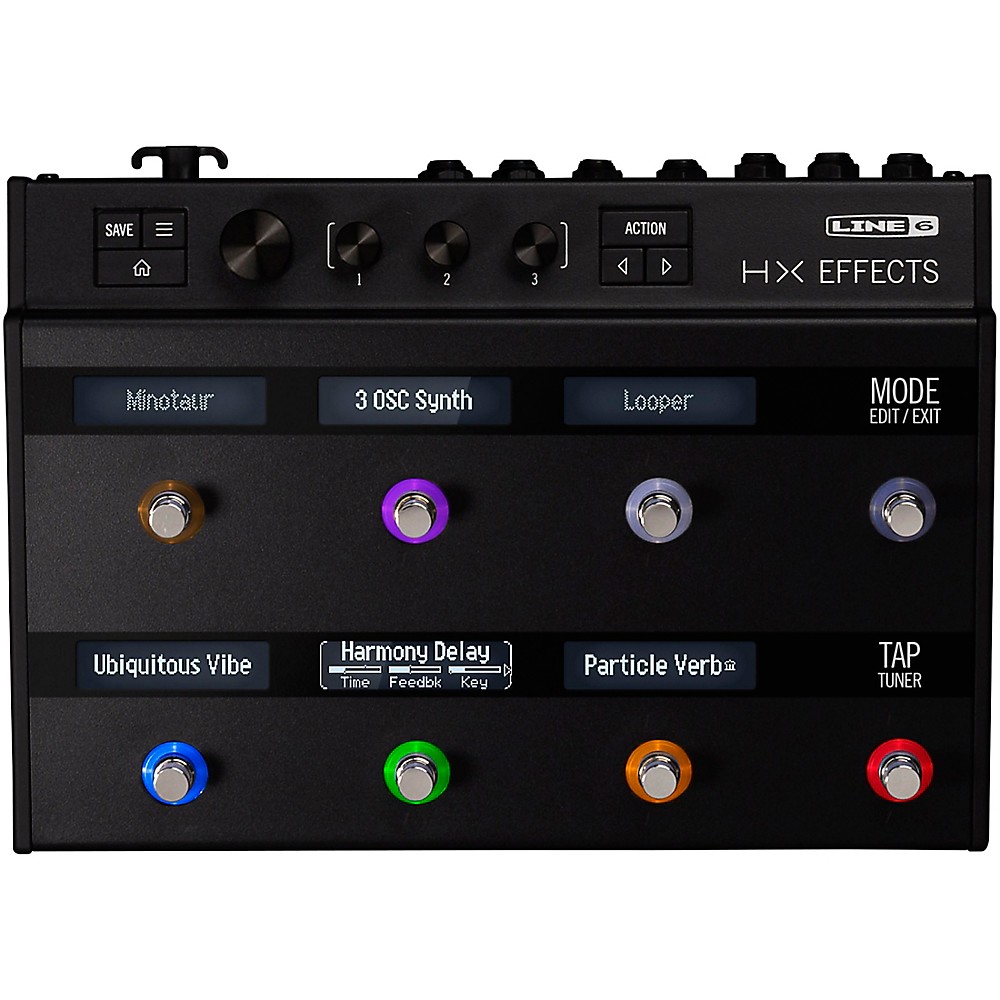 With the success of the phenomenally powerful Helix, it was only a matter of time before Line 6 put that same power to work in a unit focused on delivering top-tier modeled effects. Introducing the Line 6 HX Effects. Like Helix, Line 6 HX Effects is able to take total control of your guitar rig, supplement your pedalboard, or anything in between.
With over 100 HX-quality effects — many pulled from Line 6's already legendary stomps — you'll never run out of tones. And thanks to the HX audio engine, you're able to run up to nine effects simultaneously. Unbelievable processing power, realistic tone and feel, and comprehensive rig control; it's all in the Line 6 HX Effects.
Looking to capture the vintage sound of SRV? Learn how to play guitar like Stevie Ray Vaughan with these lessons at TrueFire!
9. Boss Pocket GT Pocket Effects Processor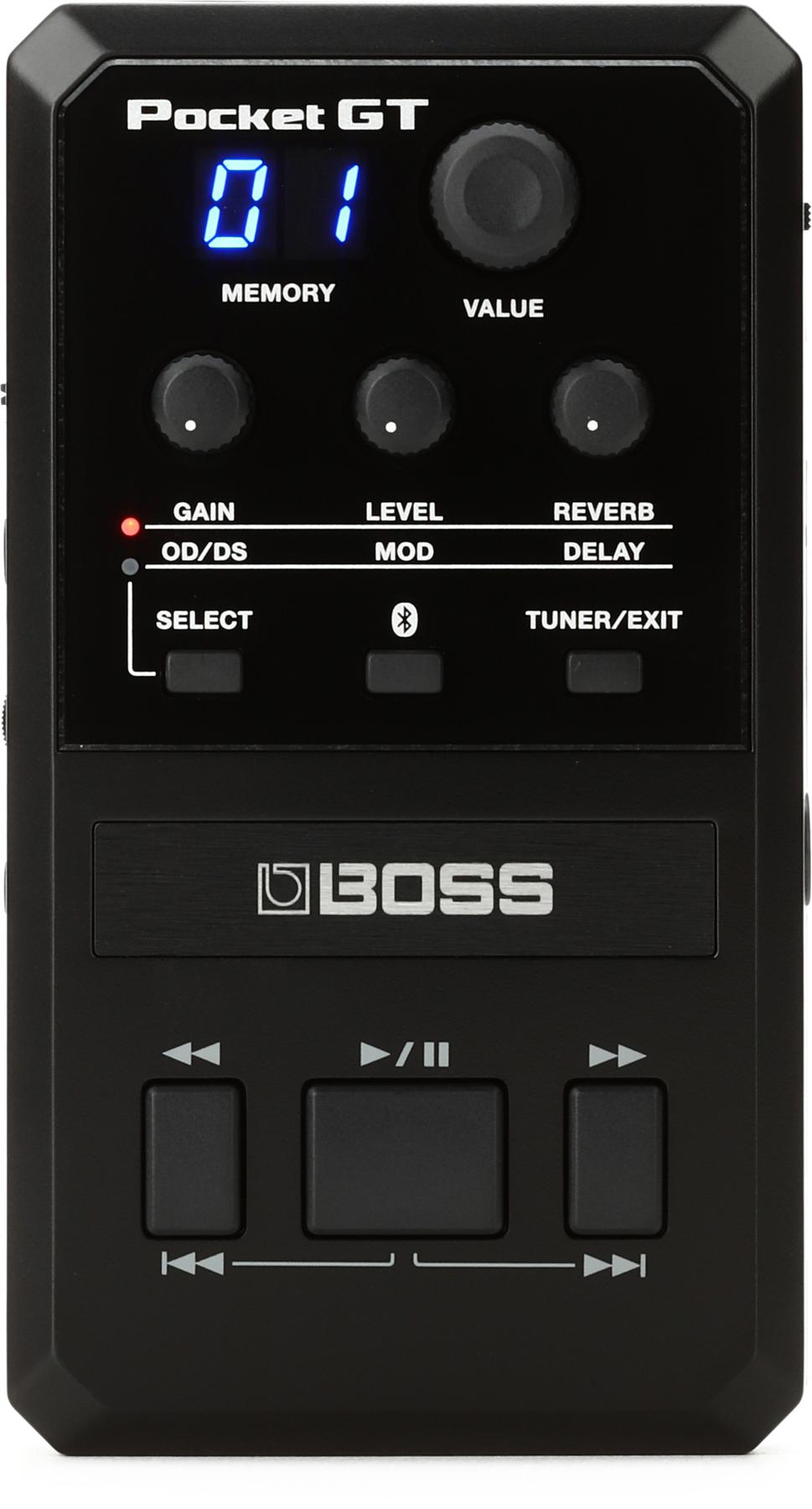 The BOSS Pocket GT is your one stop for recording, jamming, song learning, and gigging out. It's built on the legendary BOSS GT sound engine to give you more than 100 assignable amp, stomp, and effects models in a pocket-sized portable format. The Pocket GT communicates with BOSS's Tone Studio and Tone Central mobile/desktop apps for easy patch preservation and instant recall in a performance setting. Bluetooth audio streaming makes the Pocket GT a busker's best friend. Or connect the Pocket GT to your computer over USB, and you've got a glut of studio-grade guitar tones ready to inject into your DAW session.
Best of all, the Pocket GT operates on a 4-hour rechargeable battery to give you wireless freedom (1/4-inch instrument cable still required) at home or on the road — just connect the 1/8-inch Phone/Rec Out to your stage PA or the USB cable to your laptop, and you're all set. You also get a host of useful song-learning tools within the Tone Studio mobile app's integrated YouTube browser.
If you grab this guitar gear deal, you'll want to check out Jeff McErlain's Guitar Effects Survival Guide.
10. Solid State Logic SSL2+ USB Audio Interface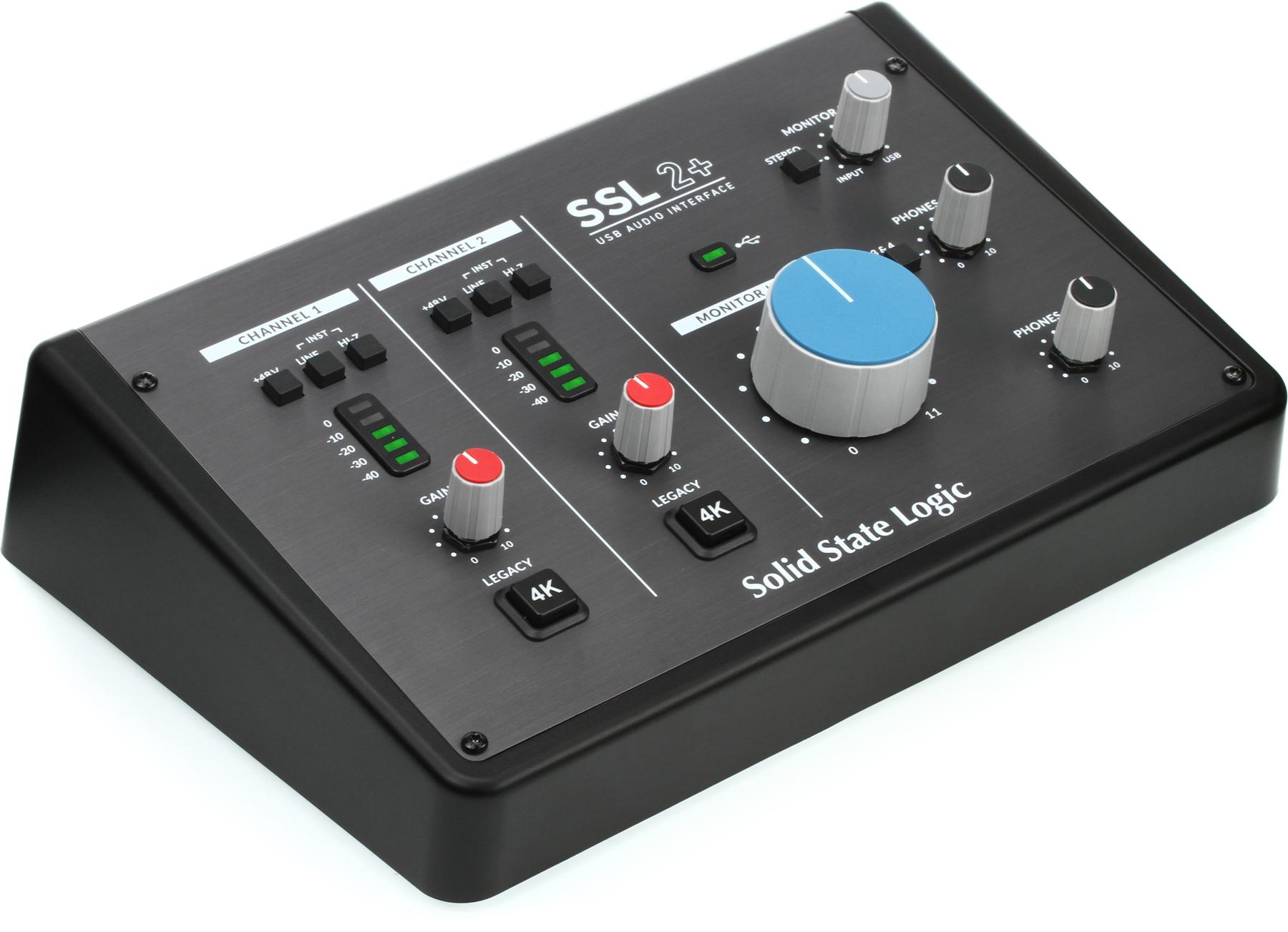 One of the best guitar gear deals out there, the 5150 Iconic Series combo delivers two channels of tube-infused, EVH-style tone with a streamlined design that satisfies the needs of gigging and recording guitarists alike. This tube amp combo covers the full gamut of Edward Van Halen's contemporary hard rock tones, with an extra voicing on each channel for added versatility. There's plenty of sound shaping onboard, with per-channel Gain and Volume, a shared 3-band EQ, and global Resonance and Presence controls.
What's more, this amp's custom-designed EVH Celestion speaker and tailor-built cabinet produce pristine cleans and articulate high-gain tones with ample low-end response. The 5150 Iconic Series combo also includes a top-shelf noise gate, footswitchable Boost function, and high-quality reverb to ensure a dynamic performance and U.S.-prime, grade-A-stamped sound. Other features include a power reduction circuit, speaker-emulated output, dual parallel speaker outputs, selectable impedance, and an excellent-sounding effects loop.
If you're craving EVH's latter-day sound, the 5150 Iconic Series combo delivers the searing tone and growling gain that King Edward made famous.
Want to learn how to record guitar at home? Check out our FREE Intro to Home Recording for Guitarists from our friends at FaderPro!
Want More Guitar Gear Deals?
Dig these guitar gear deals? Join TrueFire for free for more plus a free 14-day TrueFire All Access trial!
Sweetwater Guitar Gear Giveaway