The ukulele is not only one of today's most popular, versatile instruments in American music. It's also easy to learn and fun to play. In this post, we'll show you the best ukuleles you can buy so you can join the fun.
While its sonic footprint is similar to other blues instruments, most people don't yet consider the ukulele as a blues instrument. Reverend Robert Jones' Blues Innovations for Ukulele, our latest course release, demonstrates how to translate many of the key techniques and approaches from the blues tradition for the ukulele. Along the way, you'll learn essential techniques and concepts to help you get started on the ukulele. Rev. Robert Jones talks about ukulele history, sizes, tuning, basic chords, strumming vs. fingerpicking, and much more.
To celebrate the launch of this new ukulele course, we've put together a list of the best ukuleles you can buy on Sweetwater right now. Browse the list of the 5 best ukuleles below and be sure to check out Rev. Robert Jones' new ukulele course as well!
The 5 Best Ukuleles

The Cordoba 15CM concert ukulele is made from premium quartersawn mahogany for an exceptionally playable ukulele that outperforms its price point. Quartersawn wood is stronger and more rigid than other cutting methods, giving the 15CM a lively, balanced tonality with great projection.
Cordoba goes beyond great playability, though, adding features like an abalone rosette and ivoroid binding that aren't normally found on a ukelele at this price. For a great sounding, great playing uke at a great price, get the Cordoba 15CM concert ukulele.

The Teak Tri-Top Concert Acoustic-electric Ukulele from Kala is a truly stunning, one-of-a-kind uke that will delight beginning and advanced players alike. The Tri-Top features an all-teak body for wonderful tone and a truly captivating visual presentation. Teak is a Southeast Asian hardwood known for its durability, varied grain, and striped pattern in different hues of brown and reds.
A stunning triangular strip of mahogany runs down the center of the Tri-Top for a mesmerizing complement of reddish orange to the brown hues of the teak top. A meranti neck with nandu fingerboard offers great response and playability. When you are ready to plug in, a Mings MET-A20 and active EQ provide outstanding amplified uke tone. And here at Sweetwater, uke enthusiasts love the smooth, deep Florentine cutaway that provides access to those higher notes!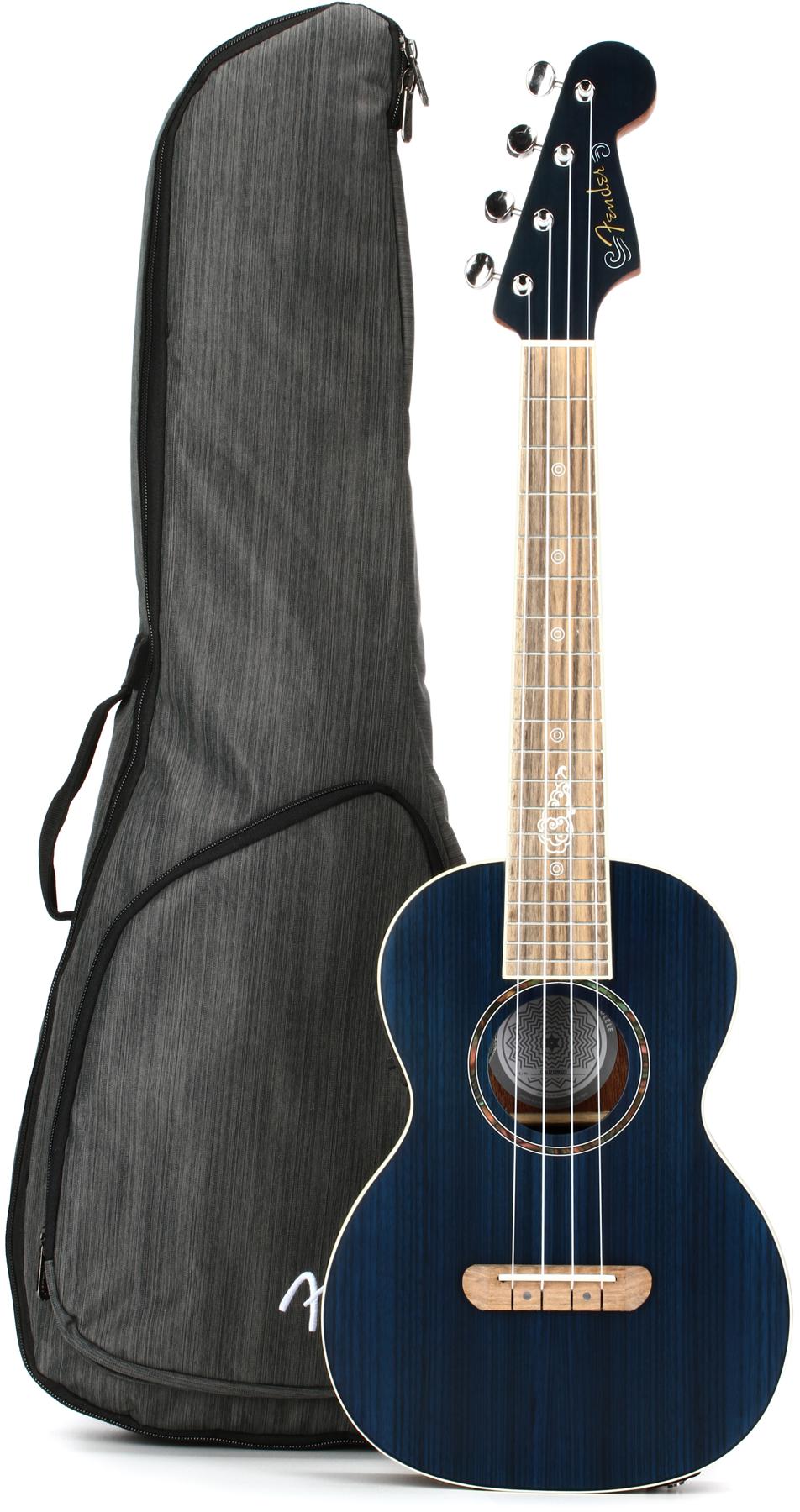 Though he hails from rock 'n' roll royalty, Dhani Harrison has forged his own musical path. As a composer, a singer/songwriter, and a multi-instrumentalist, he is equally at home crooning folk songs as he is collaborating with hip-hop artists and scoring films. Like his father, Dhani has always relished the immediacy and simplicity of the ukulele.
That's why he teamed with Fender to create the Dhani Harrison Uke, a fantastic-sounding tenor ukulele with gorgeous aesthetics, performance-ready upgraded Fender electronics, and thoughtful appointments, including a bone nut and closed-back geared machine heads for reliable tuning stability.
Crafted from toneful ovangkol and featuring a comfortable nato neck capped with a walnut fingerboard, the Dhani Harrison Uke is one of the most enjoyable instruments ukulele players at Sweetwater have played — especially at its price point. As a songwriting tool or a primary instrument, the Dhani Harrison Uke is a splendid choice!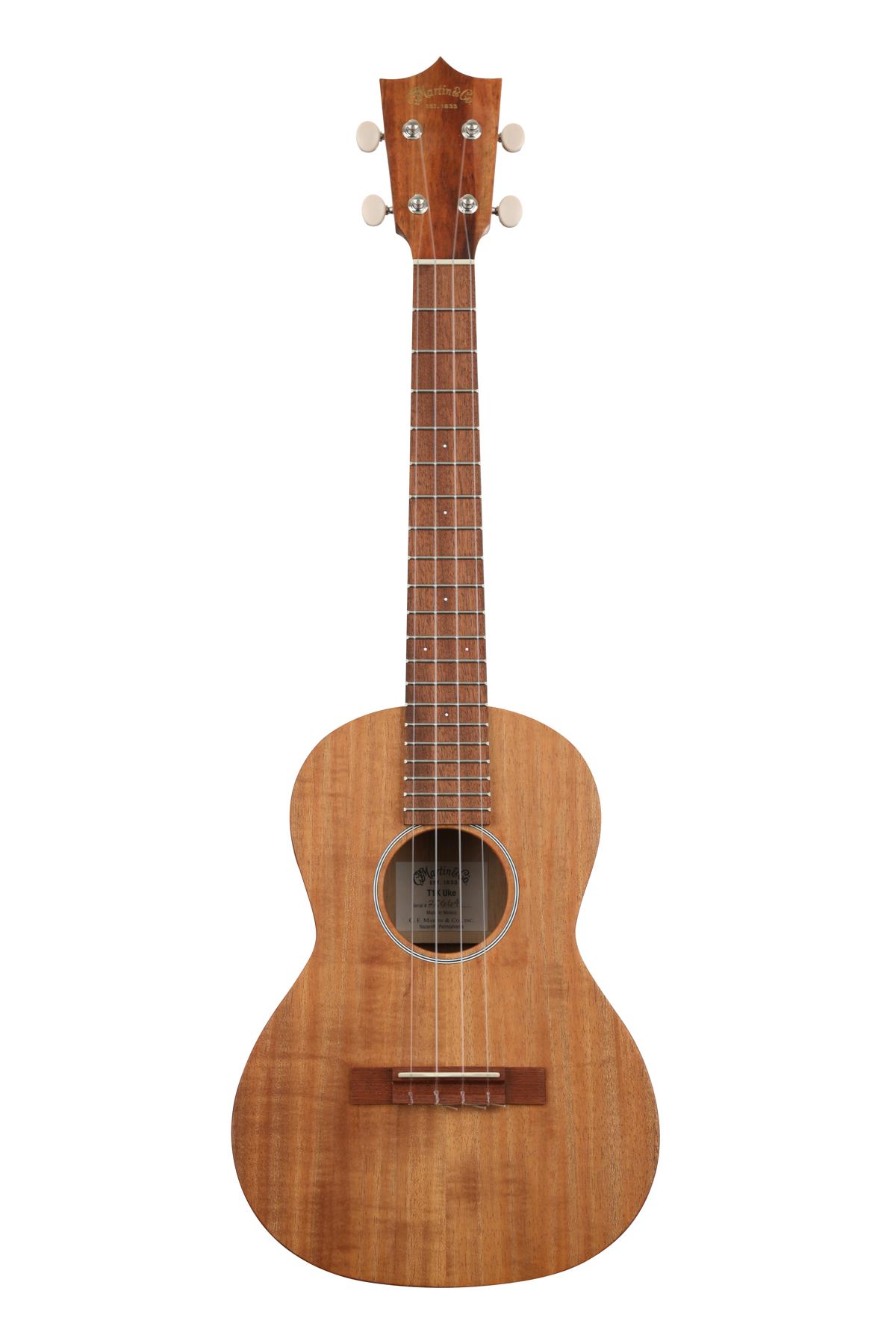 Since 1929, Martin's tenor ukuleles have set the standard for build quality, tonal integrity, and visual beauty — not to mention playability. The Martin T1K koa tenor ukulele is no exception. Its back, sides, and top are made of solid Hawaiian koa for the ultimate in authentic, beautiful island tone.
The T1K also has Sitka spruce bracing that gives it internal strength but lets it flex and resonate naturally. It has traditional nickel open-gear tuning machines, a sipo fingerboard, and a solid sipo bridge to transfer all the vibrations to its body for superior sound. To top it off, the T1K features a hand-rubbed, satin finish that enhances the visual impact of the koa's already gorgeous grain.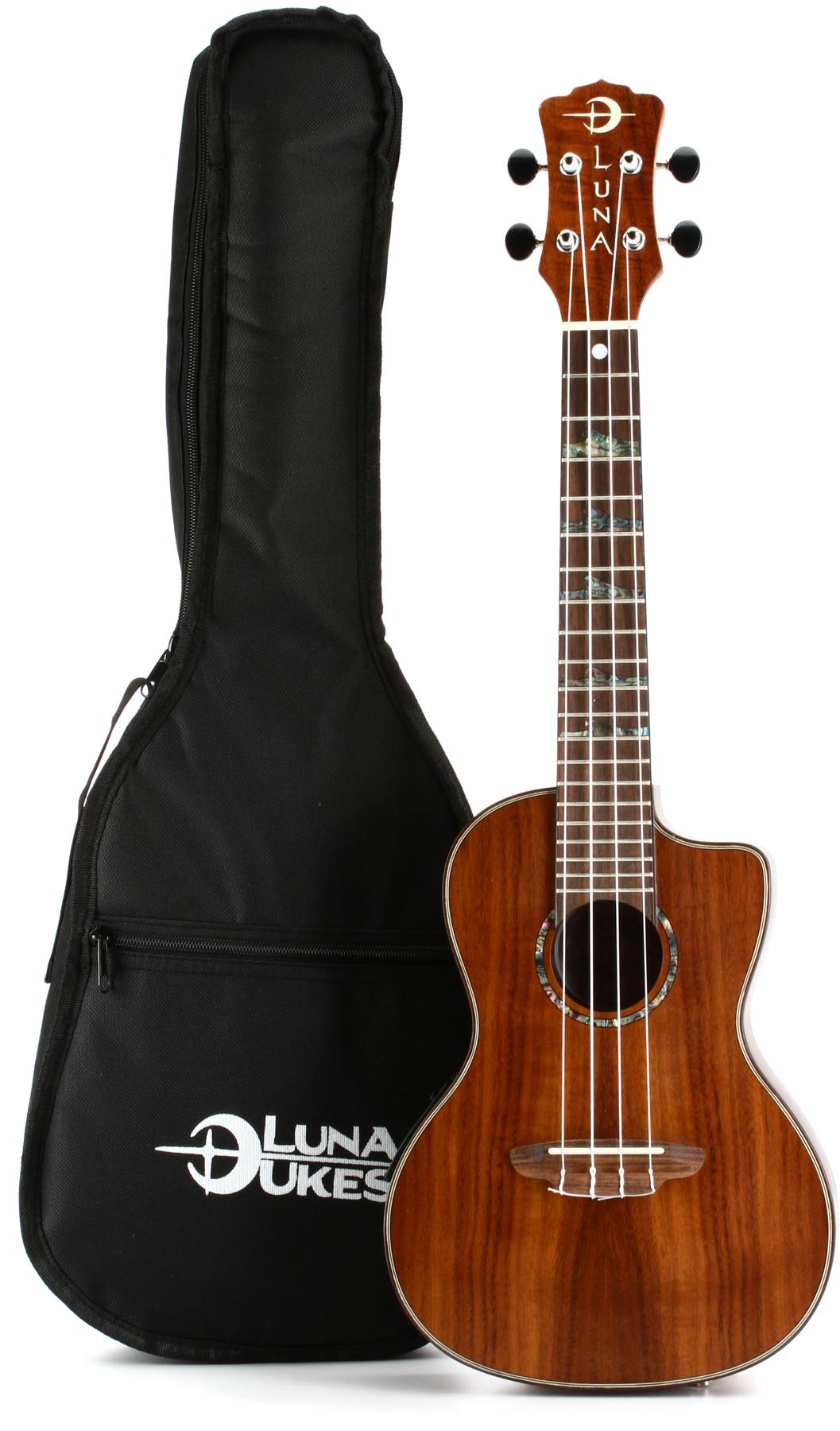 Part of Luna's premier line of ukuleles, the Uke High Tide Concert A/E delivers a full, deep sound via its koa, concert-sized body, while a walnut bridge brings extra sustain and clarity. And when it's time to plug in, you'll sound just as great, thanks to a piezo under-saddle pickup and Luna preamp.
As for playability, this ukulele's walnut-capped mahogany neck feels amazing, while its cutaway design enables easy access to upper frets. The High Tide Concert Ukulele looks amazing as well, courtesy of its eye-catching koa body, multi-ply maple/walnut binding, and abalone High Tide fingerboard inlays. Complete with a stunning satin natural finish, the Uke High Tide Concert A/E is tailor-made for players who demand quality.
Learn How to Play Ukulele
Many of us remember a time when basketball shorts barely covered the gonads, computers were for the birds, and playing ukulele earned you a seat at the cafeteria's misfit table and a backstage pass at the Tiny Tim concert. Today those shorts would get you arrested, computer expertise earns the big bucks, and videos of solid uke playing generates millions of views and accolades on YouTube. Oh yeah, the times they are a-changin'!
Uke is hot. And why not? You can make a whole lot of music with those four strings; Israel Kamakawiwo'ole's platinum-selling recording of Over the Rainbow is nothing short of musical genius (rest in peace Iz); Ten-million folks tuned in Jake Shimabukuro's viral While My Guitar Gently Weeps video but check out his Bohemian Rhapsody ukulele performance at TED; Jazzers will appreciate the range and tone you can eke out of a uke by watching Abe Lagrimas Jr. perform Autumn Leaves; The Ukulele Orchestra of Great Britain treats us to higher-brow uke performance of The Good, The Bad and The Ugly; and budding pop-stars might be inspired by YouTube sensation Julia Nunes and her very popular Build Me Up, Buttercup cover.
Yes indeed, the ukulele is hot, and whatever your vibe, you can bring it to life on the uke with a little help from Grammy-winning Marcy Marxer and her new Uke for Guitar Players interactive video course. As you would expect during this renaissance of the ukulele, there's tons of educational material available online, in book form, on CDs and DVDs — and it's all good stuff! If you have the time and money, we highly recommend filling the shed with everything you can get your hands on and digging in.